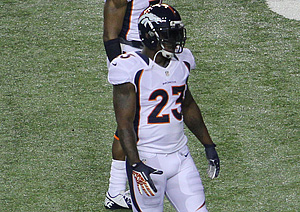 ATLANTA –
Three observations from the Broncos' 27-21 loss to the Atlanta Falcons at the Georgia Dome here on Monday night.
1. MANNING'S INTERCEPTIONS. MUCH ADO ABOUT NOTHING — OR IS THERE SOMETHING THERE?
As is almost always the case, the answer is somewhere in between the extremes. If his three pickoffs into well-disguised Falcons coverage are worrisome, then his play in the final three quarters should also encourage you, particularly since his well-documented cerebral skills directly resulted in Denver's final touchdown, when he read the Atlanta defense and changed the playcall into a Willis McGahee draw on which he easily scored his second touchdown of the night.
Denver adapted to Atlanta's coverages and began working the underneath routes, supplementing those with McGahee's runs. Being behind meant the Broncos didn't achieve the near-perfect play-call balance they did last week, but 38 pass plays against 27 runs is a healthy ratio given that the Broncos played catch-up most of the game.
Manning says the interceptions are a result of bad "decision making" rather than any lingering neck issues related to his 2011 surgeries.
"Really, three poor decisions, three throws into coverage. I just have to be able to eliminate those," he said.
He did last week, and the Broncos flourished. But the interception proclivity — particularly given the similarities of the three picks, all of which were going down the seam — is shocking, and given that he had interception issues late in 2010, it's only logical to be concerned about it.
2. WHAT TO DO AT RUNNING BACK?
McGahee's still a Pro Bowl-caliber back, and Monday offered ample evidence of that; his 113-yard, two-touchdown night was at least the equal of any of his fine games last year, when he carried the Broncos through an unstable early-season stretch before helping guide them out of the wilderness at Oakland in the eighth game.
But 24 touches in a game is not what the Broncos had in mind for the 10-year veteran, for whom every repetition is one closer to the end of an underrated career that is becoming more appreciated by the week. Denver needs a relief option, and Knowshon Moreno might have fumbled away that opportunity Monday night.
Denver's original plan was to have rookie Ronnie Hillman spell McGahee, keep him fresh and offer a change of pace. Next week might be the time to take that idea for a spin, especially since Hillman, if fully recovered from his hamstring injury, is capable of the explosive runs that McGahee delivered Monday.
This is a situation that bears watching. Meanwhile, McGahee and third-teamer Lance Ball will continue to fill their roles, which are clearly defined.
3. DEMARYIUS THOMAS, TOP TARGET.
Conventional wisdom dictated that Eric Decker would be Manning's No. 1 receiver early in the season. Decker had worked with Manning a month locker than Demaryius Thomas, had shown more precision in his routes, and had flourished early last year with Kyle Orton, a quarterback more stylistically similar to Manning than Tim Tebow (although Orton was nowhere near as effective as Manning can — and has — been).
But it's Thomas who leads the team in receiving yards and is the only Bronco with touchdowns in both games so far. His touchdown grab was as good as a play gets; he adeptly got both feet in-bounds, as though he'd been making plays like that his entire career.
Most importantly, Thomas looks smoother than ever, the product of his first full offseason of work. He looks like a first-rounder, which Indianapolis wideouts Marvin Harrison and Reggie Wayne once were … and we know what Manning accomplished with them.
AND ONE MORE …
Never have I seen Fox so angry during a game as he was Monday night. Never have I seen a group of officials fail so completely at procedural matters, to the point where the game slipped from beyond their control.
You've often heard the cliché about the game being too fast for some players. The same can be said of these replacement officials. Given time, they could conceivably catch up. But how many games will endure farcical moments like the ones that popped up in the first half Monday?
On most plays, you don't notice the officials. it is also worth noting that their work on judgment calls is similar to that of the suddenly sanctified regular officials who, lest we forget, do botch rulings, as well.
Maybe the NFL will cave, maybe it won't. It depends whether this lockout is more like the 1981 air-traffic controller strike than the NFL player labor impasse of 2011. But last night was at minimum a public-relations victory for the locked-out regular referees.