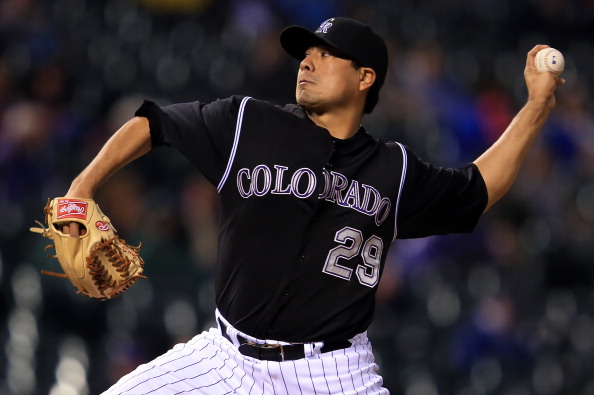 After being banged up during the regular season, two of the Colorado Rockies' best pitchers (we understand this is an oxymoron) were expected to tune up and recover from injury in the winter leagues.
But that won't be the case for Juan Nicasio and Jorge De La Rosa, according to Troy Renck of the Denver Post.
De La Rosa has been out more than the expected 12 month recovery time following Tommy John surgery, and reportedly will continue spending time at the Rockies' spring training facility in Scottsdale working on his conditioning and control.
Likewise, Juan Nicasio will forgo pitching in the Dominican winter league, instead opting to pitch in simulated games. Nicasio returned to Colorado following a broken neck suffered in the 2011 season. The injury bug hit him again when he suffered a knee injury which ended his season this past summer.
In addition to the expected returns of De La Rosa and Nicasio, the Rockies are reportedly looking to add further depth to the staff by shopping around for pitching while MLB conducts winter meetings this week in Nashville. Multiple teams have reportedly been interested in trading for Dexter Fowler, but the asking price is reportedly "sky high".