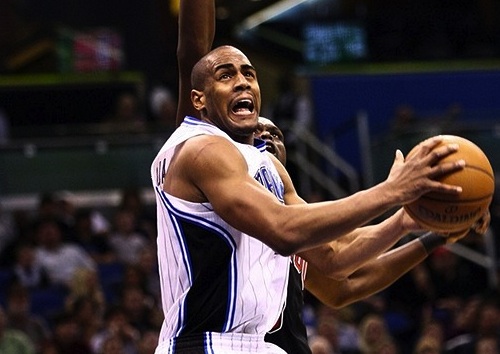 When the Orlando Magic travel to the Pepsi Center on Wednesday night to take on the Denver Nuggets, a familiar face return for the first time since the blockbuster trade involving the Nuggets, Lakers, 76ers and Magic, centering around Dwight Howard, was completed last August — Arron Afflalo.
Orlando, which currently comes into town on a nine-game slide, has relied on Afflalo to provide leadership and stability while the Magic recover from losing the centerpiece and cornerstone of their franchise, Howard to the Lakers. Afflalo is currently leading the Magic in scoring, averaging 17.2 PPG this season for scoring,
During his three years in Denver, Afflalo was regarded, especially by head coach George Karl, as a team-first player, who worked hard and never took a night off.
"Arron Afflalo is just a rock, a really solid pro. He's not spectacular, he's not fancy, he's not a highlight film," said Karl in an interview with Scott Hastings shortly after Afflalo had been traded, "But at the end of the game, you get a guy who is going to get you 15 to 20 points and going to give you a solid playmaking game."
The other piece of the trade which went to Orlando last August was forward Al Harrington, who has yet to play in a game this season as he recovers from offseason knee surgery, although he vows to play at some point.
"I'm gonna play," Harrington said after Tuesday's practice in which he was limited to shooting and a light half-court jog. "I know the only way they can move me is to show I'm healthy. I haven't been on the court yet. But wherever I am, I'm going to give 100 percent."
While Afflalo is relied upon much more for his scoring this season than in years past, he still brings the hard-working attitude and leadership that he was known for in Denver.
He hopes to lead a Magic team against the Nuggets, who are seeking their third straight victory and some much needed momentum heading into the second half of the season.
---
For more Nuggets news, CLICK HERE