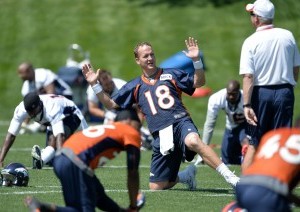 TGITCT. Thank God, it's training camp time.
No more worrying about when Troy Tulowitzki will injure himself again. No more lamenting another member of the Nuggets organization deciding to bolt town. And no more debating the relative merits of two teenage hockey players who nobody in the conversation has ever seen play a game.
Finally, it's time to talk football. The Broncos begin training camp this week. And it doesn't come a moment too soon.
Soon, there will be wall-to-wall coverage in every newspaper and on every web site, across every radio and TV station, and on every smartphone and mobile device. The craziness of football is almost here.
But that's doesn't mean all of the coverage will be good. In fact, a lot of it will be brutal and worthless.
There will be the inevitable stories about some training camp darling, filled with glowing reviews about how good he has looked in practice, all of which will be forgotten when he's cut by the team two weeks later.
There will be lame attempts at humor, as TV hosts who typically spend more time in seal tanks than at Dove Valley try to put their fun-filled spin on the drudgery of two-a-days.
And there will be the mind-numbing live tweets during practice, as scribes and talking heads attempt to keep fans informed about everything transpiring on the field, as if people are hanging on the outcome of every rep.
Through all of the nonsense, however, there are some pieces of information that fans really do need to discover. During camp and preseason games, there will be subtle signs that will help answer the biggest unknowns surrounding a team with Super Bowl aspirations.
Whether watching practice or games, reading the newspaper and web sites, or tuning in to radio and TV, look for info that helps answer these five questions before Sept. 5:
1. Who is going to be the starting running back? – With Willis McGahee shipped out of town as a cost-cutting move, Denver is now thin and inexperienced in the backfield. Knowshon Moreno is the veteran of the bunch, but he's shown zero ability to stay healthy or perform consistently during his first four seasons as a pro. Second-year runner Ronnie Hillman has a shot at the job, but at 5-foot-10 and 195 pounds, there's little chance he can be an every-down back. And while Montee Ball seems poised to take the job, that would mean the Broncos are willing to expose Peyton Manning's health to a rookie's ability to pick up the blitz. None of those options are without risk, which should makes this a major question heading into camp.
2. Do the Broncos have a middle linebacker? – Few people shed a tear when D.J. Williams was sent packing during the offseason, but his departure did leave Denver shaky at linebacker. In particular, the Broncos have limited options in the middle. Joe Mays will get another shot at the job, but when cutting him would save the team more than $3 million against the cap, he needs to play better than he did a season ago to stay on the roster. Nate Irving is the hot name at the moment, but he's recorded all of 12 solo tackles during his first two seasons as a pro. And while Steven Johnson is a player Denver seems to be high on, his 11 career games don't exactly scream dependability. One thing is probably pretty certain: John Elway has Keith Brooking on speed dial, ready to bring him back if none of his three other options pan out.
3. How do the Broncos replace Elvis Dumervil? – Lost in all of the hubbub about the fax machine fiasco that surrounded Dumervil's departure from Denver was the reality that the team has to find a way to replace one of the best pass rushers in franchise history. That's not going to be an easy task, which is proven by the fact that the Broncos will attempt to do it with a combination of three players. Some scribes are trying to convince everyone that former first-round pick Robert Ayers is up for the challenge, but he'll most likely be used only on first and second downs, a sign that the team doesn't believe he can effectively get after the quarterback. Second-year player Derek Wolfe will also see some time on the outside, especially if rookie Sylvester Williams can pair with Kevin Vickerson to solidify the middle of the defense. And 10-year veteran Shaun Phillips will see plenty of action on passing downs. Regardless, three guys trying to replace one is a scary proposition; that's a wait-and-see approach at best.
4. Who will be the odd man out at cornerback? – During free agency, the Broncos provided plenty of evidence that the NFL has officially transformed into a passing league. Despite already having a future Hall of Famer in Champ Bailey on the roster, plus two bright, young cornerbacks in Tony Carter and Chris Harris in the fold, Denver went out and added both Dominique Rodgers-Cromartie and Quentin Jammer to their stable of defensive backs. In a league that features plenty of offenses that go with three and four wide receivers on a regular basis, a team can never have enough cover guys, so the signings certainly were well justified. That said, a maximum of four cornerbacks figure to be on the field at any one time, which means one will be on the outside looking in come opening night against Baltimore. Now, it's a matter of determining which four.
5. Does the glove become a full-time thing? – It sounds funny to say that Peyton Manning is one of the questions heading into camp, especially coming off a season in which he shattered practically every single-season passing record in Broncos history. But given No. 18's struggles in the cold-weather playoff game last year, coupled with the fact that this year's Super Bowl will be played in New York, it wouldn't be surprising to see Manning begin his search for a solution to his problems in freezing temperatures while the thermometer is still pushing 100 degrees. He played in a glove against Baltimore and then kept it on during the Pro Bowl in Hawaii, which was perhaps a sign that Manning wanted as many reps as he could get with his newfound game-day apparel. Don't be surprised if Manning follows Kurt Warner's lead and goes with the glove on his throwing hand 100 percent of the time.
Training camp is finally here, which means it is time to start finding answers. For the Broncos, it's about running back, linebacker, defensive end, cornerback and the weather; even championship-caliber teams have holes to fill.
When examining these questions, don't get caught up in the hype; be discerning when consuming football during the next six weeks. Tune out the babble. Don't buy into the spin. And block out the noise.
Instead, look for things that answer the questions that matter. Use training camp as a way to find out if the Broncos truly are ready for a Super Bowl run in February.
Championships certainly aren't won in July and August, but the foundation for one is definitely put in place.
---
For more Broncos news, CLICK HERE.