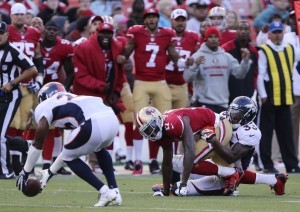 Although the Denver Broncos still have three weeks to determine their 53-man roster, but a few players helped their own cause in Thursday's preseason opener.
Safety Duke Ihenacho led the Broncos with seven tackles and forced a fumble in the Broncos 10-6 win over the San Francisco 49ers. Ihenacho has been impressive in training camp for the Broncos and his play carried over into the game the way that head coach John Fox hoped it would.
"I think he tackled well and he did all of his job pretty well," Fox said. "His pass defense a lot looking at tape I thought was good, as well as his defense."
Ihenacho has worked his way into getting first team reps in practice and his solid play in Thursday's game gives reason for Fox and defensive coordinator Jack Del Rio to take a more in depth look at the second-year player.
Veteran Mike Adams, however was not to be outdone and made his own case for a spot on the team. Adams came away with one of two Broncos interceptions with just over two minutes left in the second quarter.
By and large it was the defense for the Broncos that stood out in Thursday's game. Linebacker Nate Irving, who up until Thursday had been considered the starter at middle linebacker, forced a San Francisco fumble that former Charger Shaun Phillips picked up and carried into the endzone for the game's lone touchdown.
"It was just the right place right time. I always joke around saying who is the important one the guy that caused the fumble or the guy that recovered it," Phillips said. "It was a gift. I felt like I caused enough in my day that I deserved some free gifts, and that was my free gift."
Overall, the Broncos forced four turnovers against the 49ers. Along with the Phillips recovery, safety Rahim Moore recovered a fumble caused by Ihenacho. Adams accounted for one interception and rookie cornerback Kayvon Webster came away with the other.
"We created a lot of turnovers last year and it was another good start from that standpoint tonight," quarterback Peyton Manning said. "Different guys, some young players, Nate Irving making the huge play, Phillips running back for a touchdown, Webster making some nice plays. As an offense, you always like to see your defense out there creating turnovers because that is usually going to mean really good field position."
Offensively, the Broncos weren't very effective. Second-year quarterback Brock Osweiler played well enough, going 13-18 for 105 yards passing. Running backs Ronnie Hillman and Montee Ball saw limited action, but undrafted rookie C.J. Anderson impressed gaining 69 yards on 15 carries.
Tight end Julius Thomas led Broncos receivers with four receptions for 35 yards, continuing his solid play seen in camp.
But despite the good play from Anderson and Thomas, the Broncos failed to scored an offensive touchdown.
The offensive line proved to be an issue, allowing pressure often on Osweiler. Injuries have kept tackle Ryan Clady limited and guard Chris Kuper out of practice. Fox has been playing around with the o-line during practices, moving his guards outside and rotating in backups to try and find an effective combination.
But that will have to wait until next week when the Broncos travel to Seattle to take on the Seahawks. The starters will probably see a little more action, though they are still unlikely to make it too far into the game.
"I guess I have been doing it for a number of years now, and I think any competitor would tell you that they would want to be in there the entire game," Manning said. "I know there were a number of receivers, I could hear (Wes) Welker and (Eric) Decker saying, 'boy, it would be nice to go back in one more. Just give us one more series.' The coaches kind of map out that plan during training camp. I would imagine it would increase a little bit more, and be a good road test, next week against Seattle."
The Broncos will return to practice Saturday morning to start preparing for their next game against the Seahawks.
---
Dan Mohrmann is a staff writer for Mile High Sports. He can be reached via email dan@milehighsports.com or on Twitter @DanMohrmann