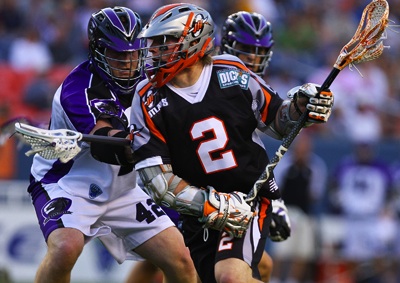 The Denver Outlaws joined the 2007 New England Patriots, 1972 Miami Dolphins, and 1948 Calgary Stampeders (CFL) in the annals of sports history as one of four teams in North American professional sports to finish a regular season undefeated with their 18-12 win over the Hamilton Nationals on Saturday. It marked the first time a team has completed an undefeated regular season in the history of Major League Lacrosse.
Having led by as much as 14-5 in the third quarter, Saturday's result was never really in doubt for the Outlaws, who extended their regular season winning streak to 20 consecutive games dating back to last season.
Once again Denver put forth a complete effort both offensively and defensively. Attacker Chris Bocklet closed out the regular season with the most goals in Major League Lacrosse this season (42). Additionally, goaltender Jesse Schwartzman proved why he is considered the favorite for MLL Defensive Player of the Year with a performance that lowered his GAA to 9.67, breaking his own league record of 9.87 set in 2011.
Rookie Eric Law once again made a case to be named MLL Rookie of the Year with four goals in the game, including one fourth quarter tally to extend his season total to 24. Law's 24 goals are a team record for a rookie and tie him with Boston Cannons' Paul Rabil for fourth on the league's all-time list for most goals by a rookie.
Following a bye next weekend, the Outlaws will begin postseason play Aug. 24 at MLL Championship weekend being hosted in Philadelphia, Pa.
As the No. 1 seed in the tournament, Denver will face the Charlotte Hounds (11 a.m. MDT) in the first round. The teams have met twice in the regular season with Denver winning both contests.
---
Marco Cummings is a staff writer for Mile High Sports. He can be reached on Twitter @mcummin4.