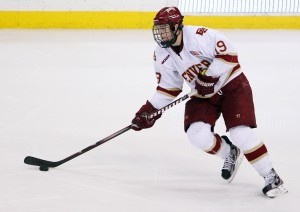 The University of Denver men's hockey team sent off assistant head coach Steve Miller off with a win, earning a 5-3 road victory over Massachusetts on Tuesday night.
The Pioneers scored quickly, taking a 1-0 lead on Gabe Levin's tally less than two minutes into the game.
UMass responded halfway in to the first with a power play goal from Troy Power, sending the teams into the first intermission deadlocked at 1-1.
NEWS: DU Hockey assistant named head coach in USHL
The Pioneers retook a 2-1 lead with Ty Looney's tally just over three minutes into the second period. Freshman Trevor Moore made it 3-1 in favor of Denver five minutes later.
"It was just great work by Ty Loney to get me the puck and Dan (Doremus) was a distraction backdoor." Moore said afterwards.
Connor Sheary scored for UMass to cut the deficit to 3-2 entering the second intermission.
Denver started the third period with a pair of penalties including minor call on Joey LaLeggia as well as a five-minute major roughing call and subsequent ejection for Josiah Didier. But Denver's penalty kill responded well.
"It was huge, you could feel the energy on our bench when we killed off the 5-on-3," DU head coach Jim Montgomery said. "We still had three minutes to go on a 5-on-4 but our penalty has been excellent all year long, we have a lot of confidence in it and we have a great goaltender that gives us a lot of confidence in it."
Denver extended its lead to 4-2 when Moore scored on a backhanded effort on a breakaway.
A subsequent penalty led to a power play opportunity for the Pioneers, and Danny Doremus scored on his own backhand to extend Denver's lead to 5-2.
Powers scored a second goal for UMass at the 15:30 mark of the third to make the score 5-3, but the Minutemen's comeback effort ultimately fell short.
DU starting goaltender Sam Brittain improved his starting record to 10-5-3 on the year. He earned his fourth NCHC Goaltender of the Week honor entering Tuesday night's game.
Denver was without forward Quentin Shore and defenseman Will Butcher who are both currently with the U.S. Junior National Team. Shore scored a goal Tuesday night in Team U.S.A.'s 3-2 victory over Minnesota State in exhibition play.
NEWS: Shore and Butcher selected to U.S. Junior roster
Within the past week, the Pioneers jumped to a No. 17 ranking in the USCHO collegiate rankings and are now on a three-game unbeaten streak. The team has only dropped two contests in the past 11 games.
Denver (10-6-3) won't return to action until Jan 3. when the Pioneers host Brown (5-6-1) at Magness Arena.
---
Marco Cummings is a staff writer for Mile High Sports. He can be reached via email at marco@milehighsports.com or on Twitter @Marco_Cummings.