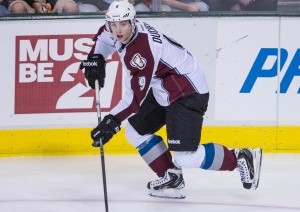 Christmas came early for fans of the Colorado Avalanche and, while success is in the air, they can only hope that it's a gift that keeps on giving as the season wears on.
I'm not talking about the resurgence of a squad that many expected to be a perennial loser for a few more years to come, forever stuck in the quagmire of rebuilding while powerhouses are being constructed elsewhere. The fact that the Avalanche are 23-10-3 entering the holidays – it was 16-25-7 through all of the shortened 2013 campaign – and currently sits in seventh place in the Western Conference is pretty special, sure. But the club still needs work.
I'm also not talking about new head coach Patrick Roy, who certainly seems to have saved the Avalanche from more middling seasons by breathing fresh life into a team full of potential but short on direction. With an infusion of exuberance, the experience to know what it takes to win, and a retooled defensive game, Roy's influence on the Avs has already changed the face of the franchise forever.
That's still not the best part. It isn't even the fact that Erik Johnson is finally growing into the defenseman we all expected him to be. Having put up four goals and two assists in his last five games (6g, 9a overall), Johnson has nearly quadrupled his output from last season in just five more (36) contests. Add to that his solid defensive game – he's plus-17 – and that of partner Jan Hejda (plus-19), and it seems that the Avalanche defense is on the right track for the first time in years.
No, the true Christmas gift has been the play of Avalanche center Matt Duchene. Long known to have talent, many worried that Duchene just wasn't going to work hard enough to rise to the expectations set upon him. Following an injury riddled season where the now 22-year-old Duchene finished with a mere 28 points in 58 games, buzz around the Halliburton, Ontario native was at an all time low.
A bridge contract, an excellent lockout stretch, and a contract extension later and Duchene has not only turned heads, but possibly played his way onto a spot with Hockey Canada at the 2014 Winter Olympics in Sochi, Russia this February.
Hockey Canada head honcho Steve Yzerman was recently at a match in Denver, no doubt scouting for the coming tournament, and would have been hard pressed to miss another in a series of outstanding performances by Duchene over the course of the last two weeks.
In his last seven games alone, Duchene has put home four goals and helped on another nine. He was named the NHL's Third Star of the Week on Monday for his efforts as well and currently leads the Avalanche in goals (16), helpers (18), total points (34), power play goals (4), and game-winning goals (3).
No small feat for a kid practically just over the legal drinking age.
As if all of that weren't enough, accolades from many around the NHL continue to pour in. Darryl Sutter, head coach of the Los Angeles Kings, recently complimented Duchene after narrowly defeating the Avalanche in a shoot out on Sunday.
While speaking about the importance of not allowing a power play against Colorado, Sutter called Duchene "arguably the best player in the league right now." Big words from a coach of one of the best and consistently dominant teams in the league.
Anyone paying attention can see this on a near nightly basis as Duchene uses his superb strength and stellar speed to overcome many of the top players in the game today. The kid is on his way to another outstanding season and should be in any conversation about the bright future of the NHL.
So for now, fans can cherish the early gift from Santa Claus and hope that it is one that continues to give, not only this year – and on the road to the playoffs – but for all of the rest to come as well.
---
Ryan Boulding is a staff writer for Mile High Sports. He can be reached via email at ryan@milehighsports.com or on Twitter @RBoulding.