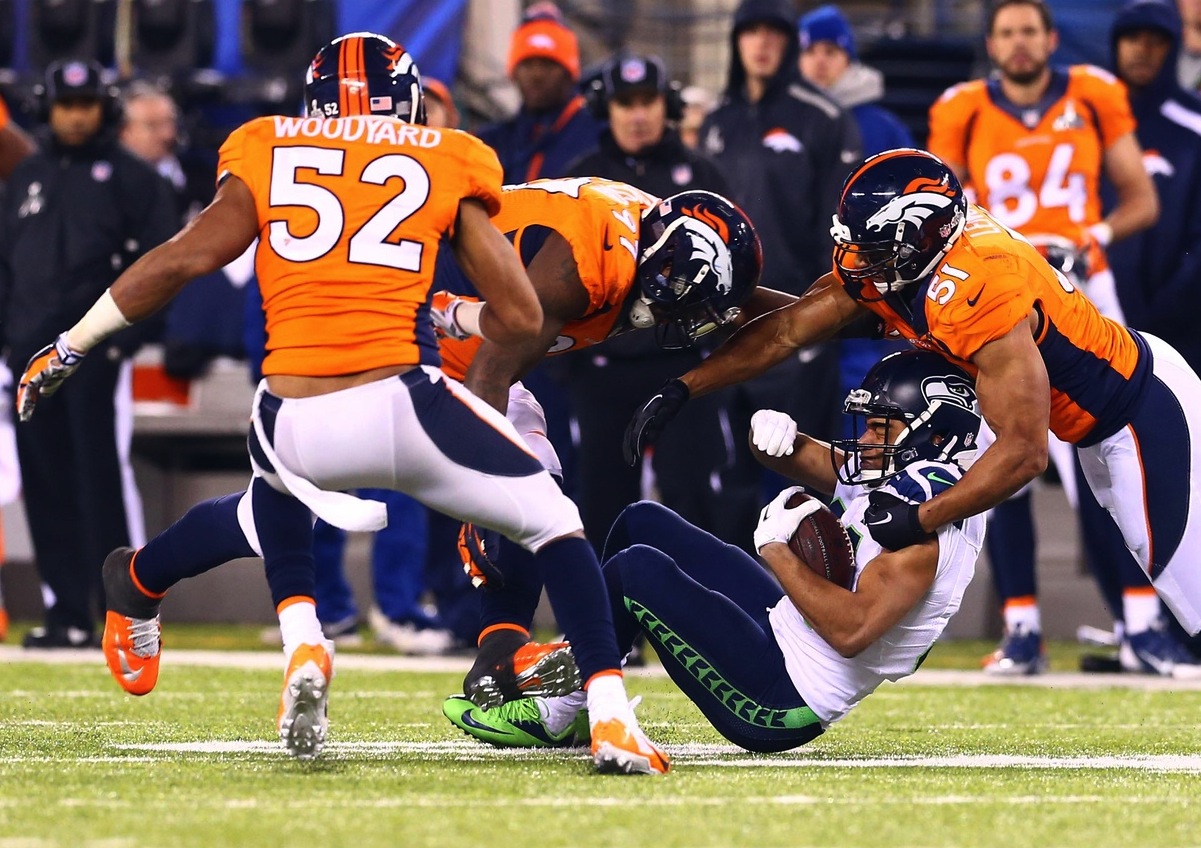 Conventional wisdom (if that's the right term for mock drafter, draftniks and other "insiders" who fancy themselves experts on the NFL's annual selection meeting) says the Broncos will take a middle linebacker in the first round on Thursday. It's a theory that makes sense, given the fact that Denver doesn't currently have a player who played that position for them in 2013 on their roster.
Paris Lenon and Wesley Woodyard are gone, as the Broncos decided not to re-sign either player during the offseason. That leaves Jamar Chaney and L.J. Fort as the only two middle linebackers on Denver's current depth chart.
Chaney was a seventh-round pick of the Eagles in 2010; the Broncos will be his fourth team in four seasons. Fort spent 2012 with the Browns after signing as an undrafted free agent, but was out of football last season.
In other words, there's a glaring hole in Denver's lineup. And almost everyone sees the Broncos trying to fill that void early in this year's draft.
But that doesn't make any sense in today's NFL. It would be an expensive way to fill a low-priority need.
Nowadays, middle linebacker is becoming less and less important in pro football. With each new season, offenses are moving more and more to the passing game. As a result, a player who can fill a hole and stop the run – a role that made names like Dick Butkus, Jack Lambert and Mike Singletary synonymous with hard-nosed defense – is less vital than guys who can rush the passer and/or cover receivers.
And the Broncos have shown that they agree with this notion. The past two seasons, they've filled the middle linebacker spot in their lineup with two journeymen – Lenon and Keith Brooking. Both were long-in-the-tooth players that brought experience at a reasonable price to Denver's roster.
This continues a pattern of not investing, via draft choices or dollars, in the position; in the world of salary-cap football, where every position can't be at a premium, it's a smart place to skimp. And it stands to reason that the Broncos will continue this practice on Thursday.
Instead of burning a pick on a player who will be on the field roughly one-third of the time, limited to first-down and short-yard situations, they need to fill one of their other needs. And right now, there are three glaring holes in Denver's roster.
A team's third cornerback has virtually supplanted middle linebacker as the 11th starter on defense. With more and more offenses playing three or four wide receivers on first, second and third down, the group trying to stop them is forced to play nickel and dime as much, if not more, than they do their base defense. Thus, a team's No. 3 corner is no longer a backup player called upon in an emergency; instead, he plays a pivotal role.
Currently, the Broncos are thin at the position. A year ago, Denver boasted the trio of Champ Bailey, Dominique Rodgers-Cromartie and Chris Harris at cornerback. But Bailey and DRC have departed via free agency, while Harris is recovering from a knee injury suffered during the Broncos playoff run.
Yes, Aqib Talib was brought in during the offseason, a player who is probably an upgrade over anything Denver had on their roster a year ago. But who is going to fill the remaining spot, even if Harris returns to form?
As of right now, Kayvon Webster is in line for the job. That's a scary proposition.
While Webster showed flashes during his rookie season in 2013, there were two occasions when opposing quarterback's clearly picked on him. In a Thursday night loss at home to San Diego, Philip Rivers seemed to come to the line of scrimmage, find No. 36 and throw the ball in that direction. And in the Broncos' second-half meltdown in New England, an injury to Rodgers-Cromartie right before halftime thrust Webster onto the field and helped Tom Brady find a weak spot to exploit.
Defensive end is another position that could be problematic for Denver in 2014. Currently, Derek Wolfe and Demarcus Ware are listed as the team's two starters. But both suffered through injury-plagued seasons a year ago.
Ware, the high-priced pass rusher the Broncos signed in March as a free agent, battled elbow, quad and back ailments throughout 2013. As a result, he missed three games and was limited to a career-low six sacks.
Wolfe, the team's top pick in 2012, suffered through some scary health issues last season. He was carted off the field during a preseason game in Seattle following a spinal cord injury. Two bouts with food poisoning led to him losing 20 pounds during the season. And a seizure prior to Denver's game at Kansas City late in the season ended Wolfe's year prematurely.
Will either player be at full strength in 2014? Everyone certainly hopes so. And while there is reason to believe that both Ware and Wolfe will be healthy this season, not having a backup plan would be irresponsible.
Since the Broncos let Shaun Phillips depart via free agency, they are left with only Malik Jackson as a viable second-team defensive end. Hall Davis, Quanterus Smith and John Youboty – a trio of inexperience and unproven players – round out Denver's roster.
On the other side of the ball, along the offensive line, the Broncos are also in need of some help. With the departure of Zane Beadles, Denver is suddenly thin in the trenches.
While a little juggling of positions – moving Chris Clark to right tackle and Orlando Franklin to left guard – creates a solid starting five, there's an alarming lack of depth behind the first-team offensive linemen. It's a combination of journeymen veterans (center Will Montgomery and tackle Winston Justice), marginal players (tackle Ramon Harewood) and youngsters (tackle Paul Cornick, guard Ben Garland, utility man Ryan Miller and tackle Vinston Painter) behind the starting five.
If a No. 1 guy goes down, the Broncos are in trouble. Does anyone really want any of those seven backups responsible for keeping Peyton Manning upright?
Given these deficiencies, Denver would be smart to go heavy in three positions in the draft. The Broncos should look to add a cornerback or defensive end in the first round on Thursday, one or both of these spots in rounds two and three on Friday, and offensive line help in the later rounds on Saturday.
Who will those players be? That's anyone's guess, but two strategies make sense.
If John Elway and Company want to get aggressive, they could move into the middle of the first round to nab cornerbacks like Justin Gilbert (Oklahoma State) or Darqueze Dennard (Michigan State). If they'd prefer to stand pat at No. 31, they'll have to hope that players such as Kyle Fuller (CB | Virginia Tech), Jason Varrett (CB | Texas Christian) or Dee Ford (DE | Auburn) fall into their lap.
Meanwhile, Denver can do what they've done the past two seasons – campaigns that saw the Broncos post consecutive 13-3 records – at middle linebacker. In what is arguably the 11th (or perhaps not even that high) most-important position on a defense, the orange and blue can plug in a virtual unknown to play this increasingly irrelevant position.
The Broncos should leave the hole in the middle of their defense. They'll be just fine without filling it.
---
James Merilatt is the president and publisher of Mile High Sports. He can be followed on Twitter @jamesmerilatt.
---