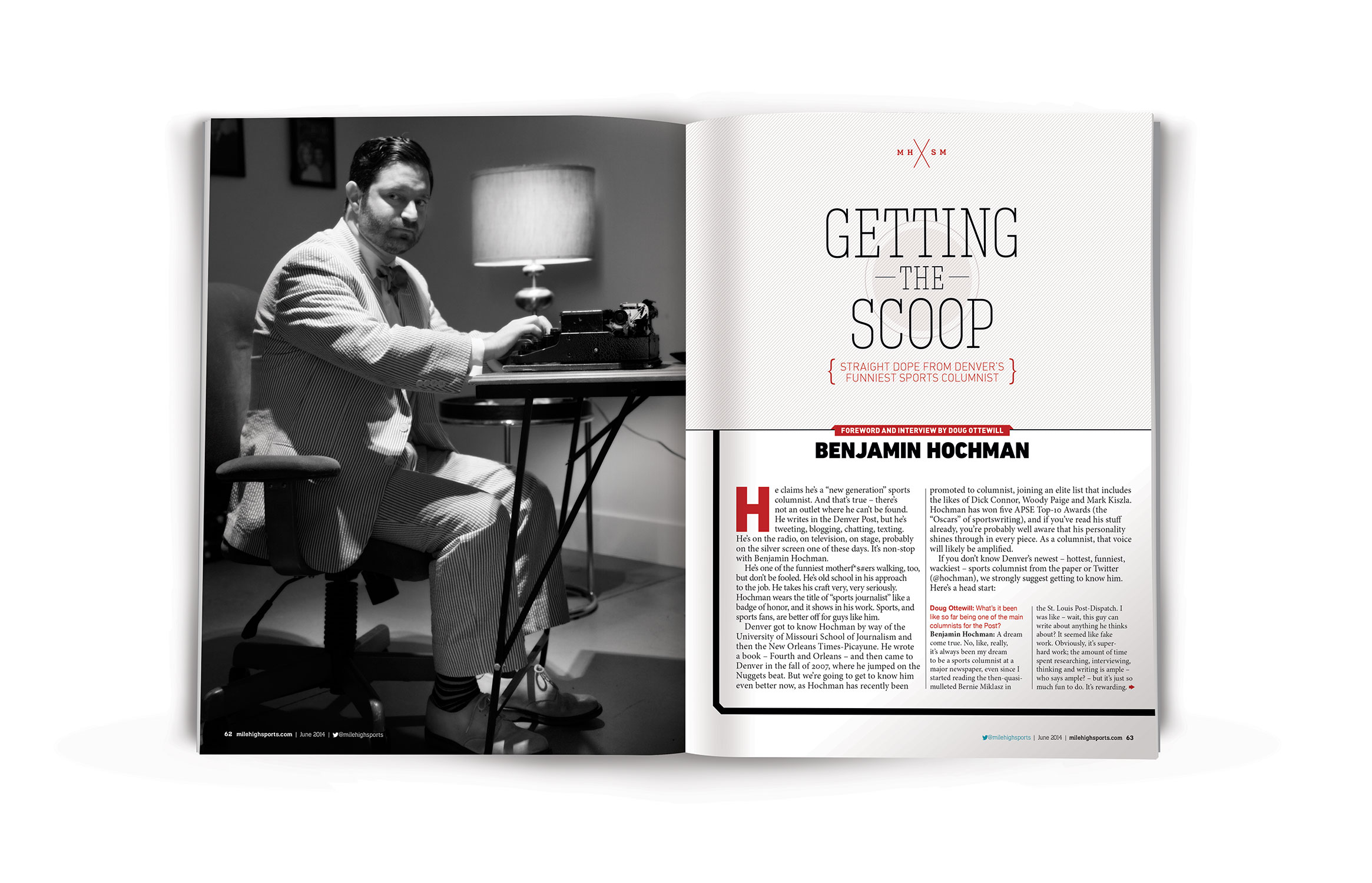 The Mile High Interview: Benjamin Hochman
***
He claims he's a "new generation" sports columnist. And that's true – there's not an outlet where he can't be found. He writes in the Denver Post, but he's tweeting, blogging, chatting, texting. He's on the radio, on television, on stage, probably on the silver screen one of these days. It's non-stop with Benjamin Hochman.
He's one of the funniest motherf*$#ers walking, too, but don't be fooled. He's old school in his approach to the job. He takes his craft very, very seriously. Hochman wears the title of "sports journalist" like a badge of honor, and it shows in his work. Sports, and sports fans, are better off for guys like him.
Denver got to know Hochman by way of the University of Missouri School of Journalism and then the New Orleans Times-Picayune. He wrote a book – Fourth and Orleans – and then came to Denver in the fall of 2007, where he jumped on the Nuggets beat. But we're going to get to know him even better now, as Hochman has recently been promoted to columnist, joining an elite list that includes the likes of Dick Connor, Woody Paige and Mark Kiszla. Hochman has won five APSE Top-10 Awards (the "Oscars" of sportswriting), and if you've read his stuff already, you're probably well aware that his personality shines through in every piece. As a columnist, that voice will likely be amplified.
If you don't know Denver's newest – hottest, funniest, wackiest – sports columnist from the paper or Twitter (@hochman), we strongly suggest getting to know him. Here's a head start:
***
What's it been like so far being one of the main columnists for the Post?
A dream come true. No, like, really, it's always been my dream to be a sports columnist at a major newspaper, even since I started reading the then-quasi-mulleted Bernie Miklasz in the St. Louis Post-Dispatch. I was like – wait, this guy can write about anything he thinks about? It seemed like fake work. Obviously, it's super-hard work; the amount of time spent researching, interviewing, thinking and writing is ample – who says ample? – but it's just so much fun to do. It's rewarding.
Your writing, even when you've been on certain beats, has always had a "personality" – was being a columnist always the goal? Sounds like it, but was this planned or just something that happened?
Basically, I just try to splash my personality on anything I write – columns, the Nuggets vs. Bucks story, a text to my cousin J.B., a MySpace post in 2006, whatever. I always say, "Give a laptop to the 17,000 fans at the Nuggets game, and some of these people could actually write a pretty good piece." It's up to us – it's our responsibility – to make our words pop off the page, to tell the readers something they don't know, to make the reader say, "Even if my microwave catches fire, I can't not read this next 'graph." It's a responsibility I take very seriously, but also it's a blast to do. I like to make the reader feel how much fun I had writing the piece. I'm also a goofball – 11th funniest Jew in Denver! And, I heard that Saul Goldberg isn't doing so well, which of course is very sad for the Goldberg family and our community as a whole, but if he goes, guess who's in the top 10? I like to throw a joke or two in every piece I write. So, to actually answer your question, it wasn't like I was covering Tulane vs. East Carolina in 2003 and said, "This is just a minor inconvenience in my journey to columnist." On the contrary. I looked at every assignment as a way to get better, so that when columnist came along, I wouldn't, like, suck.
People who know you know, know that you're a stand up comic. So, in reality, you really do have Saul Goldberg in your sights. How does that skill help you as a writer? Or, is it just a release from the big, bad, super-serious world of professional sports?
Well, right away, I'm not a professional stand-up comic – I'm just a dude who dabbles in it occasionally, unlike Saul, who lives for the stage (his bit on bagels and lox from '89 is legendary). But stand-up definitely, definitely helps my writing. I realized that just because I can tell a funny story at Don's Mixed Drinks and my buddies laugh, it doesn't mean the same story is going to slay at Comedy Works on amateur night. So when you're working on a comedy routine, every word matters. Every breath matters. Seriously, you like practice the breaths, they're part of the sentence structure. And picking the absolute right word for a joke is vital – you don't waste words. So all of this totally helps.
Didn't you recently sign up for an improv class?
Ha! Yeah, I did, over at Voodoo Comedy Playhouse. Have you ever done improv? It's so much freaking fun.
The only improv I do is on the spot. See what I did there? Actually, that's one of the reasons I like writing – so I can think through exactly what I'm going to say. For you, what's the difference? What's the advantage – from a writing sense – of improv? Or, is that strictly for fun?
Part of me wants to someday be on Saturday Night Live, or at least write for Saturday Night Live, so I think I took the class hoping that our teacher, Max Schwartz – sixth-funniest, by the way – would see me do some performance about a bored Ellis Island employee giving fake American names to immigrants and promptly call Lorne Michaels and shriek: "I've got your next Jane Curtin!" But really, it's just a fun escape from the real world, and it totally makes you think on your feet, and gives you a chance to be silly, but smart-silly.
The Post has always had excellent columnists. You join the great Woody Paige, who's a legendary wordsmith, and Mark Kizsla, who really knows how to get Denver talking. How do you see your role within this trio of columnists?
It's humbling to work with these two icons. They run this city. My role is to be a new breed of columnist, providing a younger, alternative perspective than they might have. We're just from different eras, so our readers benefit from all of our points of views on hot topics. We all complement each other quite nicely. And for me, it's all about being a columnist in 2014. When I grew up in St. Louis, Miklasz would solely write for the paper, and he would crush it in there. For me, in addition to writing for the paper or our denverpost.com exclusive pieces – nice plug, Benny – I do videos for our site, shorter Tout videos, blogs, Facebook and, of course, Twitter. The modern columnist must be omnipresent and must be multi-faceted. My friends don't necessarily read the actual paper, but they get my daily takes on sports from my tweets, my columns on the Denver Post app, my appearances on radio and Sunday night appearances on CBS4 with Vic (Lombardi) and (Tom) Helmer, and from my Friendster page. And Mark and Woody also are utilizing new media and social media to get their ideas out there. We've got a nice operation going; fans are well fed.
In Denver, you came up as the Nuggets beat man. What do you miss about that gig?
I loved writing for the Nuggets fans because they were so passionate. I miss the daily conversations with the wacky and thoughtful George Karl. I miss literally sprinting down a hallway to catch Carmelo (Anthony) sneaking out the backdoor, to get a quote. I miss Pepsi Center just rocking after a three-pointer late in a game. I miss the trips to L.A. and New York, but not the trips to Auburn Hills. I miss just cracking jokes with Nuggets PR man Tim Gelt. I miss calling Chris Marlowe's cell phone during the media's pregame interview with the coach, and watching Marlowe frantically trying to turn off his obnoxious ringtone. I miss the playoffs, and that feeling of this is what it's all about.
Do you think George Karl got a raw deal?
You've got to win in the playoffs. They "beat the casino" and figured out how to win the regular season. But they couldn't get it done in the playoffs. The 2013-14 season would have been weird if they kept George. It comes down to (this): The team wasn't convinced that George was their long-term answer, and because he was in a contract year, that would have become a major storyline. And since they weren't committed to George long-term, and they knew the injured team wouldn't win 57 games in 2013-14, they said, "Let's just start fresh right now." I can see George getting a job somewhere else this summer and finally winning a title and saying something slyly inappropriate about all of his doubters.
And don't you just love that about George? It's one of those weird situations, where guys like you – and me, too – can love a guy like George, feel bad for the situation, but still feel like the team did the right thing. Do you agree? It always seemed like you had a great relationship with George.
I agree with you, and George and I had a fun back-and-forth relationship, but we definitely got after each other sometimes – like the time he proclaimed at a news conference: "What was that (expletive) Benjamin Hochman wrote today?" But that's part of the job – standing up for what you believe (in print) and standing up for yourself when someone compares it to feces.
In a weird way, that's one of the things I love about the Nuggets – their "dysfunctional-ness" at times. You covered that team in a time of "great dysfunction" – the Carmelo Anthony-Kenyon Martin-J.R. Smith era has to go down as one of the wildest times in Nuggets history. Surely, you've got some great stories from that group. Give me your favorite one – fit for print, or maybe not.
The Carmelo Nuggets were definitely a zany bunch, with larger-than-life personalities. But my favorite story doesn't have to do with a player. In 2009 – man, it's crazy to think how long ago that was – the Nuggets had this young whippersnapper exec, trying to move up the ranks. He was in charge of setting up the following season's preseason games, and the way it was explained to me is – a team pays another team to travel to their arena and play. So the Lakers owed the Nuggets $300,000, but Lakers GM Mitch Kupchak – who's like this super-tall, thin regal exec, older with graying hair – had yet to make the payment. So it's the playoffs in 2009, and the Nuggets had just won a Western Conference Finals game against the Lakers. In the Staples Center, all the Denver execs, including the ownership, were hanging in the back hallway after the big win. And as you know at Lakers games, there's always a bunch of celebs, from young hot actresses to old distinguished actors, and all these VIPs are going through this private back hallway to leave the arena. All of a sudden, this young whippersnapper exec, a little cocky because of the win, starts chirping: "Hey, man, I'm gonna need that $300,000 from you!" And an elder exec said: "WHAT are you doing?" And the guy was like: "I'm, um, just trying to get our money." And an elder exec said: "From John Lithgow?"
Speaking of Nuggets executives, you recently wrote a column saying that the Nuggets need to make a big move if they didn't land a high lottery pick. Of course, they didn't. Play GM. What do you do to cure the Nuggets ills?
Oy vey. Understandably, because they've invested so much in these young players, they want to see this thing through and see what a healthy squad with Gallo (Danilo Gallinari), Ty (Lawson), (Kenneth) Faried, JaVale (McGee) and Wilson Chandler looks like. I can already tell you – it looks like a five to six seed. The Nuggets are stuck in this middle ground. What I wrote was that the GM must make some sort of a move – something! – to try to take the team into the top four. They need a transformational player, and whether it's trading up to get power forward Julius Randle – obviously, they're not going to get in the top-three, but maybe he goes four or five– or acquiring some veteran shooting guard who brings buckets and a locker room presence, I just don't see status quo enhancing their status.
Given your assignment with the Nuggets beat, I'm not sure everyone knows this about you, but you are a baseball guy. Specifically, you're a St. Louis Cardinals fan. What is it about baseball you love? Can the game survive in America's "need it now, need it fast" culture?
It's funny, baseball is my favorite thing besides, like, family and Huey Lewis and the News, yet, it's so not 2014. It's slow and can be boring at times. But I don't care; I love the heck out of it. It's a link to my childhood, a link to my family, a link to my culture. There is so much beauty to the game – here I go – and there's so much personality to the game. There are few cooler feelings than walking into a stadium and going from the shadowy gray concourse into sun-splashed seating area. I'm sorry if I'm going all Ray Kinsella on you, but I love this slow, boring, antiquated game. What's cool about baseball is that you can watch it different ways. You can watch it casually – catching a pitch here or there while drinking Coors at Coors. You can watch it closely, but just to embrace the beauty of it – the 6-4-3, the slap to opposite field, the curveball. Or you can nerd it up and swim in sabermetrics and advance stats, which gives you a fascinating look at truly why a team is succeeding or not. I dabble with all three of those.
My words, not yours, not anyone's that I know of, but I want to run this by you. You're a little bit of a "throwback" sports journalist. You said you're "new generation" earlier, but I see it a bit differently. My dad used to work for the Post and often tells stories of the wild days of reporting back in they day – covering games at night, busting ass to hit deadlines, and then drinking deep into the night. Sleeping in and doing it all over again. Am I close?
Yea, I mean, a sportswriter is half the guy with a typewriter and a fedora with a PRESS card, and half a guy simultaneously texting, tweeting, writing and watching a game.
But, you're everywhere. It's rare I don't see you every time I'm at a game. Every practice. And, according to most, you're responsible for regularly organizing social outings for everyone. Throw in the pursuit of Saul Goldberg along the way. Do you ever feel like you're burning the candle at both ends?
No, I love it. This is what I signed up for. I work best on deadline, or when there's a lot going on and I have to manage it all. And yes, author and Grantland writer Jonah Keri and I created WINS – Wednesday Is (the) New Saturday. It's probably my greatest contribution to society. A bunch of local writers and lawyers and writers who tell girls they're actually lawyers meet up, tell stories and, occasionally, do karaoke. My go-to's are Nelly's "Hot In Here" and the Jennifer Warnes part of "I've Had the Time of My Life."
Not long ago, you lost a girlfriend. Very tragic. Anyone who knew you guys was very saddened – one of those "wow, way too young" kind of situations. Obviously, that had to have a major impact on you, but do you feel like you gained an even bigger "thirst for life" because of that situation?
It was the worst. She was such an awesome girl. I loved loving her. This was in January of 2011. It turned my world upside-down. You always hear these tragic stories, but in the back of your mind you're like – well, this'll never happen to me. I lived a nightmare. But now, I try to live life the way she'd want me to. She had such a fun, bubbly personality – and she was way funnier than I was – so I just try to seize the day, every day. I am constantly pushing the envelope in life, finding fun.
That's a great answer. You're right; nobody ever thinks that can happen to them. It's cliché, but it really does look like you've made the most of a terrible scenario. Thanks for sharing that. People grow in a lot of ways. How much have you evolved as a writer since you've been in Denver?
The cool thing about living here is there are just so many amazing stories to tell. And while I love covering "the big game," I also adore telling the stories that readers are hearing for the first time, such as this Colorado high school kid whose mother died, and in the next baseball game he played – a double-header – he pitched a no-hitter in the first game and hit FOUR home runs in the second. Or taking the reader some place they can't go, like in Beijing. I hung out with Colorado Olympic wrestler Henry Cejudo, the son of an illegal immigrant, in the first five hours after he won the gold medal. Or even going to George Karl's house as he battled cancer, painting the picture of this frail yet valiant man.
You recently "trended" on Twitter – I guess that's how one might say it – when you had a great one-liner about Michael Sam: "One small kiss for man (and his boyfriend), but one giant smooch for mankind." Were you amazed at how quickly that caught fire?
It was bonkers. But it was cool for me, because the minute I got this columnist job, I knew I wanted to use my empowered voice to raise awareness about issues in sports that mattered to me. We'll look back 50 years from now and be embarrassed about how slow society and sports were to accept gays. Shoot, it's embarrassing right now. I have written numerous pieces about gay rights and accepting gays in sports. I take pride in that. Same with other issues, such as the quest to legalizing marijuana use in sports – or at least consider it on the same level as alcohol, and not cocaine, as some sports do. And I've written numerous controversial pieces about anti-bullying and concussions. So to be trending nationally was special because it was for something that I feel so strongly about.
Twitter has truly been a game changer in sports journalism. In your opinion, is it for better or worse?
Clearly the better. Twitter is our world. It's the forefront. It's my life, really – that sounded incredibly dorky. But it like really is my life and our life – we live in an instant world, where news breaks instantly and where we react instantly. And it's perfect for me, because like I mentioned, I like to splash my personality on tweets. In a way, it's sort of like stand-up comedy; you make a funny observation or comment, and the retweets and favorites are the equivalent to laughs and applause. And it's changed the way we watch sporting events. They're now a shared experience. You sit there and comment on the game and its importance, but also about the ridiculous outfit on the guy sitting courtside or an obnoxious commercial that we're all seeing together at the same time.
But doesn't it undervalue the craft, so to speak? A guy like you works tirelessly to know sports, to understand them better, to break stories. With Twitter, someone says something, or someone breaks something, and it catches fire and flames out almost as fast as it came in. Sometimes, the source gets lost; sometimes, it doesn't. I guess, in a weird way, has it lessoned the importance of, or the appreciation for, a sports journalist?
What we're basically looking at is this: The modern sports journalist, in order to thrive in this 2014 social media world, must be wildly versatile. He or she must be able to become relevant on Twitter – short-term reactions – and similarly relevant in print or on the web site – long-term reactions. The sports journalist has, if ever, more importance because it's not just "Carmelo's been traded." It's now – Carmelo's been traded, here's the reaction I got from players, here's video of the coach talking, here are tweets about who "won the trade," here's a video of me breaking down the trade; it's a smorgasbord of information. And the key is providing readers something that the dude on his couch can't. Like I said before, it's a responsibility. But you have to separate yourself, become a brand, grow a following and be ahead of the curve. Stave off irrelevance.
So, 30 years from now, two young guys like us, will be sitting around talking about the way sports "used to be" reported – old school stuff like Twitter and SportsCenter. You strike me as a guy who can't wait for the "next thing." Would that be accurate?
I'm always like, "Wait, how can this be better?" I'm sure people said that with cassette tapes – "You can just fast-forward to your favorite part of Careless Whisper!!"
Well said. So, that helps to wrap this up. What's next for Benjamin Hochman? Saturday Night Live? The next big tweet? Changing the world with one column at a time?
What's next? The Italian sandwich at Snarf's.
---
Check out Ben's sweet seersucker suit in the June digital issue.