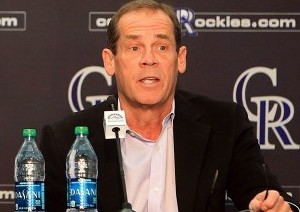 The Colorado Rockies lost their way on April 20, 2010; that's the day the team's president, Keli McGregor, unexpectedly passed away at the age of 47. And the franchise has been drifting further and further off course ever since.
Initially, the Rockies didn't hire a replacement for McGregor out of respect for their former leader; it would have seemed inappropriate to quickly bring in a new president. But more than four years later, it's baffling that the team still has done nothing to fill the void left by his passing.
Instead, team owner Dick Monfort has assumed most of McGregor's duties; essentially, he's overseeing the entire organization, both the business and baseball sides of the operation. And that's just a recipe for disaster.
It's not that Monfort doesn't have good intentions. And it's not that he's not a smart guy. It's simply because an owner isn't interested in putting in the time necessary to do the job properly.
The team's managerial search prior to the 2013 season is evidence of this fact. Essentially, the Rockies interviewed two guys with direct ties to the team for the job – Walt Weiss, a former player who was managing a local high school team at the time, and Jason Giambi, a player who was on their roster in 2012. It's as though they didn't even know who else to talk to about the gig; that's because there isn't much depth to their baseball contacts.
Not even Monfort could argue with that assertion, unless he wanted to contradict himself. In a May 2012 interview with Patrick Saunders of the Denver Post, the owner said this about Dan O'Dowd:
"I can't think of a general manager in baseball that's as good as him. Granted, I don't know all of them. But I just think he's heads and shoulders above everybody else."
If the guy ultimately in charge of the day-to-day operations of the entire organization can't name the other 29 GMs in Major League Baseball, that's a problem. It's proof that he's not engaged enough with what's going on.
And that's the place the Rockies currently find themselves. They're a team without a rudder, devoid of leadership at the top. It's why they desperately need to finally hire McGregor's replacement.
The Rockies need a president who establishes a clear mission and can communicate it effectively – to everyone else in the organization, the media and the fans. No one can state the franchise's current philosophy for building a winner. That's either because it doesn't exist, which is one kind of problem, or due to the fact that it hasn't been properly expressed, which is another issue.
Colorado needs an executive who is willing to think outside the box and come up with unique approaches to the problems that face the franchise. Given that they're a mid-market team that plays 81 games at altitude, the franchise needs to come up with some creative approaches to both of those challenges. Instead, they either ignore them or use them as an excuse; neither approach is endearing or effective.
They team needs a leader who can build relationships in the community. Of all the professional sports franchises in Denver, the Rockies are firmly established in the cellar when it comes to outreach around the Mile High City. That's either because they aren't very active, which is a major issue given that they play in a taxpayer-subsidized stadium, or don't do a very good job of letting people know what they are up to, which is simply bad business. No one likes too much horn tooting on the good-works front, but a little bit is essential.
And the organization needs some in charge who is seen as trustworthy and believable. At this point, no one puts much stock into anything Monfort says. Almost every interview he does – whether a puff piece with a broadcast partner, a sit-down Q&A for Mile High Sports Magazine or an ill-conceived Twitter interaction with fans – results in a foot-in-mouth moment or two and plenty of eye-rolling from the public.
For an example of a plan to includes all four of those elements, scroll down. I've included my very own presidential plan for the Rockies.
Whether the team chooses to follow my advice or not, they need to bring someone in to fill the void atop their organizational chart. It's inexcusable that they've left that position vacant for what is now a fifth year.
In the three years prior to McGregor's death, the Rockies made the postseason twice; obviously, they were on a path that was producing results. In the four full seasons since, they've lost 79, 89, 98 and 88 games, respectively; and this year, they're on pace to lose another 89.
That's all the evidence needed that the current plan isn't needed. It's time to right the wrong and finally hire Keli McGregor's replacement.
***
For the sake of argument, here's a presidential plan for the Rockies:
When it comes to building their roster of position players, the Rockies need to focus on three key attributes: 1) On-base percentage, 2) speed and 3) defense. Each of those things will help them win games at home, but they also translate to the road. That's never been the case before, where Colorado's juggernaut offense at elevation tends to wilt at sea level.
Instead of trying to put together big innings at Coors Field with the long ball – which has resulted in a string of players who can hit home runs at home and have warning-track power on the road – this new formula strives to put big numbers on the scoreboard by constantly having traffic on the bases. Stringing together four, five or six hits in a row is what can put big numbers on the board. And that idea, when coupled with the speed that is needed at home to cover the expansive outfield, works away from Coors Field, as well; it allows the Rockies to manufacture runs.
Having good at-bats, getting the bat on the ball consistently, showing a good eye to draw walks, possessing speed on the bases and in the field, and being able to field the baseball are all things that aren't affected one bit by altitude. Thus, Colorado needs to make those transportable traits a signature of their philosophy.
When it comes to putting together a pitching staff, the Rockies need to focus on three important things: 1) Ability to throw strikes, 2) mental toughness and 3) experience pitching at altitude. Each of those things is crucial to surviving at Coors Field, but they certainly don't hurt to possess away from home.
Nothing leads to big innings at altitude like giving the opposition a free pass. Limiting the number of base runners, potential runs that would score on hits that are inevitable at a hitters' ballpark, is of the utmost importance; and while it sounds basic, too many pitchers seem to forget that there's no chance of making an out on a walk. Throw strikes, let guys put the ball in play if need be, and give the team's stout defense a chance to make a play.
In part, having mental toughness will lead to throwing more strikes at Coors Field. A pitcher has to have the courage to put the ball over the plate. But in addition, they have to be able to deal with the fact that their numbers are going to be inflated; pitching at altitude will result in more hits and runs being put up against even the best hurler, so it's important to have a staff comprised of guys who can deal with that inevitability. It's about mitigating damage, preventing a run or two from ballooning into five or six; that takes mental toughness, not getting rattled when one or two things don't go right.
Some of that will come from having experience pitching at altitude. Savvy veterans know that falling behind 3-0 early in a game at Coors Field isn't nearly as big of a hole as being in the same predicament in Cincinnati, Los Angeles or some other sea-level stadium. But experience also teaches hurlers how their pitches will react at 5,280 feet; that's a key to throwing strikes and not overthrowing, which leads to injuries. That's why a stop at triple-A Colorado Springs should be mandatory for every pitching prospect; they need some time to adjust to pitching at altitude, something that can only be done through experience.
Which leads to another out-of-the-box idea: The Rockies need to move spring training to Denver.
It's a scientific fact that it takes the body time to adjust to altitude; with less oxygen in the air, recovery from physical exertion takes longer. The prevailing wisdom says that after approximately three weeks, the human body adapts and compensates for the change; without that 21-day adjustment period, however, athletes who perform in Denver will find themselves more fatigued after a game than in any other major-league city.
For teams who train in Colorado, that provides a competitive advantage – the Avalanche, Broncos, Nuggets and Rapids are all adjusted to the oxygen-deprived air, while their opponents are not. In baseball, where teams have to play multiple games in Denver at a time, the edge would be even greater. But given that the Rockies never spend more than three weeks at a time living a mile above sea level, their body never adjusts. As a result, they're facing the same challenges as their opposition.
In effect, the Rockies players are forced to endure what is the equivalent of 81 road games at Coors Field, at least in terms of wear and tear on their bodies. That takes a toll, which is one of the major reasons why Colorado's roster seems to get decimated by injuries every season; they simply break down from fatigue.
If the Rockies trained in Colorado prior to the start of the season, however, that wouldn't be the case; they'd be acclimated to the altitude, an adjustment that would last throughout the season. Thus, the team should move its spring training to somewhere at least a mile above sea level. A place like Flagstaff (6,903 feet) would work, but staying right here in Denver would make the most sense; why go reinvent the wheel in another location when everything the team needs is already here?
The argument against this will be a simple one: No other team does that. That's a horrendous reason not to try something new; in fact, that's all the more reason to do it. Colorado could get a jump on the competition by being the first to try something revolutionary.
The fact of the matter is that spring training is an idea long overdue for being put out to pasture. It dates back to a time when players spent the offseason drinking beer and eating brats, so they needed six weeks in Arizona or Florida to get themselves back into playing shape prior to opening day. That's simply not the case anymore, given that guys are working out year round and stay in impeccable shape even in the offseason.
Sure, having spring training in a place where other teams aren't around would prevent the Rockies from playing meaningless exhibition games in March. But so what? Does anyone really think that Troy Tulowitzki gets ready for the season by facing some soon-to-be double-A pitcher from the Mariners? It's laughable; there's nothing even remotely resembling a real game taking place in Phoenix.
And finally, the Rockies need to beef up their efforts when it comes to public relations. The folks who work in that department are good, smart and talented people; they just need some better direction.
When the team is out in the community – appearing at schools, hospitals or other places – they need to make sure that message is getting out. A picture is worth a thousand words, so there's no replacement for a good photo op.
Furthermore, the team president needs to make himself available to the local media to talk about the state of the team; he needs to be held accountable for sticking to the plan and doing what the organization has promised. In part, that's on the media relations folks to make the president available to people other than the team's broadcast partners and national shows. But it's also imperative that the leader is able to handle those situations with clarity, confidence and grace; that will do wonders for building trust with the fan base, which is best accomplished through the press.
While most fans don't want to hear it, there are some things the Rockies do very, very well. Mostly, these strengths lie on the business side of the team's operations, where there are some very capable people at work.
In the ticket office, Colorado has it dialed in, especially in the group sales department. By doing things to attract large blocks of fans to less attractive games on the schedule – letting Little League players walking on the field, turning a Sunday afternoon into "Faith Day," etc. – the franchise has been able to exceed the National League average for attendance in each of the past five seasons, only one of which saw the Rockies advance to that playoffs; that's an impressive feat, one they're well on their way to accomplishing again in 2014, given that Colorado is currently averaging the fourth-most fans per game in the NL.
On the marketing side, there are similar strengths. While it'd be great to see the Rockies expand their reach beyond their broadcast partners – ROOT Sports and KOA get the lion's share of attention from the team – there are some great ideas in this department. The constant flow of bobblehead nights, jersey giveaways and other promotions help bring people through the turnstiles. And once fans are inside Coors Field, the facelift done during the offseason to the signage within the stadium is top-notch; it's on par with what can be found at Fenway Park, which is the most spot-on stadium in the majors.
And the collection of folks who came up with the idea for The Rooftop – from inception to execution – also deserve huge props. Essentially, the Rockies turned a batch of terrible seats, which were unavailable for purchase during nearly every home game (save for fireworks games and when teams like the Yankees came to town) into the hottest sports bar in Denver. Simply having that thought was a stroke of genius; seeing the way in which "the party deck" turned out, which is a great experience in every way imaginable, shows there are some bright folks making decisions at Coors Field.
Unfortunately, that's where the positives end. And given that none of those things have anything to do with the product on the field, which is ultimately what a baseball team is supposed to be about, that's where the trouble arises.
Hiring a team president, if it's the right person, would go a long way towards correcting this problem. The time has come for the Rockies to finally make that move.