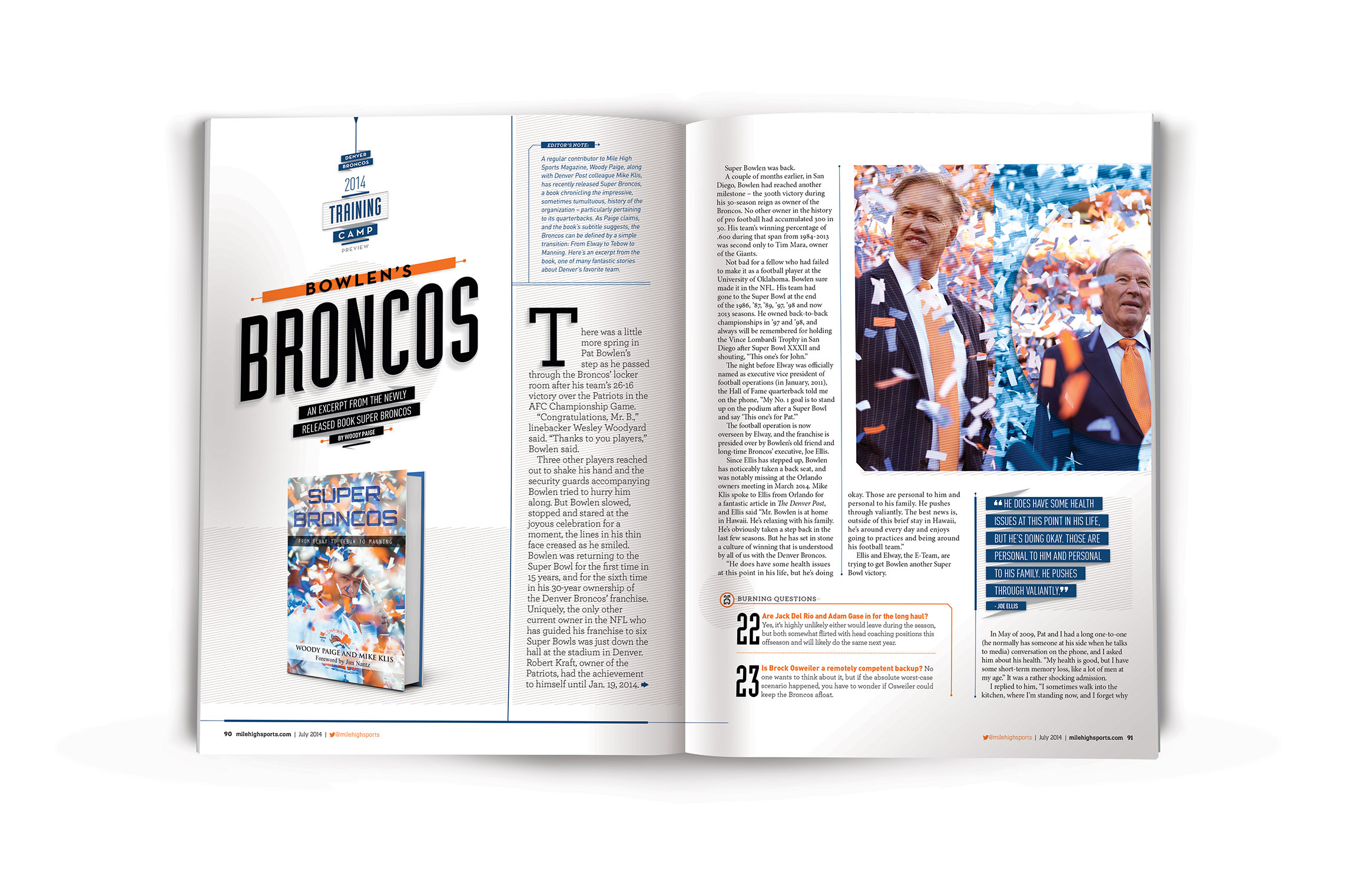 Editor's Note: A regular contributor to Mile High Sports Magazine, Woody Paige, along with Denver Post colleague Mike Klis, has recently released Super Broncos, book chronicling the impressive, sometimes tumultuous, history of the organization – particularly pertaining to its quarterbacks. As Paige claims, and the book's subtitle suggests, the Broncos can be defined by a simple transition: From Elway to Tebow to Manning. Here's an excerpt from the book, one many fantastic stories about Denver's favorite team.
There was a little more spring in Pat Bowlen's step as he passed through the Broncos' locker room after his team's 26-16 vic- tory over the Patriots in the AFC Championship.
"Congratulations, Mr. B.," linebacker Wesley Woodyard said. "Thanks to you players," Bowlen said. Three other players reached out to shake his hand and the security guards accompanying Bowlen tried to hurry him along. But Bowlen slowed, stopped, and stared at the joyous celebration for a moment, the lines in his thin face creased as he smiled. Bowlen was returning to the Super Bowl for the first time in 15 years, and for the sixth time in his 30-year ownership of the Denver Broncos' franchise. Uniquely, the only other current owner in the NFL who has guided his franchise to six Super Bowls was just down the hall at the stadium in Denver. Robert Kraft, owner of the Patriots, had the achievement to himself until Jan. 19, 2014.
Super Bowlen was back.
A couple of months earlier, in San Diego, Bowlen had reached another milestone − the 300th victory during his 30 season reign as owner of the Broncos. No other owner in the history of pro football had accumulated 300 in 30. His team's winning percentage of 60 during that span from 1984-2013 was second only to Tim Mara, owner of the Giants.
Not bad for a fellow who had failed to make it as a football player at the University of Oklahoma. Bowlen sure made it in the NFL. His team had gone to the Super Bowl at the end of the 1986, '87, '89, '97, '98 and, now, 2013. He owned back-to-back championships in '97-'98, and al- ways will be remembered for holding the Vince Lombardi Trophy in San Diego after Super Bowl XXXII and shouting, "This one's for John."
The night before Elway was officially named as executive vice president of football operations (in January, 2011) he told me on the phone, "My No. 1 goal is to stand up on the podium after a Super Bowl and say 'This one's for Pat.'"
The football operation is now overseen by Elway, and the franchise is presided over by Bowlen's old friend and long-time Broncos' executive, Joe Ellis.
Since Ellis has stepped up, Bowlen has noticeably taken a back seat, and was notably missing at the Orlando owners meeting in March 2014. Mike Klis spoke to Ellis from Orlando for a fantastic article in The Denver Post, and Ellis said "Mr. Bowlen is at home in Hawaii. He's relaxing with his family. He's obviously taken a step back in the last few seasons. But he has set in stone a culture of winning that is understood by all of us with the Denver Broncos.
"He does have some health issues at this point in his life, but he's doing OK. Those are personal to him and personal to his family. He pushes through valiantly. The best news is, outside of this brief stay in Hawaii, he's around every day and enjoys going to practices and being around his football team."
Ellis and Elway, the E-Team, are trying to get Bowlen another Super Bowl victory.
In May of 2009, Pat and I had a long one-to-one (he normally has someone at his side when he talks to media) conversation on the phone, and I asked him about his health. "My health is good, but I have some short-term memory loss, like a lot of men at my age." It was a rather shocking admission.
I replied to him, "I sometimes walk into the kitchen, where I'm standing now, and I forget why I came in here. I understand." Bowlen is only three years older than I am.
"But I've forgotten things about the Super Bowls," Pat confessed.
That interview led to a lot of speculation about Bowlen over the past several years. He still goes into the office every day and works out in the Broncos' training center. Both Ellis and Elway report to Bowlen daily and he signs on every major decision the franchise makes. But, for most of the time during those 30 years, Bowlen was hands-on, and was involved in major and minor details. Not so much anymore.
Bowlen once told me he would never sell the team. "I'll be here until they put me in a box." There are no indications these days that he will sell his ownership, and he does have a wife and five children, but he could bring in Elway as a minority partner. The two had discussed such a possibility when Elway was hired as executive V.P.
The franchise Bowlen purchased from Edgar Kaiser Jr. for just under $70 million (he didn't have 100 percent ownership until a year later) was valued, according to Forbes Magazine, in 2013 at $1.05 billion. That number will continue to rise, especially after another trip to the Super Bowl.
The man born to a Canadian wildcatter and a Wisconsin mother during World War II has done OK.
Bowlen told me years ago that his late father Paul D. Bowlen (for whom the Broncos' headquarters are named) and late mother Arvella (who spent the last several years of her life living in Denver) were traveling in a car through Vermillon, Canada, when she became ready to give birth. She chose to go back to her childhood home in Prairie du Chien, Wis., (population 6,000) and have their son, Dennis Patrick Bowlen.
He was a Can-Am Kid.
Paul, a mining and oil speculator, did extremely well with his drilling and became wealthy and, as a teenager, "Pat" was sent to the prestigious all-boys Catholic Campion High School. There, he was good but not great academically, and good but not great in hockey, football and track. He graduated in 1962 and went off to Oklahoma University.
As a freshman Pat spent some time with the powerful Sooners, coached by the legendary Bud Wilkinson, but quickly realized he was too small, too slow, and too average to be a college football player, and gave up the game.
Instead, Bowlen would earn degrees in business and law, and returned to Canada (Edmonton) to be a lawyer and an executive in his father's company. He made his mark and multiple millions in oil, gas and real estate investments. In his late 30s, Pat decided he wanted to "do something different and have some fun in life" and got into sports management − as an owner. He investigated hockey and Canadian Football League franchises. One day at church, Pat told me, he ran into fellow Canadian Edgar Kaiser Jr., who had recently bought the NFL's Denver Broncos and told him, "If you ever want to sell, let me be first in line."
When Kaiser started bleeding financially − and the Broncos, al- though few knew, were in danger of bankruptcy, he called Bowlen in 1984. Kaiser told me, "It was a simple transaction. I told Pat how much I wanted (more than doubling his outlay), he said yes. One of the easiest business deals I ever made."
Bowlen, who nobody in Denver had ever heard of, was introduced as the new Broncos owner on March 23, 1984. He said he would move to Denver, take command of the team personally, and return a championship to the city. "I'm not here to play around. I'm here to win," Pat told me then.
Then he showed up on the sideline at a game in a flamboyant fur coat.
That was not the right thing to do. "I made a mistake," he acknowledged later. But Bowlen liked the spotlight. He purchased a mansion next to the famed Cherry Hills Country Club (to go with his Oceanside home beneath Diamond Head and outside Honolulu, Hawaii) and regularly attended charity events. He was at every Broncos practice, ordered a luxury suite renovated above the 50- yard line at Mile High Stadium for his pleasure at games and then trained for, and finished 135th (among more than 1,000 entries) in the grueling Ironman Triathlon on the Big Island of Hawaii.
Bowlen was in the best shape of any owner in the league and he helped the other owners get into better shape as the head of the broadcasting committee. Bowlen negotiated an $18 billion contract with the networks to televise NFL games.
Meanwhile, the Broncos started going to Super Bowls shortly after Bowlen took over − because of the presence of John Elway – and became one of the most successful teams in football. When Bowlen brought back former assistant Mike Shanahan to take over as coach (and everything else in the front office) and opened up his pocket- book for free agents and free spending, the Broncos ultimately won two Super Bowls.
However, hard times were ahead after Elway retired. The Broncos did make the 2005 AFC Championship, but generally were a .500 team for years. Bowlen had promised that Shanahan had a lifetime contract. But that life with the Broncos ended at the very beginning of 2010 when Shanahan was fired by Bowlen − and replaced with Kid McDaniels.
On the night Bowlen fired McDaniels, he and Elway celebrated at Elway's restaurant in Cherry Creek and the two agreed to hook up again. John Fox would be hired as coach, Tim Tebow would have a short, brilliant run (literally), and Peyton Manning would agree to join the Broncos' drive.
Bowlen's Broncos were back.
And Bowlen had become a serious candidate to one day be in the Pro Football Hall of Fame.
Read Super Broncos, by Woody Paige and Mike Klis from cover to cover! Pick up your copy at Tattered Cover, Barnes and Nobel, on Amazon, Nook and iTunes, or through woodypaige.com.