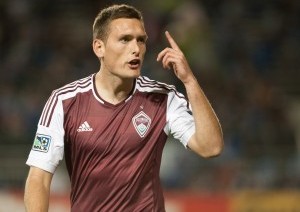 COMMERCE CITY — For the second week in a row, a Colorado Rapids player was handed a suspension following review by the MLS disciplinary committee. Rapids defender Shane O'Neill was handed a one-game suspension following disciplinary review of a yellow card challenge by the Rapids homegrown player over the weekend.
NEWS: Vicente Sánchez slapped with two-game ban
O'Neill was caught by the referee on a late challenge with studs up on Philadelphia midfielder Danny Cruz in the 11th minute of a 3-3 draw with the Union on Saturday.
"The main thing I said to the ref is, 'This is my career,'" Cruz told reporters postgame. "It was a nasty tackle. It was late. He knew he wasn't getting there first. He knew what he was doing. And it's very frustrating to not have the man in the middle support you.
Reports say Cruz looked to be in serious pain. "It's tackles like that that get people injured." He added "It's tackles like that that get people out for a year. I want to feel protected. And from that minute on, I didn't feel protected."
Forward Vicente Sánchez will also be serving the second of his two-game suspension on Friday against Portland, and midfielder Nick LaBrocca will also be absent on suspension due to yellow card accumulation. LaBrocca earned his fifth yellow card of the season for dissent in the 34th minute against Philadelphia.
Without Sánchez, LaBrocca and O'Neill, Rapids head coach Pablo Mastroeni will have to look for replacements in the lineup as the Rapids take to the road to face Western Conference rival Portland (9 p.m. MDT) on Mile High Sports Radio FM 94.1|96.9 in Boulder.
---
Marco Cummings is a staff writer for Mile High Sports. He can be reached via email at marco@milehighsports.com or on Twitter @Marco_Cummings.
---