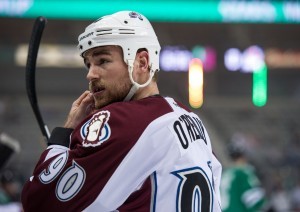 Pride, when harnessed correctly, can be an outstanding motivator. It drives many to work harder, aim higher, dream larger. It can be beneficial for those who are delighted with their labors, enjoy the success of their own accomplishments and continue to push for consistency, efficiency, and improvement.
Pride can also be divisive, if needlessly heeded over logic or ethics. It can get in the way of productive engagement or levelheaded negotiation. It can create rifts between friends and colleagues and can even lead to inflated self-worth.
Pride is the reason that recent contract talks between the Colorado Avalanche and forward Ryan O'Reilly were dragged out for so long. Pride may even ultimately serve as the downfall between the two parties.
Sure, the dispute is over. O'Reilly's valuation of his own talent was bloated thanks to the offer sheet two years ago from former Calgary Flames general manager Jay Feaster. The Avalanche thought he should be paid considerably less, along the lines of teammates Matt Duchene ($6 million/year) and Gabriel Landeskog ($5.571 million/year).
Keep in mind that O'Reilly's last contract—courtesy of the Flames—saw him making just $3.5 million during the lockout shortened season of 2013, during which his holdout prevented him from playing in the first 19 contests. It wasn't until the following campaign—when O'Reilly led the Avalanche in goals (28) and the entire NHL in takeaways (83)—that he received his hefty $3 million raise as previously scheduled.
Now, O'Reilly will be making $5.8 million in year one and $6.2 million in year two.
It became readily apparent in Las Vegas, in the days following the draft and NHL free agency, that arbitration was the only way that this dispute would be resolved. O'Reilly played his hand last season and was hoping to ride his $6.5 million minimum offer requirement into a new deal. The Avalanche, in typical big-stakes poker fashion called, hoping for an independent third party to make the final—and lower—judgement.
After that, it was radio silence. Brinksmanship. A game of chicken.
Now, on judgment day for both sides, the melodrama has been quieted but not erased. Both sides have connected with just hours to spare, seemingly fixing the damage done in the distance between them.
Welcome to the beginning of the end of days for Ryan O'Reilly in an Avalanche sweater.
It's just business, each party has explained. Yet it is so much more than that. Both sides have worked to manufacture favorable public opinion with each spoken word, fooling nobody with the desires for long term deals and future smiles.
O'Reilly wants more money than Duchene, who has had more offensive production in less games over the same timeframe. O'Reilly wants more money than the team captain, Landeskog, who is a leader and ambassador of the club, on the ice and off it. O'Reilly wants more money than guys drafted well ahead of him, including John Tavares, Evander Kane, Oliver Ekman-Larsson, and Jonathon Toews and Patrick Kane—at a comparable age.
O'Reilly wants nearly as much money as Jarome Iginla was making in his heyday with the Flames.
The Avalanche want a bargain. The Avalanche want financial conformity and control. The Avalanche want security for the longevity of the burgeoning club, through years of potential contention for the greatest trophy in all of sports.
Neither side wants to back down. Both sides are proud and wish to remain so, both internally and in the face of fans. Everyone will lose now.
There's always the chance that this arbitration business—the posturing, comments, and lack of long-term progress—and the stiff negotiations for back-to-back contracts will blow over and everything will be powder days between O'Reilly and his original club. Yet damage has already been done. Lines have been drawn in the snow and fans are divided. Allegiances have already been hastily brushed on faces like war paint.
There's no arguing that the legacy of O'Reilly has been tainted by his reputation for hardball when it comes to his salary. He's young and largely unproven and his behavior isn't sending the right message to those around him. It has almost certainly paved his way out of town and his formative years will be marred by the off-ice drama.
For the Avalanche, the fact that this has happened twice hints at a stodgy, internal budget that will be swayed for no man, Stanley Cup be damned. Losing an asset like O'Reilly could be the lowest point in a young executive career for Joe Sakic, who is calling the shots on this one. Fans may always remember these moments the way they do the end of the Chris Drury era, with contempt and a reasonable amount of regret.
A fierce competitor, O'Reilly will stop at nothing to get what he feels he deserves. The trouble is, now that Paul Stastny has left for no return, O'Reilly has little firm footing left to stand on. The crevice of his future looms large before him and he has nowhere to go but into the fissure.
O'Reilly will be an unrestricted free agent at the expiration of his new deal. Maybe he signs an extension before then and all of this becomes meaningless, small details in the footnotes of the history of O'Reilly's tenure in the National Hockey League. The again, maybe he pushes for more money once more. Third time's a charm, right?
You can be sure that Colorado won't let the Stastny scenario play out again with another player, and with roughly a year to shop, you have to think that management won't be looking for this headache again in 2016 either.
Today's ceasefire will only be the beginning of what will surely be a meltdown between both sides and, while all will be quiet and largely hidden from the voyeuristic hockey population, enough has already transpired publicly for prying eyes to see how poorly this scenario has played out in Denver. That black eye will linger long after the drama is gone.
Neither side has won this dispute and the O'Reilly situation is far from concluded.