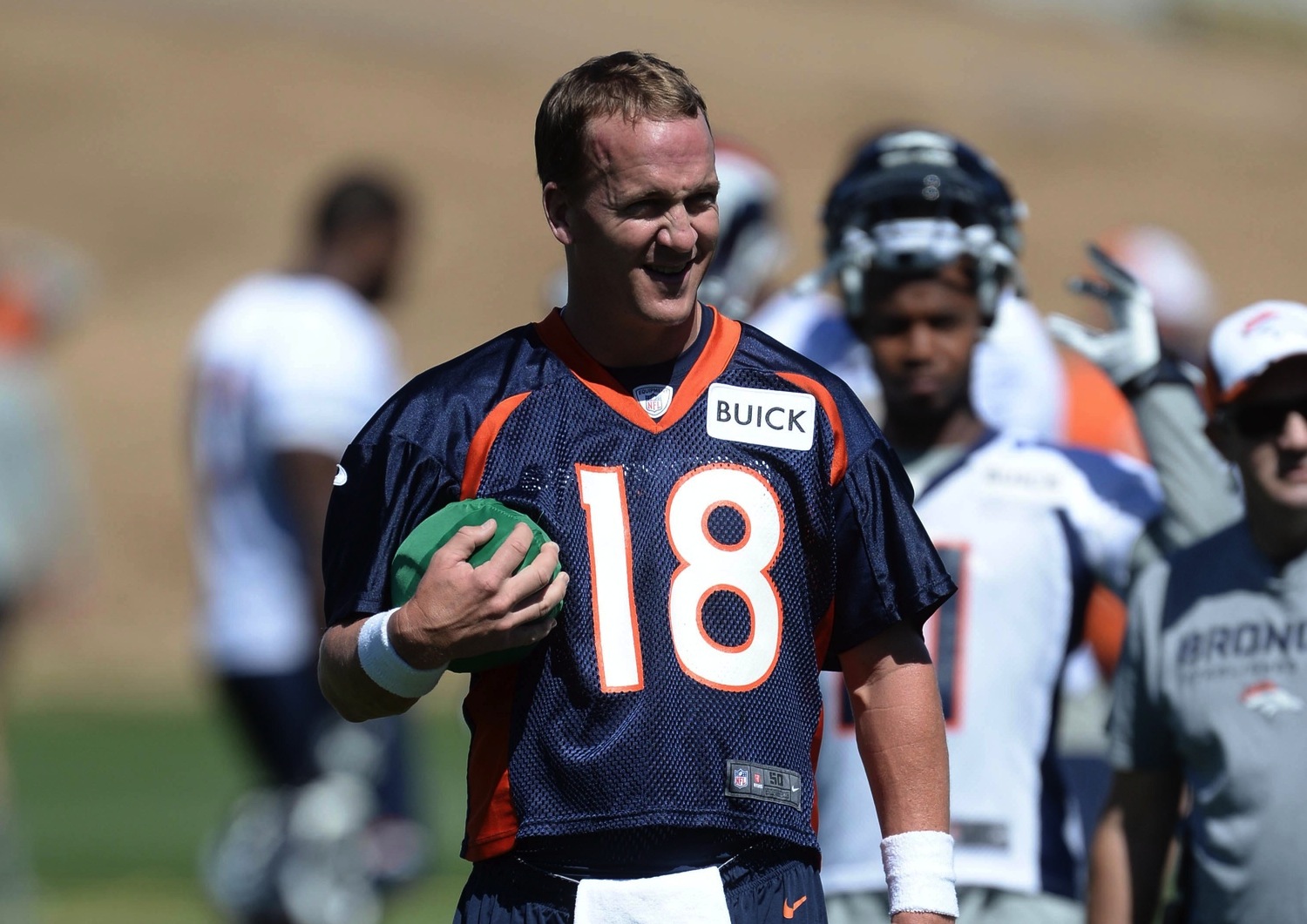 Day 9
I have been told that Broncos officially consider days off official days in training camp. Numbers have never been my strong point, but even I'm surprised I have difficulty counting to ten. With that being said – Welcome to Broncos training camp, day number 9!!!!
The summer scrimmage is tomorrow so we expected a relatively light hitting day. Boy, were we wrong. The Broncos hit and hit hard. They went goal line. They went short yardage. They went through the practice with anger and animosity. Hall of Famer and intern Rod Woodson went toe to toe yelling at officials about flags being thrown.
What the heck is going on today?
This wasn't what we were expecting. If we are in the truth telling business, the truth to tell is that camp is way more productive without fans. Sorry fans, they don't really need you.
Is it a grind? Yep. Is it more intense? Yep. Is it more serious? Yep. Is it less fun? Yep. But, is it better to prepare this team for the season? We shall see.
For the first week it feels as if the defense has had a huge advantage on the offense, but that may change with the scrimmage tomorrow. I have concerns about the durability of Demarcus Ware. It has been pointed out to me endlessly about his ironman playing streak. Well, thats a good and bad thing isn't it? When he finally reaches his breaking point, will he be able to play through nagging injuries or will he simply break down completely. The Broncos are being cautious and everything he's doing in camp reflects their caution.
The highlight of the day was John Elway taking a few moments to visit with his first grandchild who is only a couple of weeks old.
John Elway is a Grandfather. Is that some sort of wake up call for those of you who remember Elway as a surfer boy college kid? There certainly have been plenty of grown up moments for Number 7, but a grandfather? The baby is very cute and Elway enjoyed stopping by to say hi. We all hope to have happy and healthy families. John has dealt with plenty of tragedy to go along with his many highs. It was a light moment in a surprisingly intense day that saw Julius Thomas get dinged up, the offense struggle yet again and heads up, there is a new running back to get on your radar screen: Juwan Thompson ladies and gentlemen is your new front runner for that fourth running back spot.
My main man Brock Osweiller continues to look inconsistent, but improved – it's like a circus act.
"COME ONE, COME ALL AND SEE THE GIANT THROWING QB!!!! HE WILL DAZZLE AND DISSAPOINT YOU WITH HIS VARIETY OF SACKS, INTERCEPTIONS, BULLET PASSES AND SCRAMBLES. YOU WON'T KNOW WHAT TO EXPECT FOR THIS LANQUID, LENGTHY LATHARIO OF LEGENDARY LEAPS AND LEVITATIONS. HE'S GOOD, HE'S BAD, BUT MOSTLY HE'S TALL! COME BE INSPIRED BY BIG BROCK!!!!!"
Brock throws a pick to Malik Jackson, then makes an amazing throw to Gerrell Robinson. Brock takes a couple of sacks and then scrambles for a first down. It's not great and it's not awful. Geez, when I think of it…it's….it's…it's…
Well, heck, it's a lot like Tebow! But Grandpappy Elway didn't draft Tebow, did he?
Day 10
The Saturday scrimmage.
Just under 40,000 Broncos fans showed up to watch the Broncos offense totally eviscerate the Broncos defense. Peyton Manning smoked the No. 2 defense. Brock Osweiller destroyed the No. 1 defense. Zak Dysert dominated the soon-to-be unemployed No. 3 defense. All three quarterbacks led their offenses to 65 yard touchdowns. Manning and Dysert came a nosehair away each from getting two touchdowns in merely twelve plays. Brock Osweiller and Gerrell Robinson rekindled that ASU magic on a couple of nifty plays including a shovel pass at the goal line to finish off their counterparts.
It was simply awesome.
Or was it simply awful?
I suppose there wasn't much doubt that this Broncos offense was good. However, they hadn't had many great days leading up to this scrimmage. Well, they made up for it. Julius Thomas had been dinged up the day before so Jacob Tamme simply stepped in and made incredible circus one handed catches including one for a TD. Demaryius Thomas did what he wanted to, whenever he wanted to do it. Hell, Bennie Fowler bowled over Aquib Talib. This was borderline embarrassing. Jack Del Rio got his butt whipped by Adam Gase.
Gase told me a couple of days later that he screwed up last year in not allowing Brock to run the offense as the scrimmage presented itself. Last year, Brock had 12 scripted plays so they ran 12 scripted plays. This year – screw that. This year Brock played out the scrimmage like it really was a game. After taking a sack that Gase told me was a result of a major miscommunication with players other than Brock, Osweiller handed the ball off to CJ Anderson who ran for 17 yards and a first down. Holy Patriot defense, this brought back bad memories of not containing Danny Woodhead. Brock got in the red zone and didn't fail. Brock scrambled and picked up yards. Brock shoveled to Robinson for a TD. Gase wanted Brock to win and he did.
Zak Dysert has looked worse than last year, but turn on the spotlight and Zak is at peace. Dysert went 7 for 8 with his only incompletion being a diving attempt in the endzone by Isiah Burse. Dysert was fantastic in a situation where he needed to be fantastic.
Let's take it all with a grain of salt. The defense isn't allowed to hit the QB and Manning would've taken a severe blow, so would've Brock – twice. That being said, these were the same rules last year and the offense didn't have nearly the same success. Demarcus Ware, Chris Harris and Von Miller didn't play like they normally would. But then again Julius Thomas was also out, and I already mentioned Bennie Fowler embarrassing Aquib Talib, right?
The scrimmage went quick and autographs were signed. The rookies had to endure the stupidity of the rookie haircut hazing – which is dumb and not endorsed by Manning. When I put on my Tennessee Orange WWPMD bracelet everyday, I like to think rookie hazing in the NFL is a part of the past.
Sigh. Sadly, that is not quite the case.
The defense has got to play better than it did on Saturday. It's quite apparent in good weather that this Broncos offense will destroy opponents as they did last year. I would put the over-under at 42 for average points scored for the Broncos in the first eight weeks of the season. I would not be surprised at all if Manning puts 50 on Seattle in Seattle as he embarrassed the Ravens a year removed from the playoff embarrassment. This is a high octane offense, but none of it means anything if they can't grind out a win in the Super Bowl this year.
Will the defense bounce back? Who knows. It may get a free pass for a good chunk of the season as they got a free pass last year. When you score 51 points on the road against the Cowboys, I guess you can give up 48 and be okay. Saturday was a cautionary tale. Be careful what you ask for.
The Broncos absolutely destroyed, well, the Broncos.
Day 11
Day off – I don't think anybody got arrested. However we would learn that TJ Ward got four hours of community service for throwing a glass at a bartender in a strip joint. Yea, baby! I'm not sure how TJ will contribute to society in four glorious hours, but we all learned an important lesson. When sneaking booze into an all nude strip club, watch your temper!
Day 12
Mitch Unrein was pissed. The first official depth chart came out and it basically had him cut from the team. That's always tough news to take. In practice, rookie center Matt Paradis decided to grab Unrein's face mask. That ain't gonna fly with the big 'ole Poke. Mitch pushed Paradis away and then skillfully went for the single ankle takedown, just like Mitch would've felled his opponent as he wrestled for a State Championship for Eaton, Colorado. Paradis fell like a Sequoia and teammates laughed their asses off as they all knew of Mitch's wrestling background. Chris Harris cackled and made a Jimmy Super Fly Snuka reference. It wasn't a coming off the top rope moment, but it was pretty cool.
My youngest son Dylan is a little guy who has wrestled for years. We have encouraged him to take down a bully with a single leg move because everybody's the same size when they are lying on their back. Seriously. When fighting, just take that opponent down to the ground. Most football fights in training camp suck, because there is no inherent advantage on your feet. All you do is push each other. Guess what? That's all you do in football, anyways!
Mitch was still pissed after practice. Usually he's a loose, free spirited, happy guy, but being 5th on the team in a 4 person rotation blows. Mitch is in a tough spot too. His $1.4 million dollar restricted free agent deal doesn't get guaranteed until he makes the team. Newly acquired defensive lineman Marvin Austin will only cost the Broncos $700k. How would you feel knowing those numbers and then seeing some new guy come in and be listed ahead of you on the depth chart.
Mitch was pissed. He knew the defense was embarrassed on Saturday and honestly, they just took a butt whipping on the first day back to practice after a day off.
The offense was without Montee Ball as his stomach discomfort led to a trip to the hospital to get his appendix taken out. It was an emergency appendectomy, but then again, when it comes to removing your appendix, when isn't it an emergency? Everybody has been reassured that Montee will be back for the first week of the season.
But, today was today. Today, CJ Anderson would get a ton of first team reps and Ronnie Hillman is the new starting running back of the Broncos. Whew! That's a long way from last year when CJ Anderson didn't get his first rep with Peyton Manning until he was thrust into a game in week eight! Ronnie Hillman was firmly in the running back trash pile after being deactivated week after week, including the Super Bowl. There are zero NFL vets in the running back room. They are by far the youngest position group on the team. Hillman is a 22 year old 3rd year player. Ah the salty veteran.
Whatever.
The running back position in the NFL is more disposable than a half eaten snickers bar left out in the 100-degree sun. They come in and they go out. The "hold-out" of Marshawn Lynch was laughable. The current contract of Adrian Peterson will never be offered to any running back for the remainder of NFL history. We will have rich, old (mostly white) quarterbacks forever. We will have underpaid, young (mostly black) running backs from now on. Every rule that is passed by the NFL ensures this model. Is it racist? Well, that's probably going a bit too far, but look who the rules protect and look who the rules hinder. Perhaps running back is just collateral damage. There are dozens of wide receivers, who are mostly black, that will benefit from this model. There will be dozens of undersized basketball players (mostly black) who will become tight ends that will become zillionaires because of this model. No, it's not a racist result, but it is the reality of being 5-foot-9, 215 pounds and not being fast enough to be a cornerback.
The transition away from the importance of a running back may seem cruel. But the Broncos aren't fools. They didn't need to spend a lot of money on Knowshon, so they aren't doing it. They aren't going after a veteran running back because they don't need one. They aren't drafting first round running backs because it would be stupid. Montee Ball is a second round guy and Ronnie Hillman is a third rounder. The other backs fall off trees and don't need to be drafted at all. The No. 4 running back right now is Juwan Thompson from that powerhouse running back school: Duke.
No Montee and no problem. The Broncos D got pummeled again and Mitch Unrein is pissed.
Day 13
Bradley Roby knows he needs to improve his body language. He needs to correct it soon. The first round pick looks like somebody just ran over his dog, then backed over his dog, then took his dog to a driving range and fired golf balls at him and then took the poor thing and sold it on Amazon. Frankly, that's a hell of a dog to live through all that. Roby gets beaten every day in coverage and looks beaten between every play. It's insane to need a veteran pep talk every play, but that's what's happening to Roby. Talib talks to him. Chris Harris talks to him. Kayvon Webster talks to him. Rod Woodson talks to him. I mean, geez, who isn't talking to Bradley Roby trying to keep his spirits up? He's been at camp for less than two weeks and already he's sick of people asking him about trying to cover Cody Latimer.
Guess who isn't sick of talking about that topic? Cody Latimer! Heck, Latimer will talk about that topic every day. Latimer would blog about that topic. Latimer probably goes to bed at night dreaming about a reporter asking him about the topic the next day. Roby snapped at me when I brought it up. Sorry rook; I didn't know there were taboo topics, seeing how this is your second week as a pro.
Roby is in a funk and so is the defense. Adam Gase is borderline giddy on how he is beating the snot out of Jack Del Rio's crew. In the race to become the Dallas Cowboys next head coach, Gase should shop for the nicest 10-gallon hat he can find. It hasn't been close. Name a situation and the offense is winning. Goal line? The offense punches it in with whomever they choose. Four minute offense to grind the clock out? Brock wins, Manning wins and Zak Dysert humiliated the defense by running a keeper for 20-plus yards. This was the third time in camp Dysert has converted that type of play in the same situation. Yikes, now it's not even something new! I ain't lying, the defense fell apart in a Hail Mary situation as they lazily looked on as Brock delivered a deep prayer that was caught by Latimer.
"You got him? No, I got him? No, you got him? I don't got him, you got him! Wait, who's got him…? Never mind, we lose."
Roby looks lost. He is being put out there in important situations and he continues to lose. He looks bummed out and out of sorts. It ain't sweet.
I asked Malik Jackson why the offense is getting over on the defense and he said the defense was winning.
"Uh," I said incredulously, "based on what?"
"the film," big Malik offered.
Uh……okay? If I truly wanted to be the premier customer at the jerk store, I could've simply said, "Well, how about the scoreboard?"
But, Malik is much bigger than me and pretty friendly, so why push it?
The Broncos went without padded pants, but full shoulder pads the hitting was fierce yet again. There were more fights and name calling. There were more embarrassing moments for the defense. The sloppy interceptions have seemed to evaporate. Even Bryn Renner completed a couple of passes. I couldn't believe Bryn Renner was even getting a snap! This offense is tuned up and ready for action on Thursday night against the Seahawks. This Broncos defense is being severely whipped day after day.
My man Alfred Williams thinks Shaq Barrett will make the team. He won't. But, Kenny Anunike may make it. Isaiah Burse looked to be a lock, but now Jordan Norwood is drawing attention. Ryan Miller was an incredible high school player for Columbine, but his dreams of playing for the Broncos will probably come down to Practice Squad availability.Dreams are becoming realities very quickly. The desperation is palabable.
Incredibly, one of two match ups with the Seahawks draws near. This is not going to be like just any other preseason game. We know that because Broncos players and coaches are being pretty honest about that fact. Peyton Manning will get his one typical series and then look out. The gloves will be off and this game will absolutely be a must watch affair, unlike most preseason games.
Bradley Roby had best get his body langauge together because this team ain't got time for down souls.