NOVEMBER 2013 – BASKETBALL PREVIEW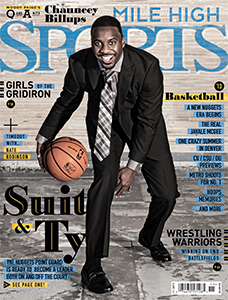 ---
In November, Mile High Sports Magazine gets Colorado fans ready for the upcoming basketball season.
Included in this issue:
The New Now
Brian Shaw intends to reinvent the Nuggets one day at a time

The Real JaVale
With a new coaching staff and a new opportunity, the Nuggets big man looks to take the next step

What Happened?
Decoding the Nuggets mysterious offseason

Seizing the Moment
It's Spencer Dinwiddie's time to shine

Timeout with Nate Robinson, Digs with former Broncos running back Reggie Rivers, Girls of the Gridiron
And much, much more.
---
To view the digital issue, CLICK HERE