MAY 2013 – GOLF 2013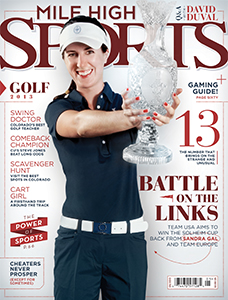 ---
In May, Mile High Sports Magazine gets ready for another year on the links.
Included in this issue:
Solheim Cup Preview
Team USA aims to beat those pesky Europeans at Colorado Golf Club
The Swing Doctor
Get to know Colorado's best golf teacher
The Comeback Champion
CU's Steve Jones beat long odds to become a great PGA player
Scavenger Hunt
Visit the best spots in Colorado to win great prices
The Experience: Cart Girls
A firsthand trip around the track
Q&A with David Duval
Woody Paige goes one-on-one with the former No. 1 golfer in the world
Timeout with P.A. Parenteau, Digs with Avalanche defenseman Shane O'Brien, D-Mac shares the power of sports
And much, much more.
---
To view the digital issue, CLICK HERE