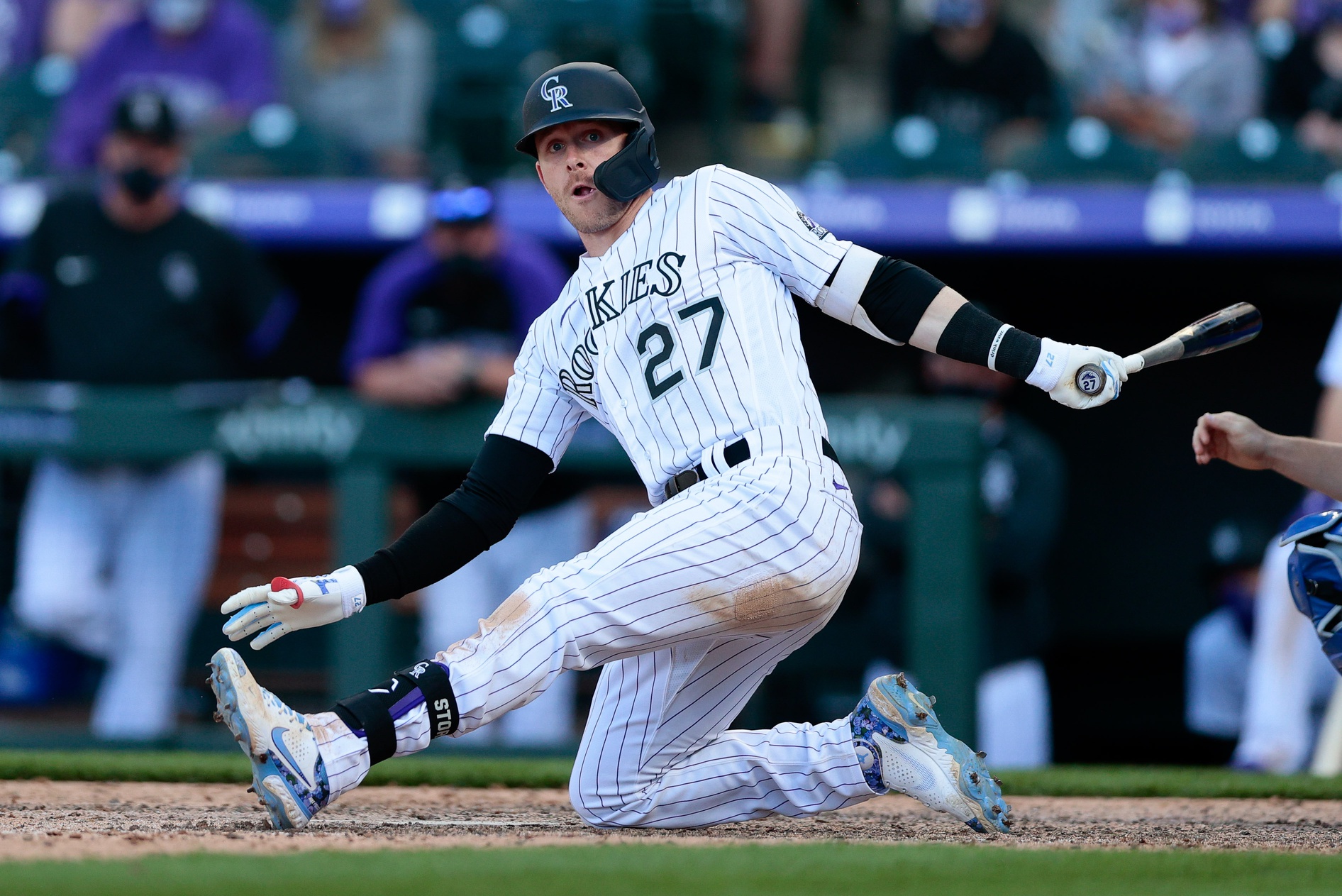 The 1-0 Colorado Rockies are hot. Red hot.
Their fans are still tepid.
At best.
What's an Opening Day win worth exactly these days? Is it worth more because the Rockies beat the hated Dodgers 8-4, despite getting out-hit 15-11? Aside from still being 100 losses away from becoming the first 100-loss team in franchise history, did this one, feel-good, perfect-Denver-Day victory make you feel any different about the Colorado Rockies, their ownership or their general manager? Should it?
On April Fool's Day, the Rockies big win was practically a punchline.
9News reporter Rod Mackey wisely made the clarification that the Rockies winning was, in fact, real: "Not an April Fools joke," he tweeted. "Rockies beat the Dodgers!!!!"
@jfrank76 wrote: "In a stunning trade, (Jeff) Bridich sends the @Rockies first win to STL along with $10K for a half-filled Subway card #OpeningDay <insert bunting emoji>"
Very funny. Or is it?
Your team is off to a "great" start and all anyone can do is kid around. It would seem as if everyone outside of the Rockies clubhouse or AT&T Sportsnet crew isn't buying into anything – win or not – about the Rockies.
Baseball is a game steeped in numbers. There's no denying that 1-0 is better than 0-1. There's also an approximately .0001 percent chance that the Rockies are ultimately better than the Dodgers by the time Game No. 162 is in the books.
Some other numbers to consider though:
1.000 – That's Chris Owings' batting average as of midnight, April 1, 2021. In the opener, Owings went 3-for-3, added a walk, scored three runs and had an RBI. Owings was also outstanding in the field at second base, making one of the game's most important defensive plays, flipping an impressive web-gem, double play. He was stellar, just like, oh, I don't know… D.J. LeMahieu. Also true: Owings is, to some degree, an 8-year, journeyman infielder, who played 17 games for the Rockies in last year's "Summer to Forget" with a lifetime .241 batting average. Still, he's currently in the lead for the race for N.L. Batting Champ. Are you buying or selling?
99 – That's the miles-per-hour at which Rockies closer Daniel Bard was dealing when he was handed the ball in the top of the ninth. Bard had both velocity and movement, but still, it wasn't a flawless performance. In fact, it was a little scary, but the 2020 NL Comeback Player of the Year stayed tough and brought home the win (and the save, for him).
.400 and .000 – After one game, those are the batting averages of shortstop Trevor Story and right-fielder Charlie Blackmon respectively. Story will not become the first player to hit .400 since Ted Williams, and Blackmon is about 300 points better than his current average. Both are the consummate professionals – worth watching whether they're playing alongside Nolan Arenado or not – but will either finish the season in Colorado?
Perhaps the most telling number – at least for now – is this one:
That's the number of fans currently allowed inside Coors Field – should they choose to attend. On Opening Day, they chose. Sort of. While "official" attendance in pro sports is anything but official, it sounded as if the Rockies actually struggled to sell out Opening Day – an unimaginable concept before the pandemic, or, at least before unloading Nolan Arenado. For Game No. 2, will there be 21,000 at Coors Field? How about games 3, 4 or 27?
I've got a guess.
A quick drive through LoDo suggested that yesterday was nothing like Opening Day as we know it. Yes, a lot of that has to do with social distancing and pandemic procedure – a joke, if you ask me, considering that the 21,000 inside Coors Field slap high-fives during, and go shoulder-to-shoulder at the bar before and after the game just like before – but still, it felt different. Like there wasn't much to celebrate.
Whether you're pissed at the owner, though, the same thing that's held true in sports since the beginning of time still holds true: A win is a win, is a win, is a win…
But how many of them will it take for you to get interested? Where in the standings, at what point in the season, must the Rockies be for you to forgive Dick Monfort and Jeff Bridich?
This isn't a suggestion that you should. Not at all. But if the 1-0 Rockies continue with this torrent pace, when will you turn the corner, and, simply root for the Hometown Nine?
You don't have to like Dick Monfort to cheer for Chris Owings, Charlie Blackmon or Daniel Bard. Those guys just want to win a baseball game. They don't care about the Party Deck, the Dodgers payroll or Nolan Arenado's 2021 batting average. Competitors compete, and the Rockies still have a roster full of those.
You also don't have to pay to root.
Assuming you're ticked off, regardless of the Rockies perfect record, what will make you a Rockies fan once again?