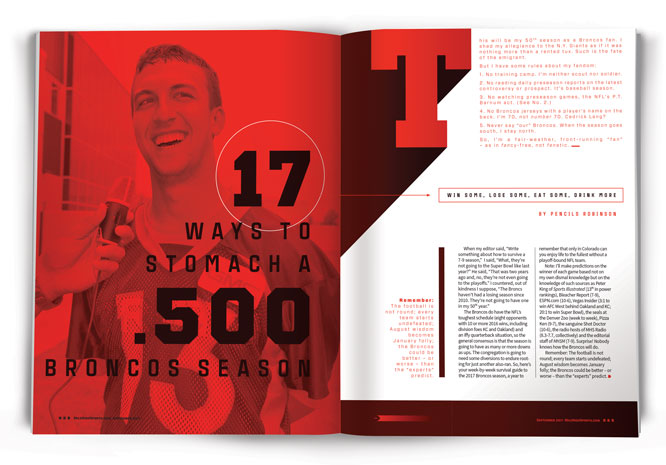 This story originally appeared in Mile High Sports Magazine. Read the full digital edition.
This will be my 50th season as a Broncos fan. I shed my allegiance to the New York Giants as if it was nothing more than a rented tux. Such is the fate of the emigrant.
But I have some rules about my fandom:
No training camp. I'm neither scout nor soldier.
No reading daily preseason reports on the latest controversy or prospect. It's baseball season.
No watching preseason games, the NFL's P.T. Barnum act. (See No. 2.)
No Broncos jerseys with a player's name on the back. I'm 70, not number Cedrick Lang?
Never say "our" Broncos. When the season goes south, I stay north.
So, I'm a fair-weather, front-running "fan" – as in fancy-free, not fanatic.
When my editor said, "Write something about how to survive a 7-9 season," I said, "What, they're not going to the Super Bowl like last year?" He said, "That was two years ago and, no, we're not even going to the playoffs." I countered, out of kindness I suppose, "The Broncs haven't had a losing season since 2010. They're not going to have one in my 50th year."
The Broncos do have the NFL's toughest schedule (eight opponents with 10 or more 2016 wins, including division foes Kansas City and Oakland) and an iffy quarterback situation, so the general consensus is that the season is going to have as many or more downs as ups. The congregation is going to need some diversions to endure rooting for just another also-ran. So, here's your week-by-week survival guide to the 2017 Broncos season, a year to remember that only in Colorado can you enjoy life to the fullest without a playoff-bound NFL team.
Note: I'll make predictions on the winner of each game based not on my own dismal knowledge but on the knowledge of such sources as Peter King of Sports Illustrated (13th in power rankings), Bleacher Report (7-9), ESPN.com (10-6), Vegas Insider (3:1 to win AFC West behind Oakland and KC; 20:1 to win Super Bowl), the seals at the Denver Zoo (week to week), Pizza Ken (9-7), the sanguine Shot Doctor (10-6), the radio hosts of MHS Radio (8.3-7.7, collectively) and the editorial staff of MHSM (7-9). Surprise! Nobody knows how the Broncos will do.
Remember: The football is not round; every team starts undefeated; August wisdom becomes January folly; the Broncos could be better – or worse – than the "experts" predict.
Week 1
Monday, Sept. 11 – 8:20 p.m. (all times Mountain)
Los Angeles Chargers (0-0, 5-11 in 2016) at Broncos (0-0, 9-7 in 2016)
This franchise deserves the two drubbings the Broncos will administer to them, just based on them stiffing a great city that supported them for 56 seasons. If the Broncos can contain the Philip Rivers-to-Keenan Allen air show, they're off to a good start. A late game like this calls for a stay-at-home evening with friends, featuring a culinary tribute to San Diego.
The menu…
Frozen margaritas (invented in 1947 by Albert Hernandez Sr. at La Plaza, a Mexican restaurant located in Bird Rock, a community within La Jolla). Pencils Frozen Margs: In an industrial-strength blender mix one can frozen limeade, one can tequila, half can Cointreau, half can fresh lime juice. Keep adding ice until slushy.
Guacamole (San Diego County is the leading producer of alligator pears in the U.S.).
Fish Tacos (introduced in 1983 on Mission Bay Drive at a converted Orange Julius renamed Rubio's Fish Tacos).
Week 2
Sunday, Sept. 17 – 2:25 p.m.
Dallas Cowboys (1-0, 13-3) at Broncos (1-0)
Fresh off a home-opening win against the Giants, the Cowboys may be establishing a new benchmark for player suspensions. The league's (now delayed) suspension for domestic violence of last year's NFL rushing leader, Ezekiel Elliott, nearly brought the number of suspensions to four, with the possibility of two more before the start of the season. Mama, don't let your babies grow up to be Cowboys. Nevertheless, Dallas' outstanding second-year quarterback Dak Prescott will find a way to right Jerry Jones' sinking ship of fools and nip the Broncos on the last play of the game. Fill your face with Whole Foods' in-house smoked brisket between slices of WF's Golden Age Boule, stuffed with coleslaw and slathered in BBQ sauce. Maybe toast the victors with a bottle of Shiner Bock, brewed in Shiner, Texas since 1909.
Week 3
Sunday, Sept. 24 – 11:00 a.m.
Broncos (1-1) at Buffalo Bills (1-1, 7-9)
What else but a buffalo wings party to celebrate the Broncs going over .500 and giving us false hope for a week? QB Tyrod Taylor could give the Broncos secondary some problems, but shouldn't he be working at NAPA Auto Parts?
Go online for the original Anchor Bar's Buffalo Wings recipe as created by Buffalonian Teressa Bellissimo in 1964 or just toss a flight of wings on the grill, sprinkled with celery salt, pepper and cayenne pepper and cook on low for two hours. Bathe them in some Frank's RedHot sauce heated with butter, vinegar and garlic powder. Note: Buffalonians call them Chicken Wings.
Week 4
Sunday, Oct. 1 – 2:25 p.m.
Oakland Raiders (3-0, 12-4) at Broncos (2-1)
The Broncos had a winning season last year by beating the Raiders on New Year's Day, largely because Oakland QB Derek Carr broke his leg the week before.
A healthy Carr, coupled with 31-year-old Marshawn Lynch, lured out of retirement by Jack Del Rio and the Raiders' stellar offensive line promising one more 1,000-yard season, make Oakland a popular pick to knock off New England on the way to the Super Bowl.
Avoid the heartache. Head to Coors Field, 1:10 p.m. Watch the Rox beat the Dodgers to win a Wild Card berth on the final day of the regular season.
Week 5
Sunday, Oct. 8 – 6:00 a.m. to midnight
BYE
The longest day of the year for Broncos fans. Forget football. Enjoy the weather and scenery at the best time of the year. Aspen watching is a possibility sometimes as late as the second week in October. Even if you don't catch the leaves at their brightest, any October drive in the Rockies will be spectacular.
Pencils' Favorite Only in Colorado Drive: I-70 to 131 at Wolcott through Toponas and Yampa and into Steamboat Springs. 190 miles, 3.5 hours, although speed limits on 131 are up to your discretion. Depart Saturday morning and bring a picnic to eat at Stagecoach Lake in Oak Creek. After arriving in Steamboat, drive a few miles east of town to Fish Creek Falls. Hike the loop there and stand above and below the crashing alpine water cascading 280 feet down the falls. Spend the night at the Nordic Lodge on the main drag (Lincoln Ave.) and quaff and dine at Laundry Kitchen and Cocktails, right across the street from the Lodge. For more spectacular Colorado scenery, take a different route home, up Rabbit Ears to Kremmling, then on to I-70 through Silverthorne or Granby.
Week 6
Sunday, Oct. 15 – 6:30 p.m.
New York Giants (4-1, 11-5) at Broncos (2-2)
It's back to reality with Peyton's little brother now teamed with former Broncos wideout Brandon Marshall. The bombs bursting in air. Sunday night game, a good time for a stay-at-home meal with a Joisey theme, since everyone knows the Giants don't play in New York but in the Garden State, home to the Meadowlands, end zone resting place of the late-but-not-straight Jimmy Hoffa.
The menu…
Trader Joe's Italian heroes, Montepulciano (go to Divino Wine & Spirits on South Broadway), beer, soda. Recipe: (All ingredients from Trader Joe's) French baguette, salami, capicola, prosciutto, provolone, red onion, red and yellow roasted peppers (in a jar), Italian herbs, black pepper, olive oil. Preparation: Guests assemble their own. Flag anyone who asks for mayo.
Week 7
Sunday, Oct. 22 – 2:25 p.m.
Broncos (2-3) at Los Angeles Chargers (1-5)
Anthony Lynn, a first-time NFL coach, is maybe wishing he had stayed in Buffalo, as Philip Rivers, last year's NFL interception leader with 21, tries to navigate Denver's No Fly Zone patrolled by the league's best secondary featuring Chris Harris, Aqib Talib (if not yet suspended) and Darian Stewart.
Celebrate the Broncos' return to .500 by ordering a half-garlic, half-pepperoni pie from the ubiquitous (16 Denver area locations) but close-to-New York chain, Anthony's Pizza and Pasta.
Week 8
Monday, Oct. 30 – 6:30 p.m.
Broncos (3-3) at Kansas City Chiefs (5-2, 12-4)
Loud and proud Chiefs faithful won't make this one a picnic for the Broncs. After an early dinner at home, Uber to Don's Club Tavern (aka Don's Mixed Drinks), on 6th Avenue since 1947, to drink your way through this loss. I don't know who decides these things but several sources designate Don's as a "Chiefs" bar. They don't serve barbeque (or any other food besides frozen White Castle burgers, chips and candy – also condoms – from a fun-loving vending machine) or play jazz, but someone determined that Chiefs fans should gather here on game day. The website boasts, "Hot chicks, cold brews and whiskey cocktails that taste so damn good." Who wouldn't want to congregate at a joint like that? Drink your fill of $2 Coors bottles and $3 well cocktails and you'll feel like you're standing on the corner of 12th Street and Vine.
Week 9
Sunday, Nov. 5 – 11:00 a.m.
Broncos (3-4) at Philadelphia Eagles (4-4, 7-9)
This one will be no Tastykake walk for the Broncos. Carson Wentz, who threw for 16 TDs and 14 interceptions as a rookie last year, should be hitting his stride and could throw under Denver's pass coverage to excellent tight end Zach Ertz. And Fletcher Cox should be in Siemian's grill all day. Then there's the fan (as in fanatic) factor at the Linc. Take this one in at one of the seven South Philly Cheese Steaks restaurants (Greeley, Brighton, Golden, Thornton, Arvada, Cherry Hills Village and southeast Denver). Forgive me for recommending another chain, but none other than Philly transplant Neil "Yo Jeet" Devlin says South Philly is the real deal.
Week 10
Sunday, Nov. 1 – 6:30 p.m.
New England Patriots (7-1, 14-2, Super Bowl champs) at Broncos (4-4)
The Broncos' only hope is that the Belichick-Brady dynamo looks past Denver, thinking about its showdown the next week with the Raiders. Go with the flow. Watch the game at the bar at the Perfect Landing, right down the street from Broncos headquarters in Englewood and enjoy a Sam Adams and Denver's best lobster roll.
Week 11
Sunday, Nov. 19 – 2:25 p.m.
Cincinnati Bengals (6-3, 6-9-1) at Broncos (4-5)
Von Miller and company will feast on the Bengals' weak offensive line and cause Andy Dalton, aka the Red Rifle, to shoot blanks all afternoon. The Bengals have not won in Denver since 1975 and 2017 won't be any different. This would be a good time to host a Sunday party highlighting two cultures with 'nati chilli dogs and a cauldron of Colorado green chile. Lots of cheese. Hold the beans.
Week 12
Sunday, Nov. 26 – 2:25 p.m.
Broncos (5-5) at Oakland Raiders (7-3)
A country-vibe dive bar is the perfect place to watch a second beatdown by our most hated rival. Head east, way east, to the 6,000 square-foot Frontier Club (18881 E. Colfax) and watch the first half on one of 16 flat screens or the large projection TV. Chow down on Rocky Mountain oysters, chicken gizzards, wings, chile rellenos, bargain half-pound burgers and 14-oz. rib-eyes. If your sorrows need further drowning, the Frontier Club can accommodate you until 2 a.m. If your luck improves, you might hop onto the small dance floor where one reviewer claims he saw "a young lady dancing in her bra." If the lady's willing, take her on a red-eye to Vegas, future home of the nomadic Raiders. Hit Caesars Palace Sports Book and place a bet on anyone but Oakland winning the Super Bowl. Old hatreds die hard.
Week 13
Sunday, Dec. 3 – 11:00 a.m.
Broncos (5-6) at Miami Dolphins (5-6, 10-6)
Vance Joseph returns to Miami where he was the Dolphins' defensive coordinator before taking the Denver head job. He'll no doubt be thrilled to see Jake Cutler taking snaps for the Porpoises. While you figure the Broncos can beat the Snake, they can't beat the heat. They've lost seven of the eight games they've played in Miami dating back to 1966. This year will be no different as the Broncs fall two games below .500. Watch this one at the Blake Street Tavern, LoDo's premier sports bar since 2003.
Week 14
Sunday, Dec. 10 – 2:05 p.m.
New York Jets (2-10, 5-11) at Broncos (5-7)
Sports Illustrated's early season rankings placed the Jets at No. 32, just ahead of the Browns. You can watch the Jets crash if you want, but I think I'll skip it and run up a big parking tab at Cherry Creek Mall, smugly doing early Christmas shopping.
Week 15
Thursday, Dec. 14 – 6:25 p.m.
Broncos (6-7) at Indianapolis Colts (7-6, 8-8)
The Broncos aren't going anywhere, so I think I'll root (probably in vain) for Boulder's own Chuck Pagano to make a late bid for his Colts' first playoff appearance since 2014. In honor of Pagano's heritage, I'll watch the game at Zane's Italian Bistro on East Belleview in the Tech Center. I'll order up Zane's amazing antipasto platter and a Crooked Stave Von Pilsner. Denver's Crooked Stave artisan brewery donates proceeds from the beer to Von Miller's charity, Von's Vision, which provides low-income Denver children with eye care and corrective eyewear.
Week 16
Monday, Dec. 24 – 11:00 a.m.
Broncos (7-7) at Washington Redskins (8-6, 8-7-1)
Can you believe the Broncs get to play Christmas Eve and New Year's Eve? Sometimes (as in never) I think these players don't make enough money. At least the game's in the morning, so you have time to sober up for the Christmas Eve get-together with the family members still speaking to you. How can Washington be so mediocre with Kirk Cousins (2016: 25 TD passes, 12 interceptions, 4,917 yards) at the helm? The proud Broncos D will expose their weaknesses. Don't spoil your dinner: A six-pack of Coors Light and a bag of vegetable chips.
Week 17
Monday, Dec. 31 – 2:05 p.m.
Kansas City Chiefs (10-5) at Broncos (8-7)
Better start celebrating New Year's Eve early; you won't be rejoicing a winning season. Take out a mess of burnt ends from a newcomer to the Denver Q scene, Burnt End BBQ, a Kansas City (or Overland Park) style joint on DTC Blvd. in Greenwood Village, Executive Chef Stephen "Smokey" Schwartz. (Did anyone ever call Daddy Bruce Randolph "Executive Chef"?) Beer, red zin and champagne (in case of an upset). Be in bed by 10. The 2018 season is bound to leave a better taste in your mouth.