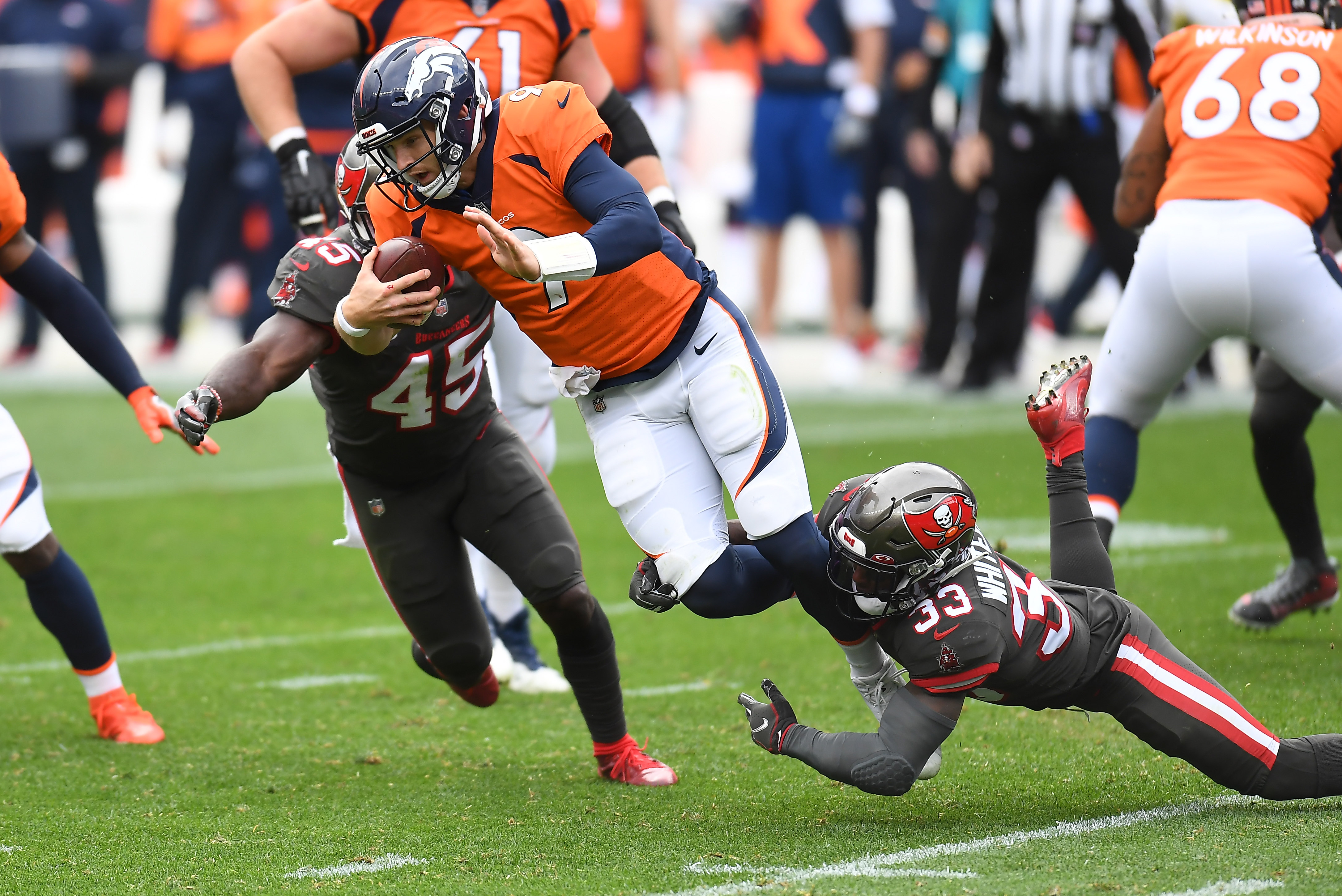 The 2020 Broncos season has not gone the way it was expected to go this summer, and with each week it seems to continue to get worse, as they now drop to 0-3. With that being the case, there are many more negatives to take away from the Broncos' recent games than there are positives.
Here are four of the key areas that went poorly for Denver, and the two that went well.
Two Up
Defensive line
After adding Jurell Casey and McTelvin Agim and re-signing Shelby Harris this off-season, the Broncos' defensive line looked the part of a dominant unit. While they played well through the first two weeks, they hadn't truly stepped up and starred until Week 3.
In the first half, you could argue Harris was the best player on the team's defense. He laid a hit on Brady that led to a should-have-been-called intentional grounding and knocked a ball down at the line that ended the Buccaneers drive in a field goal rather than a touchdown. Then in the second half, Harris chased down Brady a couple of times, recording two sacks.
Casey also came up with a batted ball and a ht on the quarterback.
Young WR group
The Broncos couldn't get anything going on offense until Tim Patrick stepped up in a big way at the end of the first half. He came down with a 27-yard reception on third down to avoid the three and out, and then polished the drive off and ended the half with a touchdown that kept Denver in the game.
The few plays that weren't made by Tim Patrick on that end-of-half touchdown drive were made by the Broncos' rookie receivers, Jerry Jeudy and K.J. Hamler.
Jeudy's ability to separate with his route running and to start and stop on a dime continue to stand out and Hamler's speed looks like a unique and special quality the Broncos can use to their advantage once Lock is back in the lineup. Both of those players also seemed to have good chemistry with Brett Rypien.
Four Down
Redzone Defense
One of the Broncos' greatest strengths of the Vic Fangio era so far has been their redzone defense. That wasn't the case on Sunday against the Buccaneers.
Tampa Bay started their first drive in the Denver red zone thanks to a blocked punt and quickly turned in a three-play touchdown drive to take a seven-point lead. Tampa Bay had two more drives in the first half that reached Denver's redzone. Both of those ended with touchdowns as well. The redzone defense improved in the second half, but the damage was already done at that point.
Another crushing stat for the Broncos defense in critical situations: At one point Tampa Bay's offense converted six-straight third downs.
Justin Simmons
When Justin Simmons turned down the Broncos' contract offers, it was in hopes that with another strong season, he could potentially become the highest-paid safety in league history. However, through three games this season, you could argue he hasn't even been a top 10 safety.
He was awful against Tennessee, allowing a perfect passer rating in coverage, but had a bounceback game against Pittsburgh. His performance against Tampa Bay was much closer to Week 1, as he was burned badly deep by Scotty Miller for what was the biggest play of the first half. Later, he was beat by Mike Evans in the endzone for Tampa Bay's third touchdown of the first half.
Jeff Driskel
The thought of a Jeff Driskel-led offensive attack was both scary and depressing for Broncos Country, but the reality of that Jeff Driskel-led offensive attack was even worse than expected. For the large majority of Sunday's matchup with the Buccaneers, the offense was completely anemic and couldn't move the ball, much less put up points.
On four of the Broncos' first seven drives, they gained less than 10 yards, and on two of those drives, they either gained zero yards or went backward.
If Denver wants to have their games matter in November or December, Driskel has to play much better than what he showed against Tampa Bay, though he may not get that shot as he was benched late for Brett Rypien.
Melvin Gordon
Jeff Driskel played bad on Sunday, but that shouldn't have surprised Broncos fans. Everyone knew the passing game, and therefore the offense, would take a major step back this week.
With that in mind, it was on Melvin Gordon and the run game to step up, and they did not.
For the second straight week, Gordon was held under four yards per carry, as he gained just 26 yards on the ground and added 12 more yards through the air. You can't expect your backup quarterback to have a good game when your No. 1 running back is able to gain only 38 yards from scrimmage.