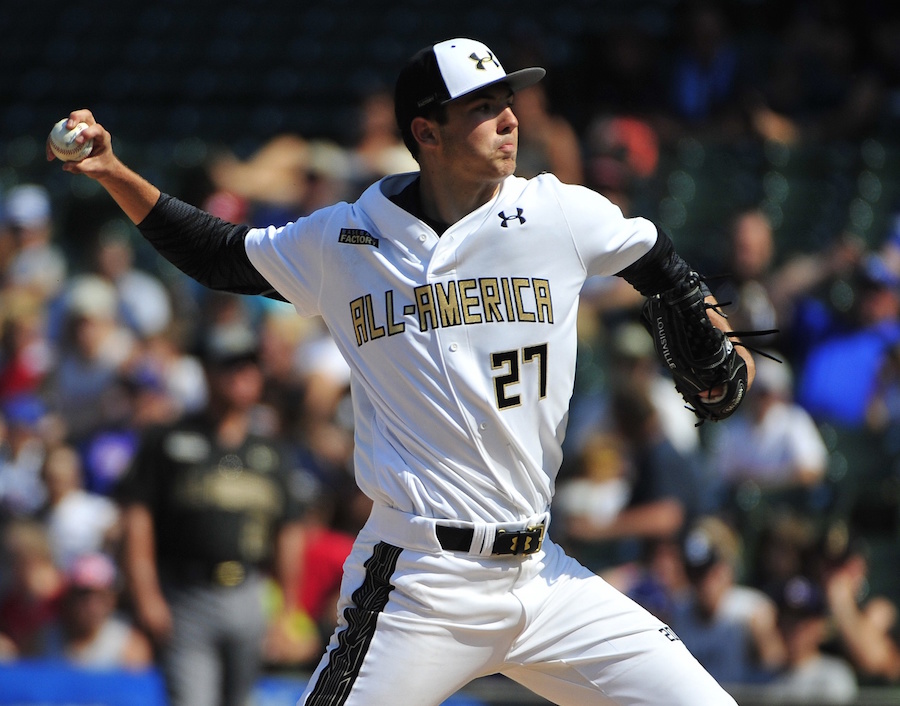 With the fourth pick in the 2016 MLB Draft, the Colorado Rockies select… hopefully a flamethrower. To be more specific, a righty named Riley Pint out of St. Thomas Aquinas High School (KS). He is the No. 2 rated prospect by MLB.com. Ever since Jeff Bridich has taken over as GM, fastballs have become a top priority at 20th & Blake.
Pint has a consistent fastball velocity of 93-97 mph and hit a high of 102 this spring. He may have one of the best changeups among high school prospects. He also has a power curveball and a slider to back him up. He has been mostly compared to Justin Verlander with his height and imposing fastball. High school pitchers almost never go No. 1 in the MLB Draft, but don't expect Pint to fall much further from that spot.
His MLB.com scouting grades are: Fastball (70), Curveball (60), Changeup (60), Control (45), Overall (60)
Scouts have said that he has high risk but high reward because he lacks consistency with his mechanics as he doesn't always repeat his arm slot and there is extended effort in his delivery, which may lead to issues with command.
The rumor with the Rockies is that they are looking for an outfielder. Kyle Lewis from Mercer is the best in the draft. But the Braves are incredibly high on Lewis and he will likely be off the board once it's the Rockies turn to draft. Mickey Moniak is the next best outfielder; so don't be surprised if Moniak is taken over Pint. Both are prep stars but this team cannot have enough pitching prospects.
MLB.com considers Jason Groome the best prospect in this draft. He is also a high school pitcher, almost guaranteeing he won't go first, but his best pitch is curveball. He is also considered more developed than Pint. This might make Groome a fit for Cincinnati who drafts second. A.J. Puk from the University of Florida has front-of-the-rotation stuff and a strong performance in the SEC tournament will have the Phillies salivating for him at the top of the draft.
Give credit to Rockies management for creating an environment where Rockies pitching can thrive even if they aren't meeting their fully expected potential. For example, Colorado picked Tyler Anderson 20th overall in the 2011 draft. While he may not have developed into an ace, he has been very good when healthy with a 2.38 career ERA in the minors.
Historically, highly drafted pitchers (like Shawn Chacon) had to make the rotation because there were no other options. Now, Anderson can compete effectively at the Major League level even if it is in a different place like the bullpen. That is where Jeff Hoffman and Kyle Freeland come in. Hoffman has frontline stuff that has touched 99 mph and he is proving that his curveball can work anywhere, with devastating stuff in the thin air of Albuquerque. Freeland on the other hand, who just turned 23, had a great Arizona Fall League and is helping make the Yard Goats one of the best stories in MiLB. Even at the major league level, Eddie Butler seems to be reestablishing the fastball that he showed so well in the minors. The Rockies have options for pitching and that gives Pint a good place to start developing his command.
The Rockies also have the 38th pick in the Lottery Round A, which is towards the end of the first round. It depends what the Rockies do with their first pick but if they go with Pint, Will Benson seems to be the logical option to snag another outfielder if he is still around. Benson is ranked at 38 by MLB, comparing him to Jason Heyward as both come out of the Atlanta area. But the comparisons don't stop there. He has well-above-average raw power and has above-average speed that could make him formidable atop any lineup. If the Rockies do snag an outfielder with the fourth pick, Kevin Gowdy, who is ranked number 37 by MLB could be a solid RHP option who also has an above average fastball.
Either way, the first round is all about stocking young pitching and outfield talent. But you just can't teach 100+ mph velocity. If available, Riley Pint looks to be the choice with the most upside in this year's draft.