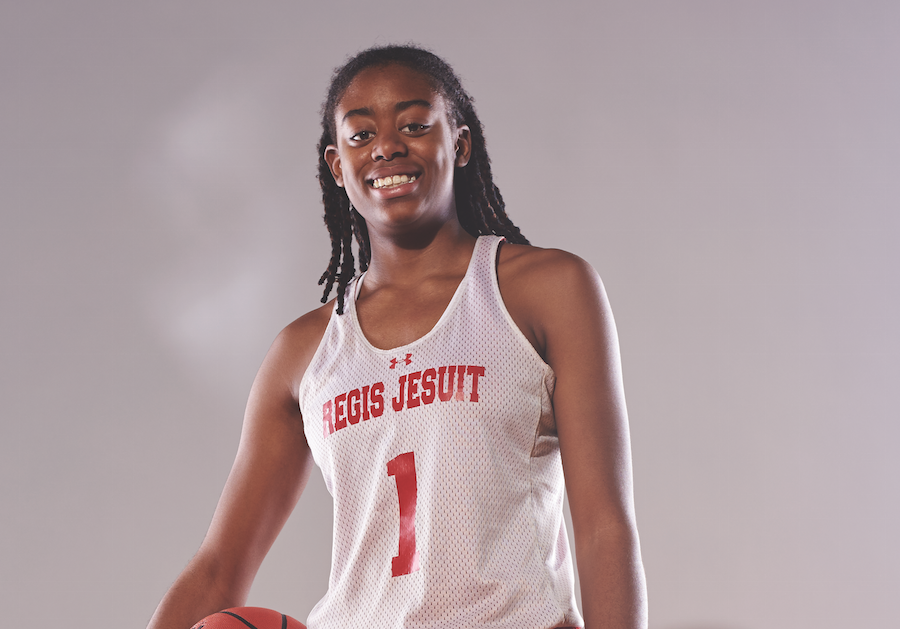 High school basketball season is finally underway and this season figures to be one of the most competitive in years. By the time the calendar flips to 2018, you will want to have the names below memorized. They're the ones you'll be hearing come tournament time in February and March.
BOYS
Sam Bannec
Regis Jesuit, Senior
Averaged 11.7 points a year ago and has been experimenting with both guard spots
Will Becker
Smoky Hill, Senior
Buffaloes staff anticipating a big year; recently committed to Binghamton
Jaedon Bowles
Manual, Junior
Numbers should go up and last season they were 23.5 points and 7.8 rebounds
Dawson Carper
Rampart, Senior
Life's a beach and he'll play at Hawai'i
Cade Carroll
Buena Vista, Senior
Averaged 26.6 points a year ago for 3A Demons
Ronnie DeGray III
Chaparral, Junior
Strong bloodlines and a climb to elite status that's fun to view
Kenny Foster
Smoky Hill, Senior
AFA is interested and hoops IQ is as good as his GPA (4.0)
Ty Foster
Abraham Lincoln, Sophomore
Outstanding offseason has generated much anticipation
Jon'il Fugett
George Washington, Senior
High-energy player who wears out defenders
Tyson Gilbert
Rock Canyon, Senior
Hard work has landed a ride to CSU-Pueblo
Kaison Hammonds
ThunderRidge, Senior
Caught fire late and headed a 5A state-semifinals run
Bodie Hume
Sterling, Senior
Productive club season clinched a Northern Colorado offer
Daylen Kountz
Denver East, Senior
Future Colorado Buffalo is the state's best returning player. Don't argue.
Kwane Marble
Denver East, Junior
Offers starting to roll in as his production increases
Sam Masten
Rock Canyon, Senior
A handful to guard because he can drive or use the perimeter
Justin McCaw
ThunderRidge, Senior
The native Australian posted double figures in 12 of last 17 games on the way to the semifinals
Jamil Safieddine
Regis Jesuit, Junior
A taller guard with know-how and upside
Daijon Smith
Overland, Senior
Strong outside shooter can help Trailblazers rejoin 5A
Brendan Sullivan
Highlands Ranch, Senior
Another double-doubler (16.6 points, 10.0 rebounds) who can fill a box score
Adam Thistlewood
Golden, Senior
Large junior season with 18.9 points and a 4A semifinals showing; Drake has landed him
GIRLS
Isabella Allen
Horizon, Senior
‭An interesting slasher to the basket with lots of raw talent and athletic ability
Francesca Belibi (Pictured)
Regis Jesuit, Junior           
Has any Colorado schoolgirl had this much raw talent? Arguably not.
Maddy Bennett
Rocky Mountain, Senior
Family has deep Air Force roots, so no shock she'll be a Falcon
Delaynie Byrne
Ralston Valley, Senior          
A regular contributor to Colorado's high-end play since freshman year
Noelle Cahill
Regis Jesuit, Senior
In the local girls game, it's extremely difficult to deal with a 6-foot-4 player; will be a Penn Quaker
Alisha Davis
Grandview, Junior
An emerging force who may be set for a breakout season
Claudia Dillon
Evergreen, Junior
Pledged to Missouri volleyball, but already earned a hoops title as a sophomore
Camilla Emsbo
Lakewood, Senior                                                           
Long and skilled, a combination not always seen on this level; headed to Yale
Abby Garnett
Golden, Senior
Oh me oh, oh my oh, she'll be playing at Ohio
Olivia Lough
Pueblo West, Senior
The Big O averaged 17.3 points last season and will play at St. Leo
Sydney Mech
Cherry Creek, Senior
Denver Pioneers signee was vital to a Bruins final-four showing a year ago
Addison O'Grady
Grandview, Freshman
Rich got richer; ranked as a top-5 freshman nationally
Tommi Olson
Highlands Ranch, Senior                   
Falcons' leading scorer who can shoot 3-pointers with anyone in the class
Ashley Panem
Fairview, Senior
A speedy guard who averaged 21.2 points over the past season's nine games, 17.9 overall
Denali Pinto
Fairview, Senior
Along with Panem, Knights should have a lively one-two punch
Ashten Prechtel
Discovery Canyon, Junior
Averaged 13.8 and 11.9 rebounds, garnering national attention
Jana Van Gytenbeek
Cherry Creek, Sophomore                    
Led the state's largest school in scoring (14.8 points) and assists (5.7) as a freshman
Samantha Van Sickle
Ralston Valley, Senior
Nice shooter headed to Montana State
Leilah Vigil
Grandview, Senior
A double-double threat every time she steps on the floor
Autumn Watts
Highlands Ranch, Junior                
A regular scorer and rebounder who has the versatility to play all three inside positions