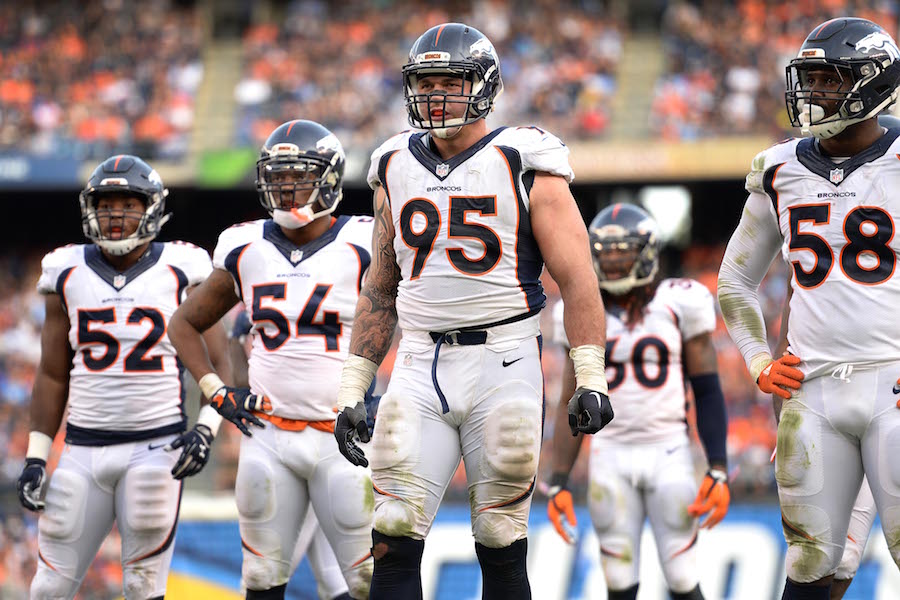 Despite the Denver Broncos infusing their offense with a much-needed dose of speed in the 2017 NFL Draft, the identity of this team, at present, is still the defense. Boasting one of the best players in the game, Von Miller, and the unit known as the No Fly Zone, featuring All-Pros Chris Harris Jr. and Aqib Talib, Denver is again set up to be a top-five defense this season. For as much success as Denver has enjoyed lately – mostly due to its defense, including a dominant run in the playoffs ending in a Super Bowl 50 victory – did the Broncos do enough over in this draft to continue to cement a long-term foundation on the defensive side of the ball?
Of the Broncos' eight picks, only two were devoted to the defense. In DeMarcus Walker and Brendan Langley, Denver selected players who, while talented, don't necessarily project to be major contributors on the main defensive unit this season. Walker, a talented pass rusher, is limited in his role on this defense due to troubles being a reliable run defender.  Langley has only played one full season at cornerback and figures to be a project for defensive coordinator Joe Woods and his staff. Langley will be expected to contribute to the special teams unit immediately.
Even though the Broncos finished in the top-five last year in total defense, they were regularly gashed on the ground. As a group that thrived on playing with a lead and letting the front seven cause pressure that the secondary could capitalize on, it didn't materialize as planned for much of the second half of the year. The team did try to address some of those concerns in adding significant beef to its defensive line with the free-agent additions of Zach Kerr and Domata Peko, but they should only be considered to be short-term solutions as well.
Walker can help as a third-down pass rush specialist, but the Broncos are banking that the combination of a retooled defensive line and the continued development of Adam Gotsis at defensive end will help the starting duo of Brandon Marshall and Todd Davis at inside linebacker. It's concerning that Walker will already be behind veterans Jared Crick and Bobby Richardson at defensive end and is probably too big to contribute at outside linebacker, which has capable backups in Shaq Barrett and Kasim Edebali.
The selection of Langley wasn't a bad choice by any means, but he may not be able to be a contributor for at least a couple of seasons. In Harris, Talib and Roby, the Broncos have three number one quality cornerbacks in a league that is starved for secondary help. Despite having an elite cornerback group, the position is thin with only Lorenzo Doss and Taurean Nixon behind them, both who did not play well when given the chance to get on the field last season.
Another big question is how long this current defensive backs group can stay together. While Harris is in prime of his career and locked up for the foreseeable future, Talib is no spring chicken and plays a position where the wheels can fall off a player in a hurry. There is no doubt that Roby is talented, but he has struggled with his own consistency at times and is essentially playing on a one-year deal. If he goes out and has a great season this year, does Denver have enough in the bank to keep him around long-term? For as many questions that linger, the team didn't go deep in this draft to address them. If Nixon, Doss or Langley don't pan out, the No Fly Zone could be open for a lot of air traffic sooner than later.
As much as any team would like to, they can't fill every need through the draft. The salary cap and roster limits level the playing field for all the league's 32 teams. This upcoming season figures to hinge on the success of the defense once again, as the Denver offense will take time to acclimate to Mike McCoy's new scheme, as well as continuing to endure the growing pains of whoever the quarterback will be. The Broncos have put several bandages on this year's defense to get them through another year. Whether they did enough to continue as an upper-echelon unit for the future, remains to be seen.