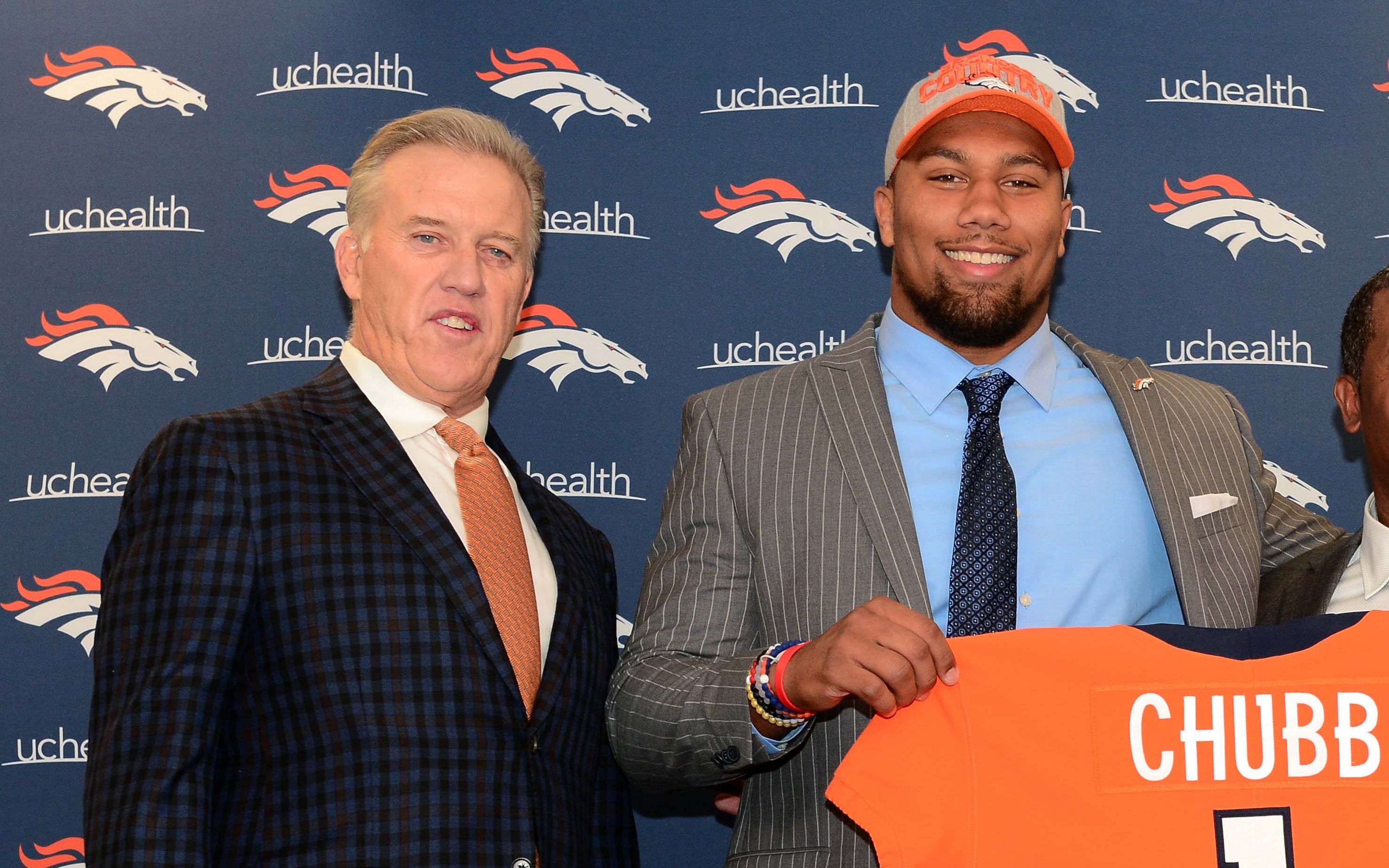 For John Elway, an eighth NFL Draft has come and gone under his watch. And while each year is different, there are some similarities that run through his drafts.
First and foremost, Elway stuck to his guns and selected the best player available, which is what he told the media for weeks leading up to the draft. Bradley Chubb at No. 5 was a spectacular pick, a should-be, longtime starter and dominant player on the defensive line. In the only other time Elway had a top-5 selection, he took Von Miller; the Duke of Denver stuck to his guns and pulled the trigger on a great player.
Then, in the second round, he nabbed a wide receiver — which was a bit of a surprise given the team's long list of needs — and followed that up with a running back. Those picks weren't expected as Denver needed a guard, and they finally got one in the sixth round. Overall, the Broncos entire front office did well to address every need.
Let's take a look at the Broncos entire 2018 draft class and give each selection a way too early grade.
Bradley Chubb, Round 1, No. 5 overall, DE, North Carolina State
Chubb is an absolute slam dunk of a draft pick. The explosive defensive end was widely regarded as the best defender in the entire draft, and possibly the best player overall. For him to slip past the Cleveland Browns, who had two picks in the top four was incredibly good luck for the Broncos, who have a history of phenomenal pass-rushers. He racked up 25 sacks over his career at North Carolina State, which was a school-record, as was his 54.5 tackles for a loss. Chubb will be a world-class pass-rusher, similar to Von Miller, but lining up inside at defensive end and possibly even at defensive tackle on obvious passing downs.
Grade: A+
Read: Elway wins first round, steals top talent at No. 5
Podcast: Did Denver hit the jackpot with Bradley Chubb?
2. Courtland Sutton, Round 2, No. 40 overall, WR, Southern Methodist
Sutton is an athletic receiver who excelled at SMU — with back-to-back 1,000-yard and 10-touchdown seasons to end his college career — but he does need to work on his route running to play well at the next level. Scouts had a wide-ranging idea of where to rank Sutton. Some experts had him as a first-rounder, as did Elway and Co., while others had him going late in the second round. While Sutton may become a stud, the Broncos reached on him at No. 40 when they really needed a guard. He'll compete and likely be the No. 3 receiver this year behind Emmanuel Sanders and Demaryius Thomas.
Grade: C
Read: Elway and Co. reached for Sutton at No. 40 overall
3. Royce Freeman, Round 3, No. 71 overall, RB, Oregon
Denver definitely needed a running back after cutting C.J. Anderson due to his high salary. And Freeman is like C.J. 2.0. Freeman is actually a bit bigger than Anderson, at 6'0″ and 229 pounds, and will be a load for anyone to bring down, even at the NFL level. He's a perfect short-yardage back, and also proved at Oregon he has some breakaway speed, with 20-plus yard runs every game except one last year. One downside to Freeman is the pounding he took at Oregon, with 947 carries over the last four seasons. Although, he used that time to rack up 5,621 yards with 60 TDs.
Grade: B+
Read: Freeman fills a big hole left by C.J. Anderson
4. Isaac Yiadom, Round 3, No. 99 overall, CB, Boston College
The Broncos smartly went back to defense late in the third round and nabbed Yiadom, a solid cornerback who improved over his four years at Boston College. His junior season was decent, starting eight games and breaking up 10 passes, but when he had a chance to start all 13 games as a senior, he posted his best season of his college career. That included 53 tackles, seven passes defended and two interceptions. Will also contribute to special teams, likely.
Grade: C-
Read: Yiadom bolsters depth of "No-Fly Zone"
5. Josey Jewell, Round 4, No. 106 overall, ILB, Iowa
Intelligently, the Broncos addressed the need at inside linebacker, and they look to have found a diamond in the rough with Jewell. He's was a tackling machine at Iowa, with 120-plus tackles each of the last three seasons, and showed his versatility by racking up 10 sacks, six interceptions and 26 passes defended. He's an all-around stud.
Grade: A-
6. DeaSean Hamilton, Round 4, No. 113 overall, WR, Penn State
Hamilton is possibly the biggest boom-or-bust receiver in this year's draft, but his upside is very high. This was a great time for Denver to take a receiver, and some believe he could be even better than Sutton, who the Broncos took at No. 40. Hamilton enjoyed his best year as a senior with 857 yards and nine touchdowns through the air.
Grade: B-
7. Troy Fumagalli​​, Round 5, No. 156 overall, TE, Wisconsin
Yet another Big Ten tight end for the Broncos. Fumagalli put together back-to-back 500-yard seasons, racking up six scores over the last two years with Wisconsin.
Grade: C-
8. Sam Jones​​, Round 6, No. 183 overall, OL, Arizona State
Finally, the Broncos picked a guard. But, it was possibly too little, too late. One scout said he's a "meh" prospect, but Jones is a Denver native, so he'll look to prove his worth and make the team. Denver did find Matt Paradis in the sixth round, so, you never know.
Grade: D
9. Keishawn Bierria​​, Round 6, No. 217 overall, LB, Washington
He's aggressive and has a great work ethic, with great closing speed, but his overall speed is lacking greatly.
Grade: D
10. David Williams​​, Round 7, No. 226, RB, Arkansas
At 6'0″ and 224 pounds, he's very similar in size to Freeman. From his short highlight tape, he looks like a north-sound, inside-the-tackles kind of back who will compete for playing time.
Grade: C
UDFAs
Phillip Lindsay, RB, Colorado (Read: Broncos agree to sign CU star Phillip Lindsay)
Jimmy Williams, WR, East Carolina
Trey Marshall, DB, Florida State
Jeff Holland, OLB, Auburn
 Lowell Lotulelei, DL, Utah
Leon Johnson, OT, Temple
Austin Schlottman, OL, TCU
John Diarse, WR, TCU
Overall, the Broncos enjoyed a solid, but not spectacular, draft. Bradley Chubb was clearly their best pick and we could be looking back on this draft in a few years and seeing him as the best player, period. This draft class gets knocked a bit because Denver should have gone for a guard — or elite cornerback — at No. 40 instead of a wideout in Sutton. There is major upside on nearly every pick the Broncos made, especially through the first five rounds, and many of them will be expected to compete for starting positions immediately.
Overall 2018 Denver Broncos draft grade: B-