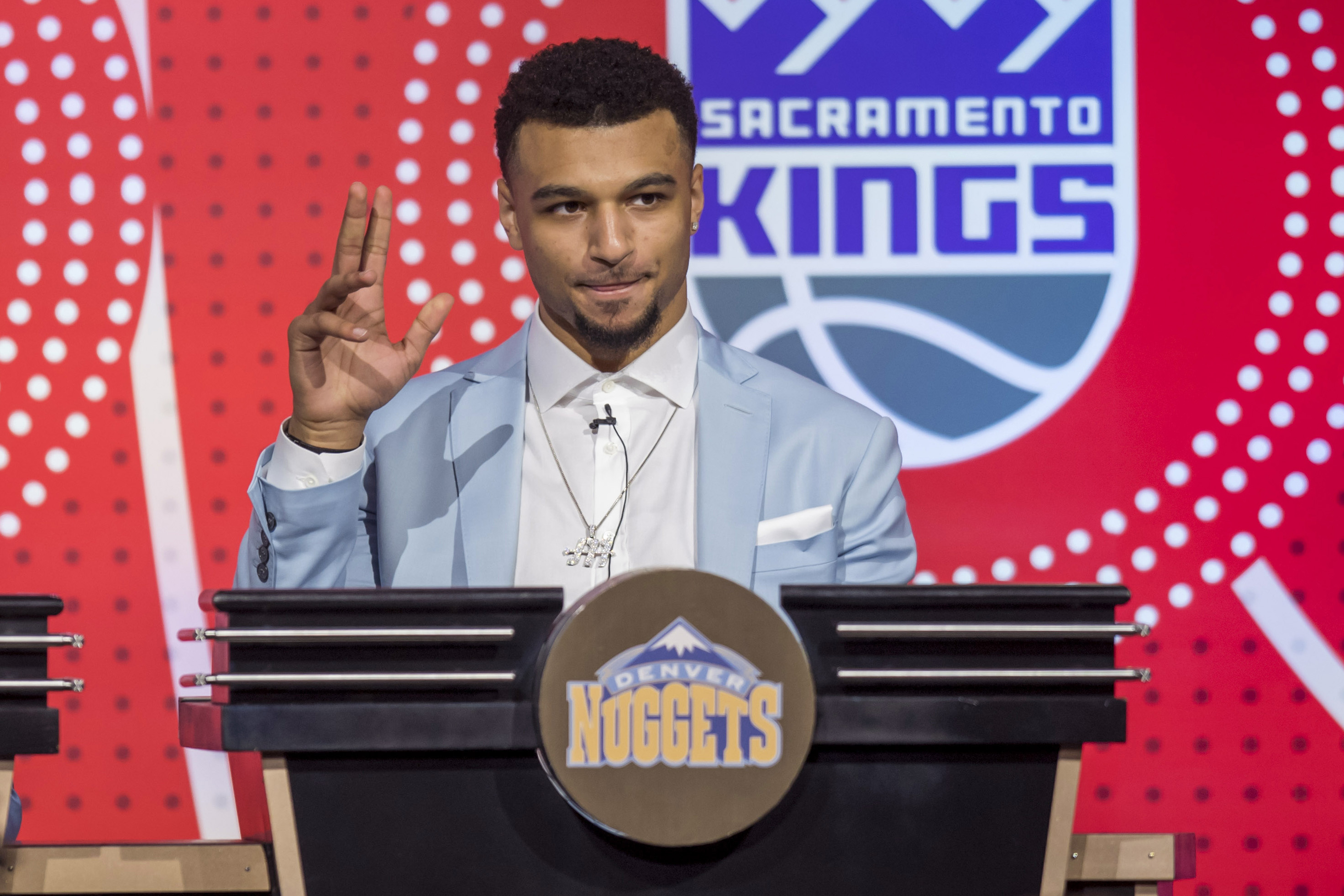 The Denver Nuggets are just 21 days away from the 2018 NBA Draft. That means that President of Basketball Operations Tim Connelly, General Manager Arturas Karnisovas, and their staff have three weeks to effectively decide how the impending free agency period will unfold.
The decision that the Nuggets' front office needs to make in regards to the 14th pick on June 21st — the night of the 2018 NBA Draft — will directly affect which options the Nuggets will have when the NBA Calendar year flips on July 1st and free agency begins.
There are four different the options that the Nuggets have with the 14th pick.
They could just stand pat and select at 14.
They could trade up from 14 for a player they covet by adding in young players and future draft picks.
They could trade back if they do not like the talent remaining at 14 and attempt to gain an asset in the process or move salary.
They could trade out of the draft entirely. While that may seem like an odd proposition, the value of the 14th pick could be large enough for Denver to potentially ship out one of Kenneth Faried, Wilson Chandler if he opts in, or Darrell Arthur. Arthur also has a player option to decide on this offseason, but it is very hard to imagine him leaving $7.4 million on the table after playing just 141 minutes in the 2017-18 season.
There are positives and negatives for each option, with many different variables that evolve and transform with each potential choice. So why not dive deeply into each option?
Trading out of the draft entirely
Let's just start with the most interesting option right out of the gate. Trading out of the first round of the 2018 NBA Draft sounds like folding when stuck with a bad hand in blackjack, but in this case trading out of the first round may actually open up significantly more opportunities than currently available to Denver.
Hypothetically speaking, if both Chandler and Arthur opt into the final year of their contracts — and Nikola Jokic gets the max contract that he is likely to receive this offseason — Denver would be over $9 million into the luxury tax when also for accounting for the $2.5 million that first-round picks account for.
Because Denver's payroll would be coming in above the tax apron, which is set at $6 million into the luxury tax, their ability to sign players in free agency becomes forcibly compromised. Connelly and Karnisovas would need to find a way to move over $3 million off of their book this offseason to not lose their Bi-Annual Exception, or BAE, and full Mid-Level Exception, or MLE.
What that essentially means is that if Denver does not find a way to move one of Faried, Chandler, or Arthur, they will only be able to resign their own players or use the mini-Mid-Level Exception that is worth just $5.25 million per year. On the other hand, if Denver is able to use their 14th draft pick as leverage to move off of Faried — which is something that the Nuggets' front office has looked into sources tell Mile High Sports and Adrian Wojnarowski of ESPN — they open up a plethora of opportunities.
Moving off of Faried's $13.8 million owed for his final year would put Denver just below the cap. At the same time, the Nuggets would also save the $2.5 million if they did not draft the first round which gives them a total of $7.2 million in cap space If the scenario above plays out, Denver will have room to potentially resign Will Barton — who is a longtime acquaintance of Connelly going back to their time in Baltimore together — while also having their BAD and the full MLE at their disposal to fill in gaps on the wing and at the backup point guard position.
Without that kind of flexibility, the Nuggets will likely have to run back the same roster as last year without Barton, Richard Jefferson, and Devin Harris. While that could work out just fine, there are also many scenarios in which Denver takes a step or two backward instead. Having that financial flexibility is important and seemingly something that the Nuggets' front office values very highly. The first-round pick could be more valuable as trade bait than the player that could be selected with it.
Draft at 14
If Denver does decide to stay in the first round, drafting with the 14th pick is not the end of the world. There is definitely talent to be had at the end of the lottery.
The best reason for the Nuggets to ultimately decide to select a player with the 14th pick is that a someone they really want falls to them. The Nuggets need the most help on the wing and are also in need of a backup point guard so if a player like Shai Gilgeous-Alexander, Mikal Bridges, Zhaire Smith or Miles Bridges falls to Denver, it makes sense to just pick in that slot.
Denver does need to be cognizant that they already have multiple young players to develop. While there is no such thing as too much young talent, there are only so many hours of each day to help these prospects become the best version of themselves. Adding another young prospect takes valuable repetitions away from the likes of Monte Morris, Malik Beasley, Juancho Hernangomez, and Tyler Lydon.
Decisions will have to be made on the young prospects on Denver's roster at some point which is a perfect transition point into the next possibility; trading up in the draft.
Trading up in the draft
The Nuggets are in an interesting spot. They own all of their future first-round picks, have multiple young players with a strong upside that are not playing as of now, and plenty of reason to try and trade up in the 2018 NBA Draft to select a player they've targeted as someone who can raise their ceiling. The issue is not about if the Nuggets have the assets to move up; its about if there is a team out there willing to part with a better pick.
The Los Angeles Clippers have back-to-back first-round picks at 12 and 13 and could be a potential trade partner if Denver adds in future assets. That only makes sense if a player falls to 12 that Denver rates extremely high. The Philadelphia 76ers are very rarely quiet during the draft. They like to take chances to continue improving their team so their 10th pick may be able to be had for the right price — likely a future first-round pick and this years 14th selection.
So which players are worth Denver moving up for? Guards Gilgeous-Alexander and Collin Sexton are interesting options. Sexton is more of a behemoth of a point guard that overpowers defenders with his size, strength, and quickness combination while Gilgeous-Alexander is a much more methodical playmaking point guard who stands 6'6 with a near 7'0 wingspan that loves to defend. Both Sexton and Gilgeous-Alexander are interesting options alongside either Gary Harris or Jamal Murray keeping Denver's offensive versatility intact as well.
When it comes to wings, it is hard to peg who could fall and who could be traded up for. The first player that comes to mind as an ideal fit on the wing is Mikal Bridges out of Villanova. He is a three-year collegiate player who shot 43.5 percent from three on 239 attempts this past season while defending four different positions. Bridges is the most NBA-ready player in the draft and he could likely slide directly into a starting small forward slot if Chandler either opted out of his final year of his contract or was traded. Miles Bridges of Michigan State University could be a target if Denver manages to acquire one of the two first-round picks from the Clippers. Bridges, who measured with just a 6'9.5 wingspan, did not test well at the combine, but fits the archetype of a hyper-versatile forward who can stretch the floor and defend multiple positions. The last wing that Denver could trade up for is Michael Porter Jr. He did not play the majority of last season due to a spinal surgery so when he did return he was out of shape and beyond rusty. If he does not work out well for teams during the pre-draft process, he could be a guy to fall in the 5-10 range. His combination of size, skill, and fluid athleticism is as enticing as it gets for an offensively-minded wing who can score from anywhere. If given the chance to trade up for him, Denver could jump at the opportunity.
There are also three bigs with freakish upside that could potentially fit alongside Jokic that could be traded up for. Marvin Bagley, Mohamed Bamba, and Jaren Jackson Jr. are all bigs that could instantly raise the ceiling of the Nuggets roster in ways they desperately need. Jackson Jr.'s fluidity at his size as a rim protector with some switchability on the perimeter is ideal alongside the defensively-deficient Jokic while also adding unicorn ability as an offensive player who can hit threes, play above the rim, and attack off the bounce. Bagley's elite quick-twitch ability on the perimeter as a defender and budding offensive game has teams salivating as the NBA continues to evolve into a more and more position-less league. Bagley could be a defensive multi-tool to pair with Jokic longterm in the front court. Bagley would be a terror off the ball playing alongside Jokic. When talking about Bamba, there are more questions about his fit. On one hand, having a 7'10 wingspan and an improving three-point shot sound perfect to pair with Jokic, but who occupies the paint in this scenario? The potential of a Jokic and Bamba frontcourt may be too enticing to pass up, but it is less of a sure thing than Bagley or Jackson Jr.
It may be unrealistic to think that any of those three bigs could be available for Denver to trade up to get, one of the three will have to fall out of the top-five picks with Luka Doncic and DeAndre Ayton also at the top of every mock draft. There are a few freakishly-talented players that could fall into the 7-12 range, and Denver may have to take a hard look at trading up to grab one of them.
Trading back in the draft
While the option of trading back in the draft for the second year in a row is the odds-on favorite to frustrate Nuggets fans the most, it does have its positives.
If Denver does not like the prospects remaining when they are on the clock as the 14th pick comes around, Denver could look to trade back to still grab a player they like later on while potentially sending out Darrell Arthur in the deal. Moving off of Arthur's $7.4 million owed to him this year would be huge to gaining flexibility while still drafting in the first round.
The real question becomes who would Denver target if they trade back? Again, Denver is in need of wings and a backup point guard. De'Anthony Melton out of USC is a big point guard with shooting touch who did not play due to eligibility issues. Shake Milton is another oversized point guard who flashed a solid jump shot. Jalen Brunson of Villanova helped lead his team to a National Championship and has the look of a player who will be playing in the NBA for the next decade as great back-up point guard. Shamorie Ponds is another volume scoring point guard that recently went through a pre-draft workout in Denver with the Nuggets. Anfernee Simons is another interesting guard. The high schooler who found a loophole has committed to entering the draft and could be drafted in the late-20's. His positional versatility and high-level athleticism are surely worth a flier after the lottery ends.
There will also be wings available later in the first round. Players like Keita Bates-Diop out of Ohio State, Chandler Hutchinson of Boise, Josh Okogie of Georgia Tech, and Troy Brown of Oregon are all players that could develop into two-way combo wings. There are a few high-upside wings towards the end of the first round and in the early second round that could turn into very strong role players over time.
---
Whatever Denver decides to do on the night of June 21st for the 2018 NBA Draft will directly affect the impending free agency period coming just nine days after. That night will be the first domino to fall in what will be one of the most fascinating Nuggets' offseason in a long time.
Denver has major decisions to make that will impact the next few years of Nuggets' basketball and those decisions need to be made in just about three weeks. It is going to be an interesting NBA Draft.