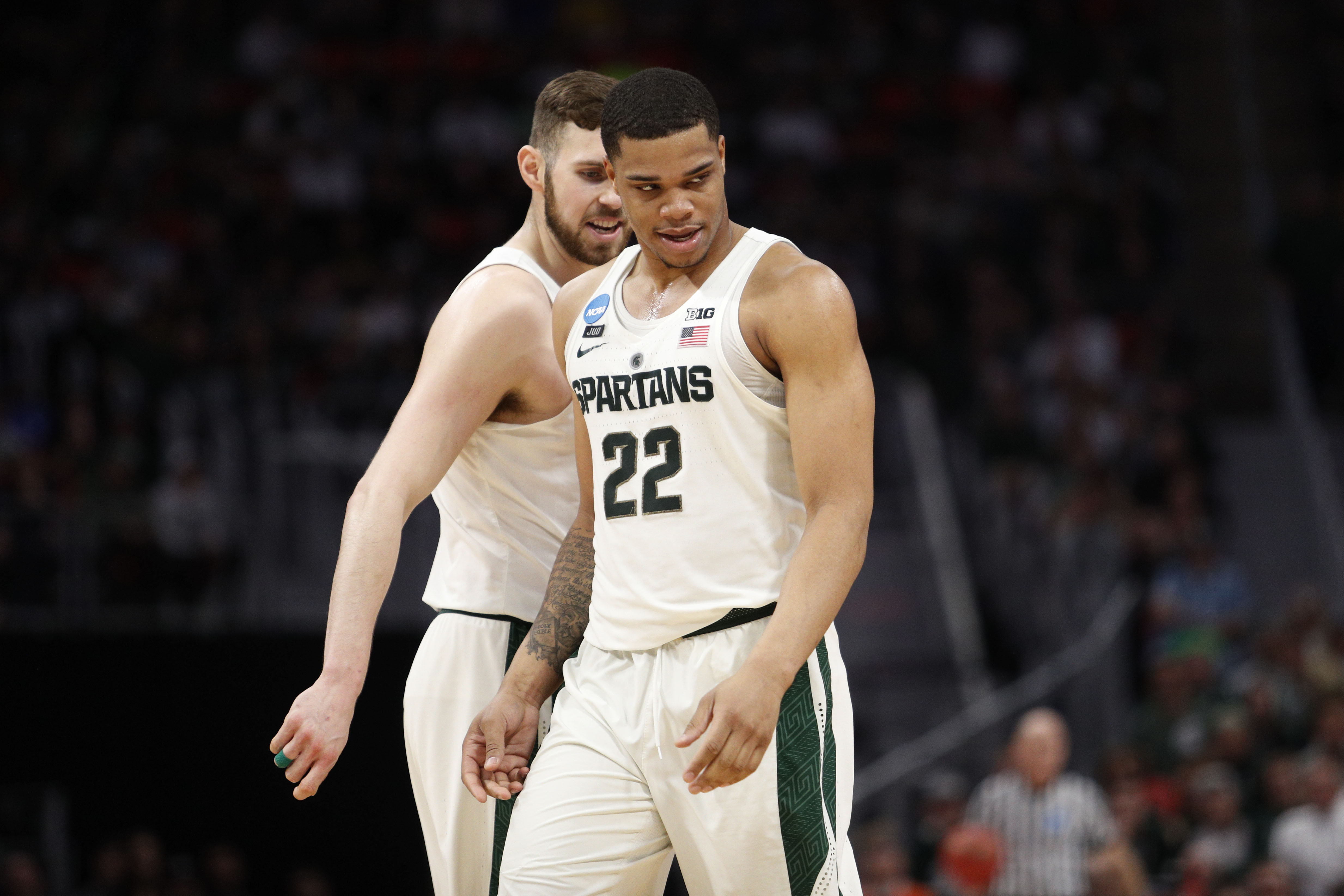 Michigan State star Miles Bridges has the potential to be one of the best players in the 2018 NBA Draft, and could be a wonderful fit with the Denver Nuggets.
In his two years with the Spartans, Bridges turned in a solid freshman season and followed with an even better sophomore campaign. Bridges averaged 16.9 points and 8.3 rebounds per game during his freshman year. Those numbers put Bridges on the Freshman All-American list and awarded him the Big-Ten Freshman of the Year when the season was all said and done. Bridges was just the second freshman in school history to take home those honors, with the first being none other than Nuggets' shooting guard Gary Harris. Bridges also followed in Harris' footsteps in other ways. He was just the third freshman in the Michigan State's history to be awarded All-Conference honors as he was named to the second team. After his freshman season, many thought Bridges would declare for the 2017 NBA draft. He looked like a sure-fire lottery pick and one of the most touted prospects in the draft. Instead, Bridges decided to return to school though with the hopes of elevating his game to even greater heights and hoped of winning a national championship along the way.
The national championship never came as Jim Boeheim and Syracuse ousted Bridges and the Spartans during the Round of 32 in the NCAA Tournament. Even with the tough loss in the NCAA tournament, Bridges still turned in a solid sophomore season averaging 17.1 points, seven rebounds, and 2.7 assists per game. Bridges also saw a rapid rise in his free-throw percentage, which rose from 68.5 percent during his freshman year to 85.3 percent his sophomore year. Those numbers can be a big indication on Bridge's continued growth as a shooter and scorer on the offensive end of the court.
Bridges' rise to stardom at Michigan State makes him one of the best players in the 2018 NBA Draft, but when ESPN and other national sites are dropping Bridges in their mock drafts, it raises some eye brows that he might actually fall on draft night. It does not help that the current risers in mock drafts seem to be guys like Michael Porter Jr., Kevin Knox, and even Zhaire Smith, who are all guys who play a similar role as Bridges.
With a 6-foot-7 and 230 pound frame, it can be tough seeing where Bridges is going to play at the next level. He may be built like a traditional power forward, but his game is much more perimeter-oriented. The Nuggets biggest need is on the wing so if Bridges somehow falls, he may end up right in the Nuggets' lap just like Jamal Murray did a couple years prior.
Strengths
Freakish Athleticism
In a draft full of potential stars on the wing, none may be more explosive than Miles Bridges. During his two years at Michigan State, Bridges flashed some high flying potential with his rim rocking dunks that set college basketball by storm.
Thank dunk came in Michigan State's first round victory over Bucknell in the 2017 NCAA Tournament. That dunk was Bridges first poster of the NCAA tournament, but it wasn't his last as he threw down another ferocious dunk in Michigan State's second round game against Syracuse.
Very few 230 pound forwards posses the type fluid athleticism that Bridges has. Bridges is arguably this year's drafts best dunker, with the only competition potentially coming from Texas Tech's Zhaire Smith.
Nonetheless, Bridges will come into the NBA as a freakish athlete and will have the potential to put up some eye-popping highlights during his rookie campaign. In a league that is growing into position-less style of basketball, an athlete likes Bridges fits like a glove in today's NBA.
Offensive Upside
If there's one thing that Bridges showcased in college, it is that he has the ability to score the basketball from anywhere on the floor. Bridges averaged 17 points per game during his two seasons with the Spartans and shot an efficient 47 percent from the field and 37.5 percent from three.
Bridges' three-point shot is something that took a major step forward during his sophomore season. He shot 51 more three-pointers in his second year compared to his freshman season and his three-point percentage only marginally dwindled from 38.9 to 36.4 percent. The uptick in attempts and the fact that Bridges was relied upon heavily to space the floor and that directly related to his falling three-point percentage. Alas, Bridges has grown as a shot creator throughout the 2017-18 season.
Bridges also showed he can pull up and hit jumpers from the mid-range out of the pick and roll and showcased a little finesse in his game at times last season.
Bridges' ability to score from all over the floor makes it tough for defenders because it is impossible to take away his three-point shot, mid-range-shot, and his ability to drive to the rim. Bridges' ability to score at all three levels opens the floor for him to feast on defenses in whatever way he sees fit — so long as his three-point shot is falling.
In the clip above, Bridges showcased his euro step to go along with his strong finishing ability. The defender, Gary Trent Jr. — who will also be selected in Thursdays draft — closed out too early on Bridges, which allowed Bridges to easily drive by and finish strong at the rim.
Another thing that Bridges does well at the rim is his ability to finish with both hands. Since Bridges is left handed, you would think that he would struggle to finish with his off hand, but Bridges flashed an ambidextrous ability to finish with his right hand near the rim and showed that he isn't afraid to finish through contact in the process.
If Bridges is able to finish with his right hand at the next level, than the rest of the NBA should be put on notice. The scoring ability Bridges showed at Michigan State projects him to be an offensive force at the next level, and his ability to finish in all three phases of the game will make him a potential force to be reckoned with.
Rebounding
Other than scoring the basketball, if there is one thing Bridges does extremely well, it is rebounding the basketball. After two seasons at Michigan State, Bridges averaged 7.6 rebounds a game, with 1.4 of those rebounds coming on the offensive end of the court. One of Bridges downfalls with his defensive rebounding is that he isn't great in transition, but he does do a good job getting the ball to playmakers in order to keep a fast break opportunity alive.
Bridges is at his best when he is able to get out in transition and run the floor so he can use his athleticism in open space to feast on opponents.
Standing at 6-7 and weighing 230 pounds also helps Bridges man-handle smaller defenders in the post and gives him a huge advantage when he crashes the boards on the offensive end of the court. One skill that will translate immediately is Bridges' ability to corral offense rebounds outside of his zone and throw them back down with power.
If Bridges continues to grow as a rebounder on both ends of the floor, he has the ability to be a 15 point and 10 rebonds type of a player at the NBA level, and some of those rebounds are going to result in some rim-rocking highlights.
Cutting
One of Bridges most underrated qualities is his cutting to the rim and his ability to play without the basketball in his hands. Bridges is such a dynamic finisher at the rim and his ability to play off of the ball made him one of the toughest players to guard in all of college basketball the last two seasons.
Bridges ability to find the soft spot in the defense and finish at the rim is what makes him such a tantalizing prospect. Watching Bridges play, his cutting ability reminds you of former Spartan Garry Harris. Bridges possesses the same qualities of finishing at the rim with plethora of different moves including his personal favorite — a thunderous highlight reel dunk.
For some reason, Illinois constantly left the lane open during their game against Michigan State, and Bridges certainly made them pay. Bridges would finish the night with 31 points and eight rebounds en route to the Spartans 87-74 victory over the Fighting Illini. This strength in Bridges' game is what makes him such an intriguing prospect for Denver considering how the Nuggets are one of the most unselfish teams in basketball and absolutely love passing the ball to one another. Jokic and Harris would instantly be great fits next to Miles Bridges, and that is one of the reasons as to why he would be such a good fit in Denver.
Shot Blocking/Defensive Impact 
Shot blocking and defensive impact is something that Bridges showed flashes of in college, but is still is an aspect of his game that could use some polishing. Bridges was a shot \-blocking maniac during his freshman season at Michigan State as he averaged 1.5 blocks per game and ended the season with 43 total blocks in 28 games. Bridges greatest block during his freshman season might have came in a Big Ten game against Iowa after Bridges chased down a Hawkeye in transition and denied him at the rim.
The best part about that block is how hard Bridges was playing during that stage of the game. That block game with just over four minutes remaining in the second half and with the Spartans in full command of a victory with a 13-point lead. The block just shows Bridges tenacity to succeed and how he'll give it his all no matter what part of the game it is. Hustle and competitiveness is something that not all prospects have, but it's certainly something that Bridges will bring to an NBA locker room the moment he's drafted.
Bridges shot blocking average took a bit of a decline during his sophomore season after averaging just 0.8 per game, but a number that did rise for Bridges was his defensive win shares. After averaging 1.7 during his freshman season, Bridges bumped that number up to 2.2 during his sophomore season as he continued to show more promise as a perimeter defender. Even with his shot blocking totals dwindling, Bridges still had games where he absolutely disrupted teams at the rim, like when the Spartans faced off against Duke in early November.
Both of those blocks came against NBA prospects in Trevon Duval and Gary Trent Jr. and showcased Bridges ability to play solid help defense and guard four positions at the collegiate level. If Bridges wants to continue to grow as a defender he's going to have to be able to guard positions 1-4 in the NBA as well, and his highlights against Duke certainly show that he has the capabilities once he puts his mind to it.
Weaknesses
Handles
One of Bridges' greatest areas of weakness is his dribbling and his inability to separate himself from his defender on the offensive end of the court. To many times last season Bridges was caught off balance by his dribbling and it affected his shot as a result.
Everything went poor from the start there as Bridges had a tough time on the dribble hand off and then was too out of control with his dribble in order to take a good shot.
Bridges' dribbling often forces him out of his rhythm and it is something that NBA coaches won't let him get away with at the next level. Here's another prime example of Bridges taking a tough shot after not being able to get by a solid Big Ten defender in Charles Matthews.
Bridges forced that shot up with 22 seconds remaining on the shot clock. If Bridges does indeed want to take that next step in his game offensively, his handles will be the next part of his game that needs developing.
Offensive Creation  
We saw it a little bit in Bridges' struggles handling the ball, but offensive creation and shot selection is something that Bridges often struggled with at Michigan State. Bridges is such a solid offensive player that it seems like he almost tries to do too much when its just him, the defender, and the basket. Bridges handles may be the biggest cause to his inability to create for himself.
Bridges is naturally left handed, but in the video above the defender forces him to go to his right and Bridges takes a bad shot. This is just another case where Bridges compounds one issue with another by buying into what the defender wants him to do — go to his right, panic, and take a tough contested shot because of it.
If Bridges wants to develop his offensive game even more, he is going to have to be able to go to his right with more effectiveness because NBA defenders will take away his left at every opportunity. In the strengths section above, you can see that Bridges has the ability to go to his right and be effective with it, but it is an area of his game that needs to be more consistent in order to make his defender buy into the fact he has more than just a couple of moves in his bag of tricks. Once Bridges is able to stop snowballing his offensive inefficiencies, than he will truly be able to take his game to the next level.
Defensive Awareness 
We've talked about how solid a defensive player Bridges can be in terms of shot blocking and defensive tenacity, but the consistency is not always there for Bridges on the defensive end of the floor. Bridges' level of aggression seems to falter from time to time on the defensive end of the court and Bridges, as you can see below, can be beat far to often by guys who should never score on him down low.
Getting beat like that in the post isn't so much of Bridges being outmatched by his competitor as much as it is just a lack of focus. Pick and roll defense is something that has given Bridges fits in the past and its something that is eye popping when watching his film.
Bridges sags under the screen instead of closing out on his guy and ends up allowing a wide open, uncontested jumper, to a guy that's a career 52.8 percent shooter during his three years at Wisconsin in Khalil Iverson. The same thing would happen in a game later as Bridges sagged under the screen once again allowing a wide open, uncontested jumper.
Bridges does a better job contesting the shot, but still got caught in the shuffle at the top of the key and allowed an easy shot for another solid shooter. As athletic and quick as Bridges is, he should never worry about a guy beating him to the basket, especially with how well he moves laterally and his ability to blocks shots near the rim. Once that focus kicks in, it'll be interesting to see what sort of damage Bridges can really do on the defensive end of the court. He already has the shot blocking ability and the tenacity. The only think lacking is consistency and focus every possession.
Overview
When the draft rolls around on Thursday night, it might be hard to find a prospect who would fit the Nuggets better than Miles Bridges. Denver is currently looking for help on the wing and Bridges would seemingly slide right into the rotation if selected by the Nuggets. The real question is will Bridges be available at 14?
A lot of recent mock drafts around the NBA think he might be and it would almost be a perfect marriage between him and the Nuggets. Bridges ability to score the basketball would make him a perfect fit in the Nuggets already high-flying offense and his defensive upside could potentially bring the Nuggets something they've sorely been lacking for years — versatility and some weak-side rim protection.
At the end of the day the marriage seems almost too good to be true, but that is also what we were saying a couple years ago when Murray fell into the Nuggets lap with the seventh overall pick, and that has turned out pretty well so far.