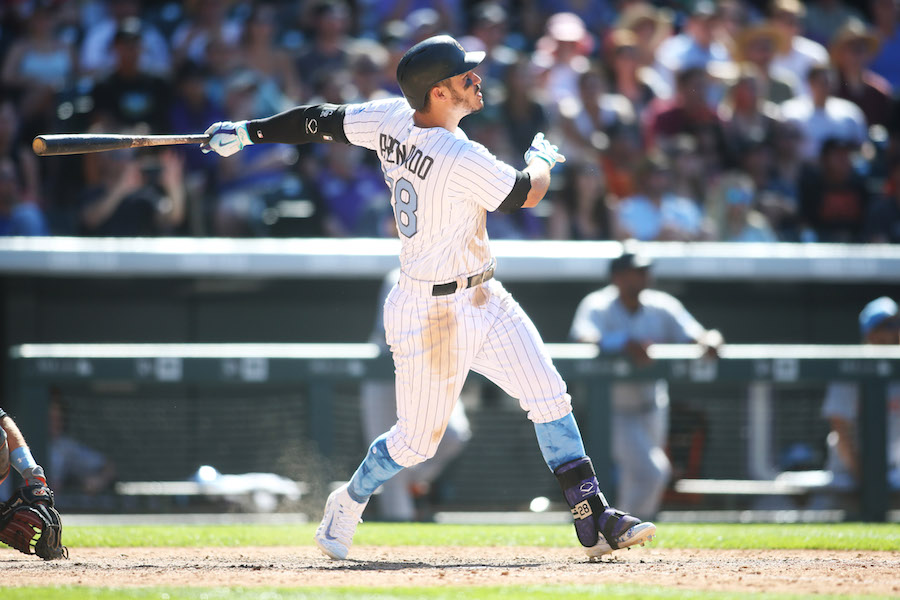 2018 could be the best — and most important — year in Colorado Rockies history. The club has a crucial need to cash in on an offseason that included big spending to assure even more success than the 2017 run to the Wild Card. More importantly, a successful 2018 is vital to the team's long-term future with All-Star third baseman Nolan Arenado.
The gem of the Rockies and the franchise cornerstone is a five-time Gold Glove winner and three time Silver-Slugger. Arenado is expected to produce MVP-type numbers once again as he continues to swing the bat in his prime. As he approaches unrestricted free agency (following the 2019 season), those numbers could be higher than anyone ever imagined.
Arenado's numbers in hits, doubles, triples, OBP, SLG, OPS, and batting average all climbed from 2016 to 2017 and the soon-to-be 27-year-old dazzled with his glove as usual. Arenado's defensive greatness is so common that it's nearly expected and overlooked with how truly valuable he is at third base. So long as he stays healthy, Arenado should continue to produce at MVP-caliber levels on both sides of the ball.
But with Arenado's long-term contract situation unsettled, 2018 may need to be the Rockies' best year to convince Arenado he should call Colorado home for the rest of his career.
"I think we have a chance to do something special," Arenado told reporters in mid-January.
If the Rockies can do something special in 2018, it could be the proverbial licking of the envelope that seals the deal. Rockies general manager Jeff Bridich was aggressive in the offseason, chasing talented arms and flipping the script on a spendthrift reputation and informing the MLB the Rockies are for real.
Arenado has been very public about his wish to stay in Colorado long term, but that comes with a kicker that he wants to win and win consistently. Arenado has a desire to play in the postseason on a year-in, year-out basis. Colorado went all-in to win in 2018, spending an unheard-of $106 million dollars on the bullpen and acquiring what many believe was the biggest fish in free-agency when it comes to relief pitchers, Wade Davis.
That bolstered bullpen, which includes re-signing Chris Rusin and Jake McGee in addition to adding former Cleveland Indians innings eater Bryan Shaw, will support an up-and-coming rotation carrying big expectations. Jon Gray and Chad Bettis should be back healthy, as could Tyler Anderson. They'll be trying to hold off four young starters who emerged and contributed greatly in 2017 — Kyle Freeland, Jeff Hoffman, German Marquez and Antonio Senzatela.
The rotation taking a big leap forward and knowing that the back end of the bullpen will be intact for at least the next three years ought to give Arenado confidence.
"We are a better team than we were last [year]. We made the playoffs, so I think that's only a better sign for things to come," Arenado said in January.
The culture has changed on Blake Street. Now it's time to build a winner on top of that changed culture. A consistent winner. A team that will compete yearly and show superstars on the roster and off, that Colorado is a place they should call home.
Improving on a Wild Card appearance in a tough National League West division will be tough, but it could be what seals the deal and convinces Arenado to stick around long term in Colorado.