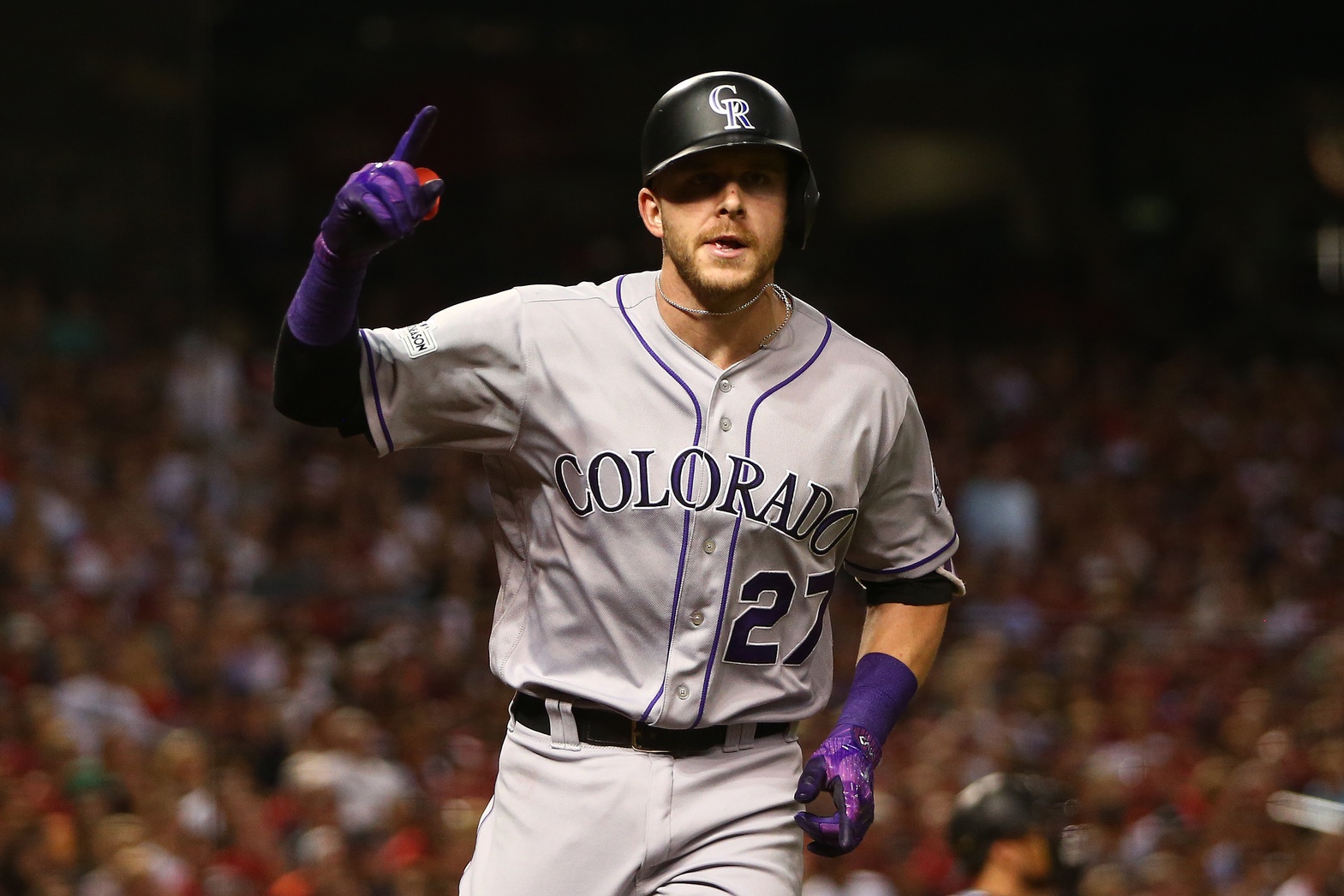 The Colorado Rockies turned heads last season with their impressive 87-75 record, returning to the postseason for the first time in eight years while establishing themselves as a perennial playoff threat for the foreseeable future.
After years filled with shortcomings and underachievement, general manager Jeff Bridich figured out a way to tap into the minds and wallets of the Monfort family, the Rockies ownership group, which until recently have often been branded as cheap and disinterested in winning. The Rockies currently claim the 14th-highest payroll with $123.64 million dedicated to the 25-man roster which is a significant increase from 2017 ($105.03 million) and 2016 ($88,354,041).
The Rockies are relying on Trevor Story improving in 2018
The Rockies' infield is loaded with All-Star talent. Nolan Arenado mans the hot corner and DJ LeMahieu patrols second base. The two make Colorado's infield dynamic; however, the Rockies infield can be one of the best in baseball if shortstop Trevor Story plays up to his potential in 2018.
After bursting onto the baseball scene during his rookie season in 2016, Story built high expectations for his sophomore season. 2017 did not go as smooth for Story as his rookie season as he saw his home run total and average batting dip while his strikeouts total ramped up.
The sophomore slump hit Story hard. His batting average dropped from .272 to .239. His home run total fell from 27 to 24 despite having nearly two months of additional playing time. (He was fully healthy in 2017 after his injury-shortened 2016 tour.) Story also struck out a whopping 191 times — the most in the National League — and had a strikeout percentage of 34.4 last year.
The Rockies need Story to mature at the plate by cutting down his strikeouts while becoming a more efficient hitter. Former Rockies manager Walt Weiss and present-day skipper Bud Black have both said they believe Story has up-the-middle power and the potential to be a run-producing bat in the middle of Colorado's lineup with serious impact. Story demonstrated this ability in spurts, but his plate discipline and, at times, all-or-nothing swing have limited his ability to develop into a dynamic all-around hitter.
After struggling out of the gate in 2017, Story managed to ramp up his performance as the season progressed. He hit .254 with 13 home runs and 47 RBI in the second half of the season. It was a huge jump from his .224 average, 11 home runs, and 35 RBI in the first half.
Story also had a power surge late in the season as his slugging percentage rose to .520, up from .396 in the first half of the year.
With all the money Colorado has spent on free agents over the past two offseasons and the looming free agencies of cornerstones Nolan Arenado, Charlie Blackmon, and DJ LeMahieu, the Rockies are relying internally on improving their offensive production. They need players like Story expected to boost their outputs.
Story is not far off from figuring things out at the plate. His pitch selection continues to be an issue, but with two years in the big leagues under his belt he should take a big leap forward in 2018.
While he still needs some work on the offensive side of things, Story has been sharp on defense since getting called up to the show. Story has made quite a few highlight-reel plays over the course of the past two seasons and is sharp enough to play shortstop on a day-to-day basis. He logged a fielding percentage of 98.2 last season — second-best among NL shortstops.
Spring Training and the 2018 season are important for Story. Infielder Brendan Rodgers, the No. 3 overall pick in 2015, is quickly climbing the ranks in the minor leagues. A future with Story at shortstop and Rodgers at second base would be ideal, but Rodgers was drafted as a shortstop and could threaten Story at the position. If Story can up the production at the plate and cut down on his strikeouts, he will ink his name in Colorado's lineup at shortstop for the foreseeable future.