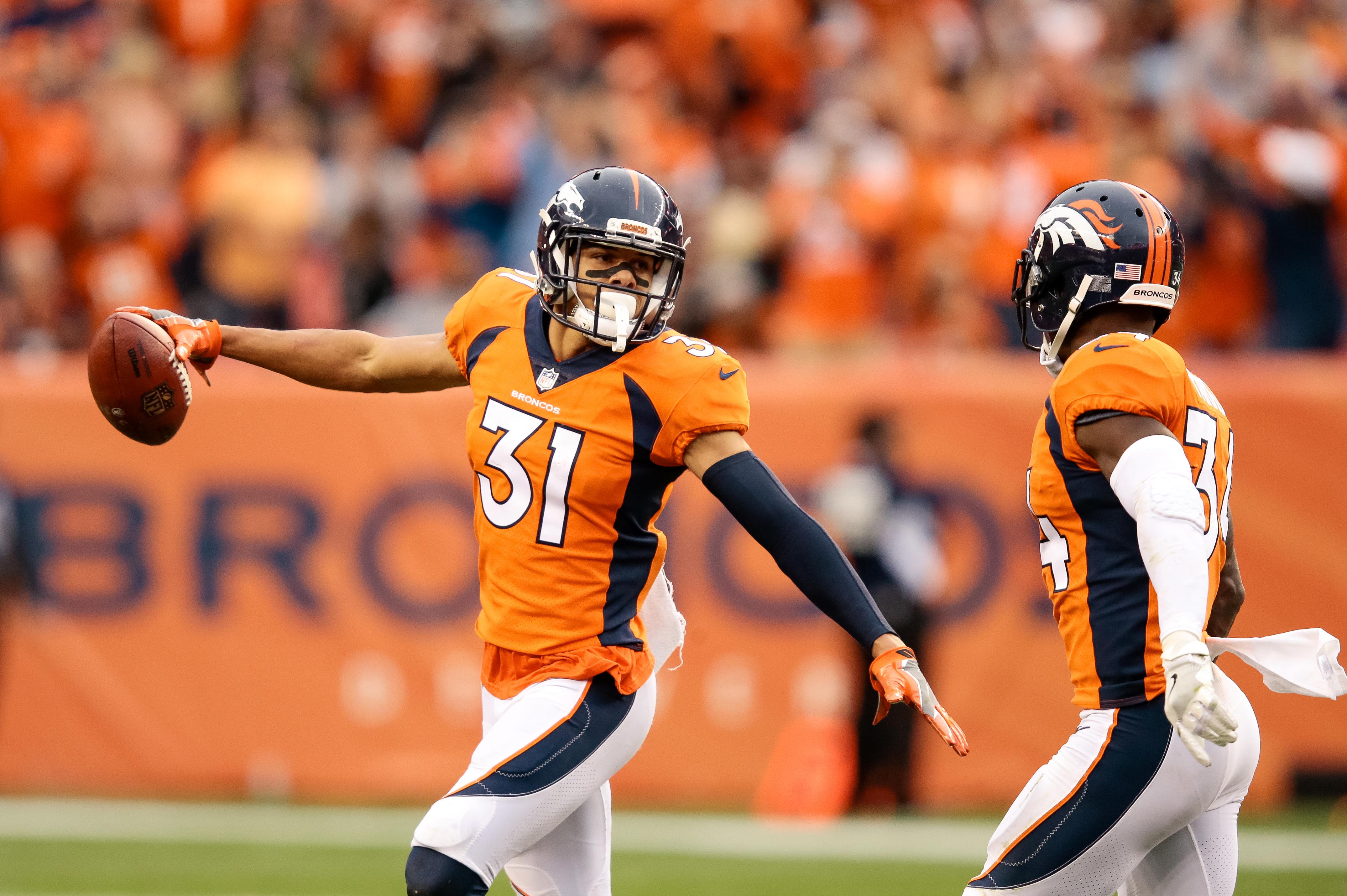 The Denver Broncos have plenty of holes to plug on defense this offseason, including cornerback, linebacker and safety.
Despite the hemming and hawing that initially followed his replacement of T.J. Ward in the lineup, Justin Simmons has been a solid starter for the Broncos at safety. During his second season as the No. 1, Simmons led the defense in snaps played and tied Chris Harris for the team lead in interceptions. With Vic Fangio now in town, the Broncos are only expecting that production in the secondary to increase.
This makes sense, especially considering Fangio's recent work with Eddie Jackson. Under Fangio, Jackson had a strong rookie season but made the leap to being an elite player in Year 2. Pro Football Focus assigned Jackson an overall grade of 93.2 and a coverage grade of 94.7, the best among safeties in either category by a healthy margin.
While Fangio is working on improving Simmons, John Elway may need to find a new strong safety to go alongside him. Darian Stewart, who started last year, is on the decline. Su'a Cravens was incredibly disappointing last season as well, as he earned the lowest defensive grade of anyone on the roster.
2016 sixth-round pick Will Parks is currently the Broncos' best option. In fact, Pro Football Focus awarded Parks the highest grade of any Broncos safety to play at least 50 snaps in 2018.
Do the Broncos choose to roll with Parks and Simmons, or could they make a splash this offseason to shake things up?
Alternatives:
Unfortunately for the Broncos, the 2019 crop of free agents, while being stacked at free safety, is unfortunately very shallow at strong safety, Denver's position of need. The best safeties the Broncos could likely target and play at strong safety are Tyrann Mathieu, Landon Collins and Adrian Amos.
Mathieu AKA the "Honey Badger," as well as Landon Collins, are naturally free safeties, but they should still work in Fangio's defense and the fits are too fun to not talk about. Since entering the league, Mathieu's versatility has separated him from the pack. Mathieu plays everywhere, from a down-in-the-box, run-stuffing safety, similar to how Ward liked to play, to a nickel corner. This versatility could help the Broncos alleviate both their need at corner and at strong safety.
Now, Landon Collins doesn't have the same versatility, but the best part of his game comes in tackling and defending the run. Plus, Collins has more than enough talent to play at strong safety. If Collins isn't tagged by the Giants, the Broncos should consider jumping on him in a hurry as safeties aren't that expensive in today's NFL and he has the talent to be a foundational building block of a defense.
The far more likely alternative though is Adrian Amos. Amos played next to the aforementioned Eddie Jackson under Fangio's scheme in Chicago and was excellent in his own right. He is a young, athletic safety who excels in coverage but is nasty in the run game as well, and was among Pro Football Focus' top-10 safeties of 2018. Amos also seems fairly interested in reuniting with his former coordinator, as Rich Kurtzman wrote about.
The draft doesn't present many options that could potentially be an upgrade on Parks. The only two players potentially better at strong safety are Taylor Rapp and Johnathan Abram. Rapp is an excellent leader with a high football IQ that can lay a runner out when he has to, but there are worries about his high-end athleticism and the Broncos have too many needs to target Rapp at the top of the second, which is where he will likely go.
Abram is right out of the Steve Atwater, Kam Chancellor mold. If there is a harder hitter or a player that enjoys delivering them as much as Abram at the college level, he's yet to be seen. However, Abram wouldn't be worth the necessary assets to get him, and his style of play may not fit in today's NFL.
What Should the Broncos do?
The Broncos should stick with Simmons and Parks, while either cutting Cravens or moving him to linebacker.
Yes, there are players out there that could be a good upgrade on Parks or Simmons, but that upgrade should be far down the Broncos' list of priorities. Both Parks and Simmons are young and talented with plenty of potential to grow into well above-average starters in Fangio's scheme.
The Broncos are fine on cap space, but they'll have to be smart on how they maximize that space to address the most holes possible. Upgrading on Parks, who is already starting-caliber is not how you maximize that space, with Mathieu potentially being the exception.
Sticking with Parks and Simmons will also allow the Broncos to potentially pursue an elite linebacker, cornerback or offensive lineman in free agency, all of which are more pressing positions of need than safety. It will also allow them more flexibility with their assets in the draft in case they have to trade up for a quarterback