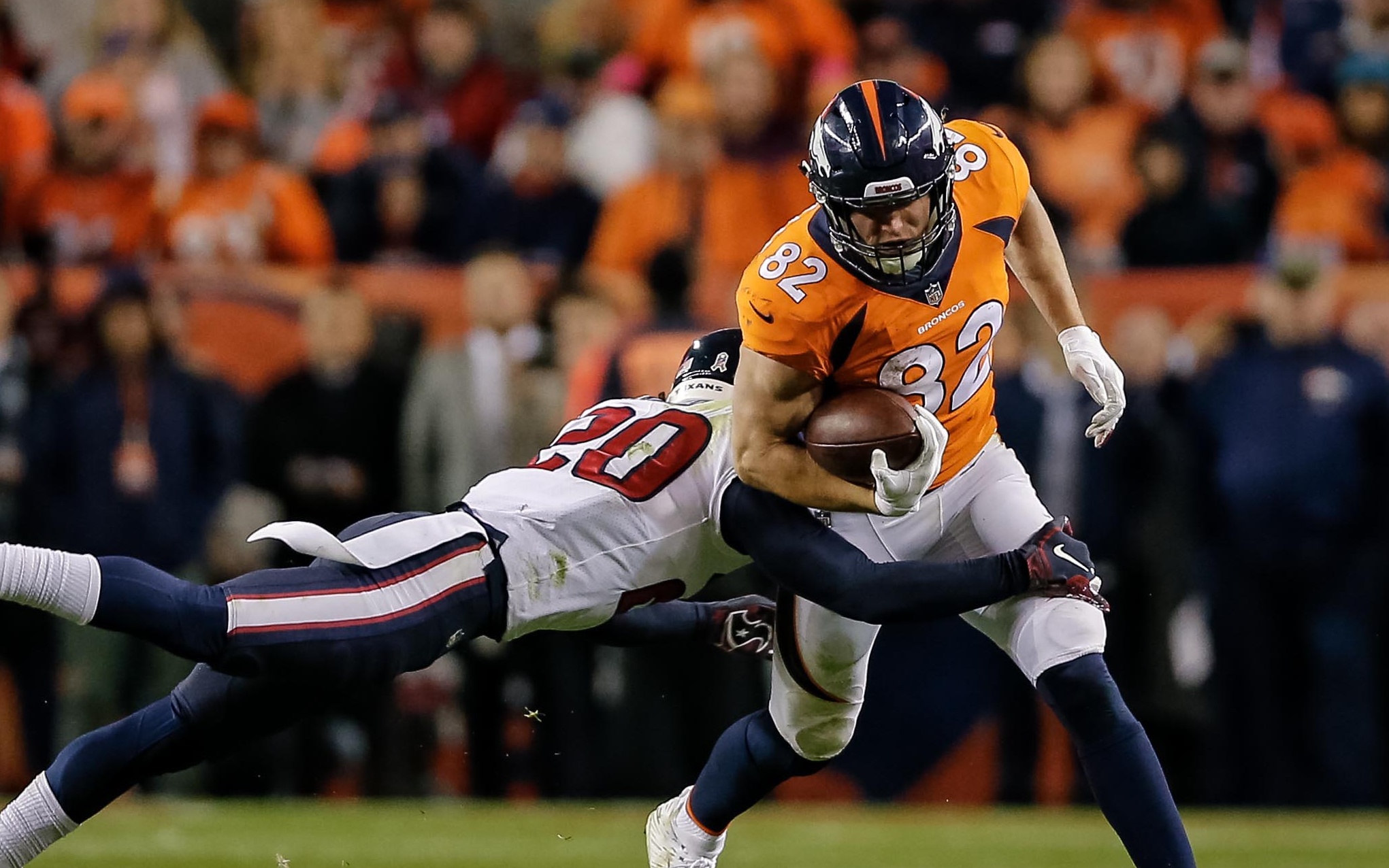 Plenty of questions swirl around the Broncos this offseason. Will the new coaching staff be the upgrade fans were clamoring for over the past two seasons? Will John Elway be able to finally find a quarterback? What is going on with the Bowlens and the stadium naming rights?
One of the most pressing questions isn't getting enough discussion though. What should the Broncos do at tight end?
Jeff Heuerman, Jake Butt, and Matt LaCosse have each shown the promise of a solid starter at the position, but every year the injury concerns just seem to get worse. Will the Broncos be content with their deep stable of tight ends, or will Denver look to upgrade via the draft or free agency?
Tight Ends:
Starters: Jeff Heuerman, Jake Butt
Backups: Matt LaCosse, Brian Parker
In 2018, the Broncos got the most production out of the tight end position since their 2015 Super Bowl run, with tight ends combining for 649 yards and three scores on 68 receptions.
In fact, there is a strong argument to be made that 2018 Jeff Heuerman outperformed the Broncos' entire 2017 tight end group. With his high-end speed and athleticism, Heuerman reeled in 31 receptions for 281 yards and two scores while only appearing in 11 games. Through an entire 16 week season, the 2017 group finished with a mere 31 receptions, 433 yards, and three scores.
Heuerman was the Broncos' best tight end last season and has tons of potential, but his poor health has held him back. During his short time in the league, Heuerman has missed time with a torn ACL, a hamstring injury, and now broken ribs. He is not the only Denver tight end to catch the injury bug either, as Jake Butt has had his share of issues as well.
After missing his rookie season with a torn ACL, much like Heuerman, Butt was ready to make his professional debut in 2018. After three solid games though, Butt tore his ACL during a non-contact drill.
Butt's replacement, Matt LaCosse, played above expectations and may have even earned himself a roster spot, but it is clear that he isn't the future at the position. Brian Parker didn't play as well as either of them and likely will be cut before the start of next year. That means the Broncos current tight end room is led by two tight ends that have missed a combined 52 games out of a possible 96. That is shockingly more than 54 percent of their games.
Alternatives:
With Heuerman and Butt's injury concerns, along with the fact that Heuerman, Parker, and Lacosse's contracts are set to expire at the end of the season, the Broncos could target a tight end through free agency or the draft.
In free agency, the Broncos could look to higher-priced tight ends like Tyler Eifert or Jared Cook, both of whom would be an upgrade in terms of talent but have questions of their own. Eifert is one the few tight ends in the league that is injured more often than Denver's. That signing would not make much sense even though Eifert is a great player when healthy. Cook's question mark is age, as he has a lot of tread on his tires as he will turn 32 before the start of next season.
That could work out for the Broncos, as the best options are in the draft.
Iowa's tight ends Noah Fant and T.J. Hockenson, as well as Alabama's Irv Smith Jr., all have the talent to take over the Broncos' starting tight end spot by Week 1 of next season. Fant is one of the most dangerous receiving weapons we've seen come out at tight end. He's very comparable to Evan Engram but is a better blocker. T.J Hockenson is a tight end that loves to block but is a weapon in the passing game too. Irv Smith Jr. is the latest monster at tight end for the Crimson Tide.
What should the Broncos do?
The Broncos should resign Jeff Heuerman, and let both Brian Parker and Matt LaCosse walk.
Heuerman showed the type of athleticism everyone is looking for from their tight end now in the NFL. The Broncos should not just let that talent walk out the door despite the injury history.
The Broncos should then turn their eyes towards the draft and look to add another tight end there. Noah Fant, Irv Smith Jr. and T.J. Hockenson could all go in the first round, but because of the demand, not all will. If any of those guys fell to the Broncos at the top of the second round, Denver should spring the draft card up to that stage.
Drafting a young, potential star at tight end would give the Broncos a great young nucleus of talent all around the offense. They already have talent and youth at running back, wide receiver, and along the offensive line. It is time to add some at tight end.