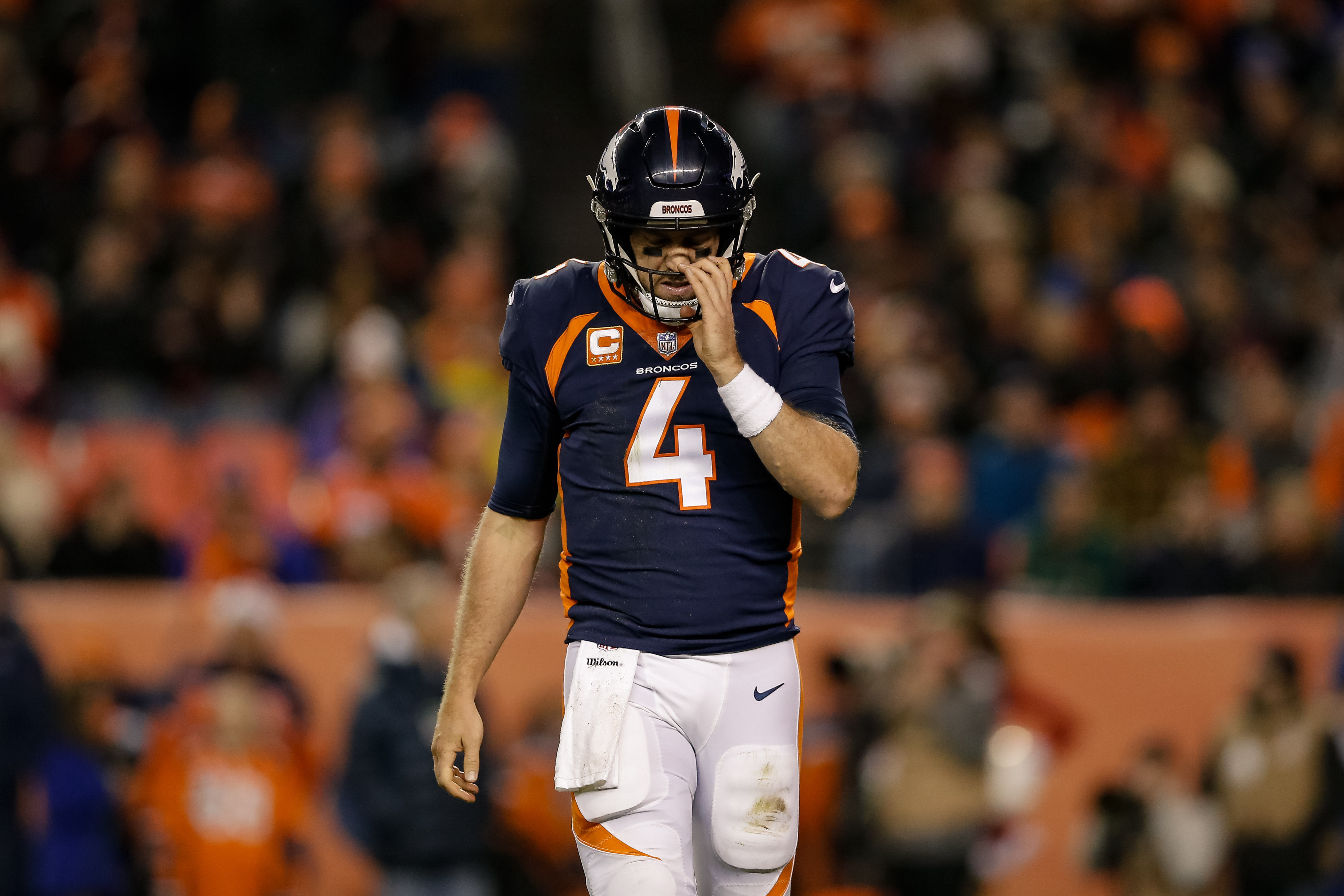 Since Peyton Manning rode off into the sunset after Super Bowl 50 the Broncos have gone 20-28 and haven't finished better than third in their division.
The biggest reason?
Quarterback play. Yes, Vance Joseph wasn't a great coach, but he would have looked a whole lot better had Paxton Lynch lived up to his Mahomes-ian potential.
In this series, we will be going through the Broncos' roster position-by-position, starting at quarterback, to see how that position group performed this season, what possible alternatives exist in the draft or free agency in case Denver wants to upgrade, and what I believe they should do.
So, let's look at how Case Keenum played this past season.
Quarterback:
Starter: Case Keenum
Backup: Kevin Hogan
Keenum was, well, Case Keenum. According to Pro Football Focus' grades, he ranked No. 27 out of 39 quarterbacks who qualified with a passing grade of 66.5. Making him the second-lowest graded quarterback to start all 16 games this season.
The only one graded lower? Eli Manning.
It's not just an analytics thing either. In terms of both passer rating and ESPN's total QBR, Keenum ranked No. 29 out of 33 qualified quarterbacks. The only quarterbacks ranked below him being rookies, Ryan Tannehill, or Blake Bortles.
Despite Keenum being a bottom-tier quarterback for the large majority of the 2018 season, he still managed to be an upgrade, in almost every category, over 2017 Broncos gun-slingers Trevor Siemian, Brock Osweiler and Paxton Lynch.
According to Pro Football Focus, Siemian and Osweiler ranked Nos. 39 and 41 respectively out of 42 qualifying quarterbacks in 2017. Lynch didn't qualify but had he, he would have been the No. 43 ranked quarterback by almost six points, a widemargin.
Keenum was an upgrade on the quarterbacks of Broncos' past, but that was in large part because the Broncos had one of the worst quarterback rooms in recent NFL history last season.
So, could the Broncos upgrade at quarterback this offseason?
Alternatives:
Unfortunately, the answer is probably not.
First, let's take a look at the free agent quarterbacks for this offseason. It would be very surprising for the Broncos to sign a free agent quarterback because the options aren't necessarily an upgrade on Keenum, and to do so they would have to cut Keenum, resulting in $10 million in dead cap.
The two best candidates, currently, appear to be Tyrod Taylor and Teddy Bridgewater, though Blake Bortles and Joe Flacco could be available too.
Bortles, and Flacco are a clear pass. Since being drafted third overall in the 2014 NFL Draft, Bortles has been an absolute bust. He's consistently forced the Jaguars to find ways to win in spite of him, rather than because of him. Bortles had the second-best season of his career this year according to PFF. Yet, he still was graded lower than Keenum and was even benched for Cody Kessler at one point in the season.
Flacco meanwhile, has been a disaster since signing his new contract. Flacco had his best season of the past four years this season, earning himself a grade of 72.0. Flacco was still benched for Lamar Jackson, who improved the overall grade of the team from 70.17 to 72.33. That's the rookie who was viewed as the "most raw" and "least ready" to start in the NFL. Over the past four seasons, a pretty large data set, Keenum has earned an average grade of 69.93 from PFF. Flacco? 68.25.
Similarly to Flacco, Taylor was beat out and thoroughly outplayed by a rookie quarterback meant to 'redshirt' his rookie season. The Browns earned two of their three lowest team grades during the two games where Taylor played all four quarters. Taylor was also graded No. 26 out of 27 offensive players for the Browns. Only fullback Orson Charles graded out worse.
Bridgewater has the highest ceiling of any candidates, but also the lowest floor. Bridgewater looked fantastic for the Jets in the preseason this year, but there are still huge question marks surrounding his knee after he suffered one of the most destructive knee injuries in recent memory. Do the Broncos really want to break the bank for a quarterback whose body may not be able to last a month, much less a whole season?
The only clear avenue to find a quarterback appears to be the draft, though that road is a rocky one as well.
The 2019 quarterback class has often been described as the worst bunch since the 2013 class that gifted us, E.J. Manuel and Geno Smith. This year's best prospect, Justin Herbert, opted to return to school which made the class even more shallow. Dwayne Haskins, the new top prospect in this year's class, would have been viewed as the fifth best prospect in last year's class, and the fourth or fifth-best in next year's.
Though it should be said, the last time there was this much cynicism surrounding a quarterback class was 2017. All three first-rounders in that class led their team to the playoffs and one of them was Patrick Mahomes, who will likely win the MVP in his first year of starting.
What should the Broncos do?
The Broncos can't enter another season with Case Keenum as the unquestioned starting quarterback after his disappointing 2018 campaign, but the solution does not exist in free agency. The question of whether or not Flacco, Taylor, Bortles, or Bridgewater could be an upgrade for the Broncos is debatable. What is not debatable, though, is the fact that none of those quarterbacks, including Keenum, is championship-caliber.
Denver should turn their eyes towards the draft, and take a flier on a promising prospect in the second or third round. A player like Ryan Finley for example, a guy who could be the future of the position, but doesn't have too much invested in him. That way, he could be passed over for a quarterback in the 2020 or 2021 class, which both have insane levels of talent at the quarterback position.
Just look at what the Browns did. In 2017, a poor year for quarterback prospects, they drafted DeShone Kizer in the top of the second round out of Notre Dame. The Browns give him some starts and he looks dreadful, ranking No. 40 out of 42 quarterbacks according to PFF's grades.
In the offseason, the Browns traded him to Green Bay where he became the backup, and the Browns drafted Baker Mayfield No. 1 overall in 2018. The Browns now have a young, talented roster, and their quarterback of the future after having neither for decades.
If I were John Elway, I'd rather suffer through another bad season and try to find my guy, like the Browns and Baker Mayfield, than overdraft an average prospect and doom the Broncos to the pits of mediocrity. Like the Dolphins did with Ryan Tannehill.