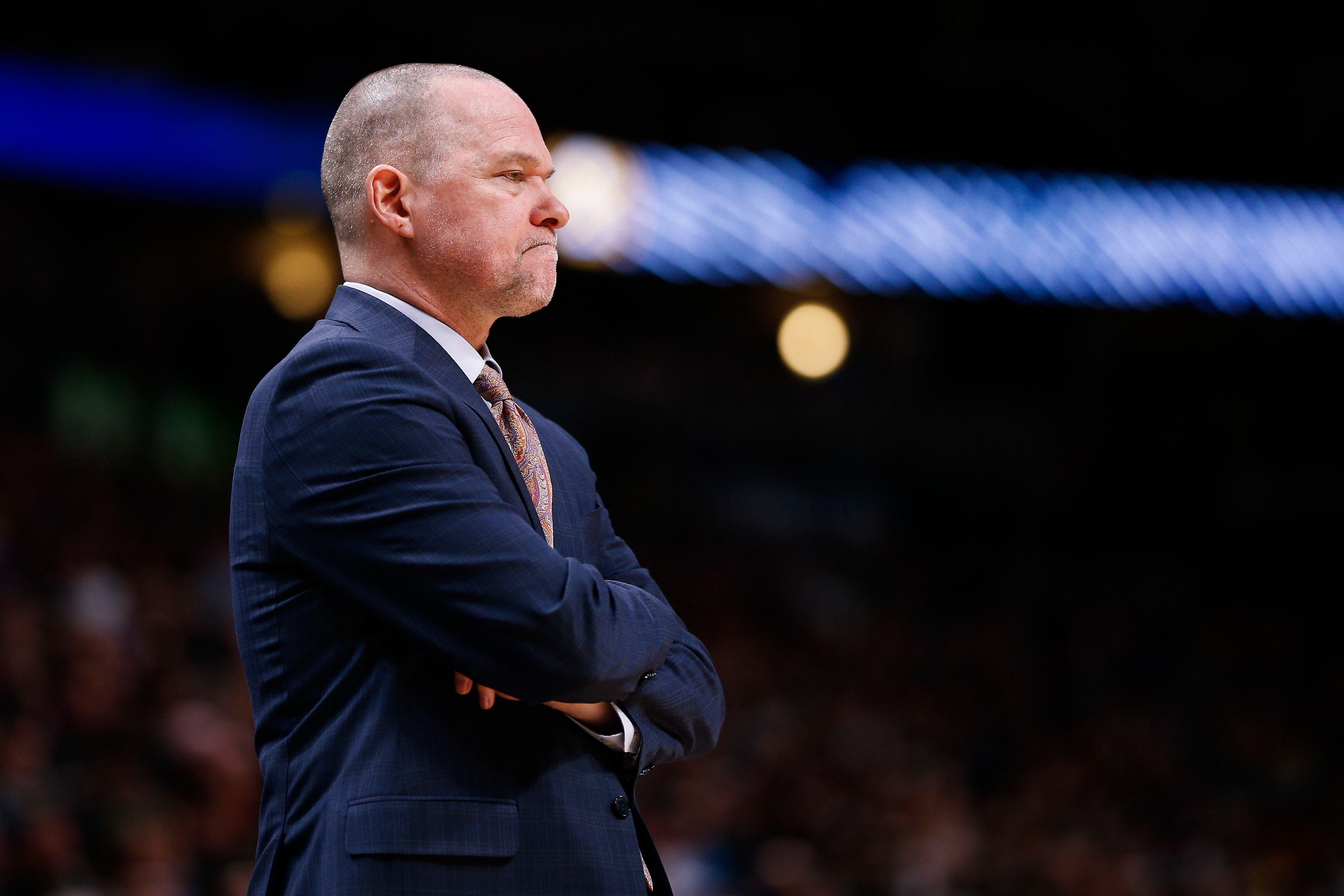 Much of the uncertainty surrounding the National Basketball Association — and by extension the Denver Nuggets — comes down to one question.
How is all of this financial uncertainty due to COVID-19 going impact the league at large this offseason and down the line?
Well, this is where things really get interesting.
The Denver Nuggets guaranteed roster heading into the 2020-21 season, who will become a free agent this offseason, and who Denver could sign to fill the holes on their roster are all incredibly important aspects of their offseason, but they pale in comparison to the large cloud looming over the entirety of the NBA: the uncertainty that COVID-19 has and continues to impose on the league as it ravages the world.
Every NBA governor has lost money in the past eight months. Each game that was left unplayed took away large amounts of income from each team and the league itself that would have been made from TV deals. In addition to that, not having fans in arenas buying merchandise from team stores, food from vendors, and drinks from the bar has also contributed to the overall losses. Now the league is waiting to see what kind of repercussions those losses will have on free agency.
While there is so much uncertainty, there are also trends and emerging as to how those repercussions could impact players and governors alike. For Part 3 of the Denver Nuggets Offseason Primer, that is exactly what we will get into.
Salary cap and luxury tax uncertainty
At the time of this writing, the salary cap and luxury tax numbers are still unconfirmed which has left the league frozen in place.
Yes, there is reporting that the NBA Draft will be on November 18 and that free agency will begin shortly after which would allow the league to then theoretically start before Christmas, but none of that will be able to happen without first setting the salary cap and luxury tax amounts. Plus, new reporting has emerged that notes that the National Basketball Players Association is against starting before Christmas and is instead targeting Martin Luther King Jr. day as their start date according to Shams Charania of The Athletic. Clearly, there are still a lot of hurdles to overcome before the offseason officially begins and nothing is set in stone.
For the sake of clarity, let's get into how the salary cap is set each season and why it is so difficult to nail down a number going into the 2020-21 season.
The technical equation for the salary cap on a normal year is a bit complicated, but here is how CBABreakdown.com defines it:
The Salary Cap is calculated by multiplying projected Basketball-Related Income (or "BRI") by 44.74%, less projected player benefits (like health and welfare benefits), and then dividing the result by 30 (the current number of NBA teams; if the NBA expands, to Seattle for example, that number isn't increased for the first two years the expansion team is part of the league).
Simply, the salary cap takes into account player benefits, how much basketball-related income the league accumulated and they evenly divide it by the 30 teams to set one number as the league-wide salary cap. But there is one massive variable missing from the equation; the amount of basketball-related income.
During a typical season — with fans in attendance, merchandise being sold, as well as money rolling in from food and drinks during games — there are multiple places where money is being accumulated on game nights, but those are far from the biggest money makers for each franchise. The majority of money is made from TV contracts and with the season going on a long hiatus while also not completing all 82 regular season games, the amount of TV money that would normally be made was compromised.
That makes the act of calculating the total losses due to COVID-19 in 2019-20 incredibly difficult which makes it virtually impossible to set a salary cap for 2020-21 based on their original equation. That has also led to the luxury tax being impossible to calculate. Usually, the luxury tax is then set by multiplying the team BRI by 53.51%, but that is not possible if the BRI is still unknown.
So this chaotic offseason might lead to a different avenue to set the salary cap and luxury tax line; negotiation between the league and its players association. That is still all undetermined at the time of this writing.
To make matters even worse, there is no assurance that the league will be able to have fans in attendance for the 2020-21 season which would make the losses from this past season look like loose change when compared to the potential losses for this upcoming season.
In this article, as it was in Part 1, we will utilize $109.14 million as the salary cap and $139 million as the luxury tax when needed, but those numbers are subject to change. The reason those numbers are being used — despite no one knowing where they will actually end up — is because a league source told Mile High Sports that those are the numbers they are using in their own offseason preparation.
The uncertainty surrounding the salary cap also will have an influence on free agency. No one has a clear indication on how, but there are a couple prevailing opinions.
First, there will be less money to spend even if the salary cap and the luxury tax stay at the same level they were at last season. The reason why is because governors across all sports are feeling the financial squeeze of COVID-19 which has in turn made their businesses less profitable. The financial losses owners have seen inside and outside the National Basketball Association could make them averse to spending without knowing what the future holds.
That situation would then in turn put a larger restriction on the free agency market as a whole. If owners are less willing to spend without knowing what the future holds, that means the average salary of players signed in the 2020 offseason will be lower across the board. There will be a few exceptions to the trend (such as Jerami Grant) but overall, free agency seems to be heading towards a slower pace with much less money being spent putting the careers of many in jeopardy.
Lastly, there is still no indication as to what the salary cap will look like in 2021-22 either which makes everything even more unstable. The difference between guaranteeing both 2020-21 and 2021-22 salary cap numbers via negotiation or going into next season without proper knowledge of what the future holds is dramatic. It makes handing out long-term contracts incredibly risky which, in theory, would again make governors less likely to open their checkbooks.
Those few observations funnel into two separate options for the decision makers leading the Denver Nuggets: they can look to take advantage of a potentially slow free agency market to make additions to their roster or they could look to keep their proverbial wallet in their pocket in order to see where things stand when the dust settles.
Depending on which choice Denver's decision makers agree on, there will be drastic ripple effects.
How the salary cap confusion could impact the 2020 Nuggets offseason as well as their future
If the Nuggets were entering a normal offseason, it would be considered a monumental moment for the franchise, but when adding in everything else that is shifting the ground beneath the feet of the league, it becomes an even more volatile situation.
Currently, Denver is set up to begin one of the greatest stretches in franchise history. They have their superstar in Nikola Jokic entering the second year of his five-year max contract, budding All-Star in Jamal Murray entering the first year of his five-year max contract extension, young phenom in Michael Porter Jr. still on his rookie contract, a contingent of veterans who are bought into the Nuggets philosophy, and a cohesion between governor, front office and coaching staff that few teams have. That mixture, on paper, puts the Nuggets in an extremely exciting situation. They are coming off a Western Conference Finals appearance after a historic playoff push and seem like they are ready to step into true title contention.
Under normal circumstances, the Nuggets would be in their best position entering free agency since Carmelo Anthony donned a Nuggets uniform so it would make sense for the Nuggets to go all-in on winning the 2020-21 NBA Championship. Unfortunately this offseason, circumstances are far from normal which puts the Nuggets willingness to spend in doubt.
Let's look at what each option could mean for the Nuggets for the 2020-21 season and beyond.
Avoiding the luxury tax
It may seem absurd that after the season the Nuggets just had that they would try to avoid the luxury tax, but it is absolutely possible. The league is in unprecedented times and no one knows what the immediate or long-term future holds which makes running a franchise difficult.
For the Kroenke family, this is true on multiple levels. They not only own the Denver Nuggets, but also the Colorado Avalanche, the Colorado Mammoth, the Colorado Rapids, the Los Angeles Rams, and Arsenal Football Club. Their sports empire is a business decision first and foremost which puts their willingness to spend money during a global pandemic in doubt.
On the Nuggets side of things, they have paid the luxury tax just three times in franchise history, but what is encouraging is that they paid the tax when they saw a window of opportunity to complete. In 2006-07, 2007-08, and 2008-09 Denver averaged just over 52 wins a season and went to the playoffs all three seasons including a trip to the Western Conference Finals in 2008-09 when they lost to the Los Angeles Lakers in six games. In all three of those seasons, they also paid the luxury tax. So when using historical precedent, there are signs that the Kroenke family would be willing to spend to win when the situation calls for it.
In addition to those facts, president of basketball operations Tim Connelly was asked about his level of faith that he will be able to go into the tax for this upcoming season in order to field a championship-caliber roster and this is what he had to say:
"With so much economic uncertainty, there is a lot of unknown, but one thing we know with complete certainty is that the Kroenke's have never shied away from spending to put the best product on the court," Connelly stated during his end-of-the-season press conference. "We felt we were a championship level team when we had our first meal in Colorado Springs this year (during training cap). That belief has only been strengthened by this season. I think our organization will do whatever we can to continue to be in that mix and cross our fingers that one of these seasons we will finally break through and bring a championship to Denver."
That is all good and well, but what could happen to the Nuggets roster if they attempt to avoid the luxury tax? As outlined in Part 1 and Part 2 of the 2020 Denver Nuggets Offseason Primer, it will be very difficult to avoid the luxury tax if Denver hopes to retain Jerami Grant and also fill out their roster with players who can help them win a title, but they do have a couple avenues to pull it off.
One example would be to trade Gary Harris and their first round pick to get off of Harris' contract and also avoid paying a player they select in the first round. The New York Knicks are currently open to taking on undesirable contracts in order to stock draft picks or young players according to Ian Begley of SNY and would make sense as a trade partner, but would trading Harris away to save money when his value is already low and getting rid of their draft pick, which could add meaningful depth, really indicate a dedication to winning? Absolutely not.
This is the problem with trying to avoid the luxury tax despite being in a position to win. It signals to everyone paying attention that the Nuggets organization does not prioritize winning. That is a stain that is nearly impossible to remove. Connelly and the rest of the Nuggets organization have done a phenomenal job of changing their perception in NBA circles. Simply stated, opposing teams and their decision makers are taking the Nuggets seriously now. Avoiding the luxury tax after making the Western Conference Finals is the antithesis to everything they have fought so hard to build.
Plus, an aversion to spending only hurts the roster; especially when the Nuggets' franchise has one of the best talent evaluators in the world in Connelly at the helm of their basketball operations department.
The Nuggets cannot make win-now moves while also avoiding the luxury tax. One will always contradict the other. They need to be all-in on the 2020-21 season or risk all of the momentum them have built. It really is that simple.
Willing to go into the luxury tax
This is where things get incredibly exciting. If the Nuggets choose to zig while the rest of the league zags, they could find themselves in a position to sign their choice of impactful free agents.
As outlined extensively earlier in this article, many teams are going to avoid spending and even less actually have cap space to make a splash. That means there are going to be many situations where players have no market for their services despite being very productive. That is where the Nuggets can make win-now moves that might be more difficult to complete in a regular offseason.
That combination puts the Nuggets in position to push their chips to the center of the table. Everyone knows that money talks and the Kroenke family is far from poor. If they chose to open up their checkbook and use all resources to strengthen their roster, they have multiple avenues towards growth.
Denver has full bird rights on every free agent on their roster which they could use to sign them all at any point this offseason even if they are over the cap so long as they have the roster spots available. They also have both the Mid-Level Exception and the Bi-Annual Exception at their disposal which are two other methods of signing players despite over the salary cap. They also have two trade exceptions they could utilize with one being worth $3.321 million and the other being worth $1.845 million. Denver also has an open two-way contract slot to fill out as well as the 22nd pick in the upcoming draft.
Let's give an example of how the Nuggets could improve their roster in ways that normally would be more difficult so long as they are willing to go into the luxury tax.
To start, let's look at Denver's guaranteed roster heading into the offseason.

Those ten players add up to $100.37 million in salary which leaves Denver with just under $9 million of projected cap space and $39 million away from hitting the projected luxury tax to fill five open roster spots and possibly also fill their final two-way contract slot.
The most important aspect of the Nuggets offseason is to retain Jerami Grant. There are only a few players in the world who can impact a game in the same way Grant can on both ends of the floor which has allowed him to emerge as Denver's third-most important player in the postseason. Denver will likely have to pay over $15 million per year to keep him in the Mile High City, but that number could balloon as high as $20 million per season if a bidding war begins. If Denver wants to continue on their trajectory towards contention, they need to keep Grant in Denver, but that will not be cheap.
For arguments sake, let's just pencil in Grant's contract at $18 million per season. That means Denver only has $21 million left before entering the luxury tax.
From there, the Nuggets would need to find more wing depth as well as bigs to fill out their bench unit.
In my opinion, the largest splash Denver can make in free agency for a player who is not a star is finding a way to bring back Danilo Gallinari, who is an unrestricted free agent. Gallinari would normally cost somewhere near $15 million per season, but this stressed free agency market may leave him without may suitors. If that is the case, Denver might be in prime position to convince Gallinari that taking a deal at the Mid-Level Exception and contending for a title is his best choice for the upcoming season.
If the Nuggets signed Gallinari at the Mid-Level Exception, he would make $9.258 million per year which would leave the Nuggets with $12 million remaining before hitting the luxury tax.
Denver could then turn to Paul Millsap and attempt to retain him at a much cheaper price by utilizing his bird rights or the Bi-Annual Exception. The Bi-Annual Exception is only worth $3.623 million per season, but if Millsap wants to stay in Denver, this price point seems to make the most sense for both parties. Denver has done right by Millsap by picking up his team option last season which paid him another $30 million. So the hope now is that Millsap will stay with the Nuggets in a lesser role for a lesser price. It would be wise for the Nuggets to hold onto their Bi-Annual Exception and just sign Millsap using his bird rights, but regardless of the mechanics to sign him, that marriage seems ideal for both Millsap and the Nuggets.
If Millsap received a deal that was valued at $5 million or so per year, that would leave Denver with just about $7 million left before hitting the luxury tax with 13 players on their roster and one two-way contract player in Bol Bol.
From there, Denver would need to find a backup center and there are a couple routes they can take to do so. They can now use the Bi-Annual Exception they saved to bring in a free agent like Tristan Thompson or Nerlens Noel or they could look to retain one of Noah Vonleh or Mason Plumlee using their bird rights. Either way, there is little chance Denver pays a backup center more than $5 million a season so we will use that number as the baseline.
That means Denver has just about $2 million from the luxury tax with one open roster spot and one vacant two-way contract spot.
From there Denver would need to find a versatile wing. Torrey Craig is entering restricted free agency which means the Nuggets could match ay contract offered to him by opposing teams or they could hold utilize the Bi-Annual Exception they saved and use it to try and sway a player like Justin Holiday to join the roster.
Either way, this is why Denver is likely going to end up in the luxury tax if they attempt to fill out their roster with the intention of winning an NBA Championship.
So which option is more likely? That is an impossible question to answer. At this point, only time will tell.