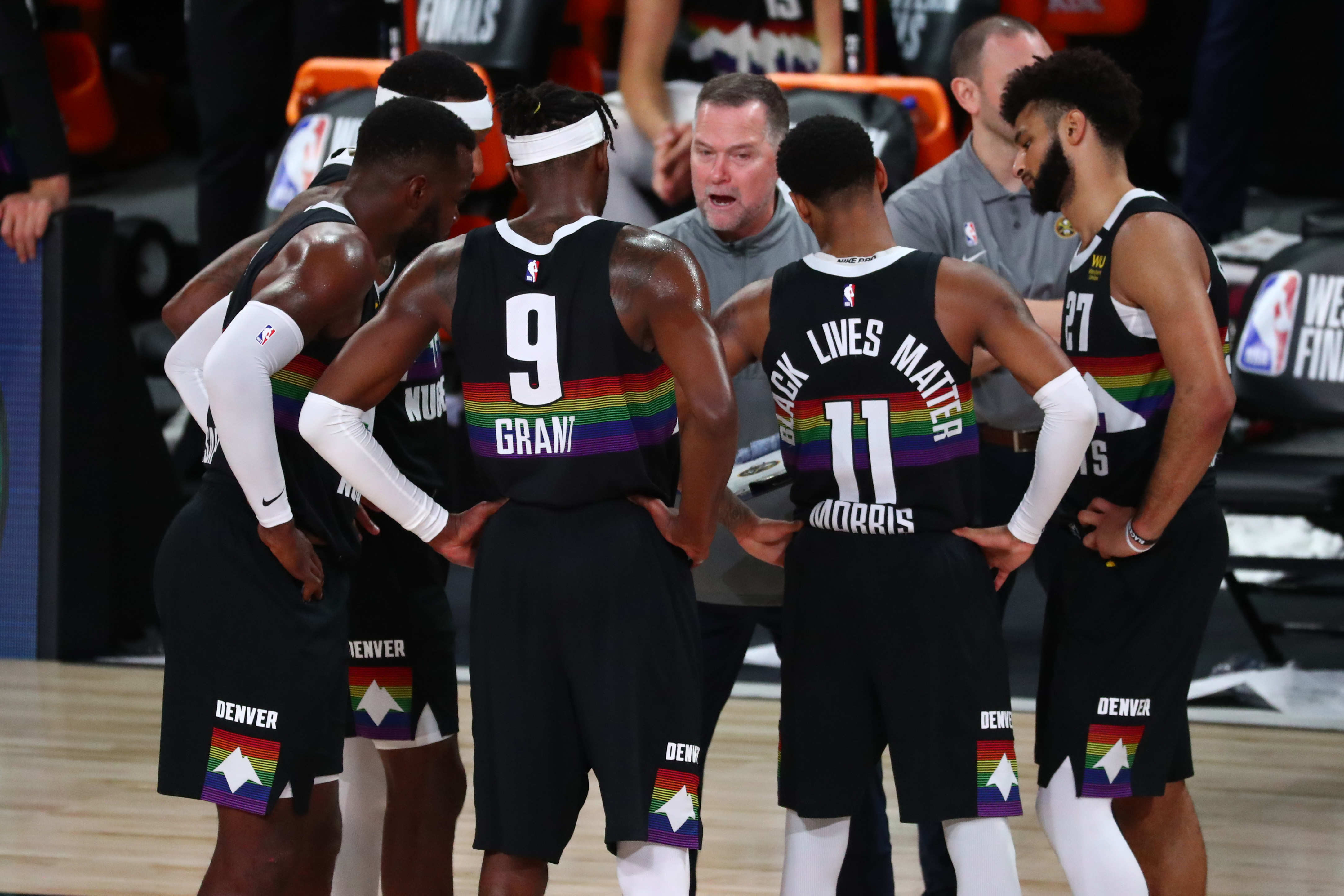 The Denver Nuggets are entering the offseason with the stakes as high as they have ever been.
After overcoming back-to-back 3-1 deficits against the Utah Jazz and the Los Angeles Clippers — the latter being a common choice amongst media to win the NBA title — to reach the Western Conference Finals, the Nuggets have solidified their place among the true title contenders in the National Basketball Association heading into the 2020-21 season.
But their work is far from finished.
Now Denver will have to find a way to ascend from from potential title contender to actually winning their first NBA championship in franchise history.
The Nuggets already have two young stars who have proven themselves on some of the biggest stages in Nikola Jokic and Jamal Murray, but two stars is not enough to win a title and Nuggets president of basketball operations Tim Connelly is well aware of that fact.
Plus, with five players entering either unrestricted or restricted free agency this offseason, the Nuggets have quite a few decisions to make in addition to finding what was missing during their 2019-20 postseason run.
Before getting into Denver's free agents to be and who will be under contract next season, it is important to first outline the uncertainty surrounding the salary cap which has yet to be set by the league leaving the entire NBA without a necessary variable as they attempt to solve the problem of how to get better during the most unpredictable offseason in recent memory.
Salary cap and luxury tax confusion
Before getting into a detailed look at the Nuggets upcoming offseason, first the elephant in the room needs to be addressed.
At the time of this writing, no one knows when the salary cap will be established which makes all speculation about how much money each team has to spend nothing more than that; just speculation. So with that being said, many of the financial aspects of the upcoming offseason are still in flux.
A league source has told Mile High Sports that they are operating as if the salary cap will be $109.14 million and the luxury tax will kick in at $139 million even though neither of those numbers have been confirmed. So for arguments sake, this article will use those numbers, but again, no one has a clear indication as to what these numbers will be when the offseason officially begins.
With that being said, here is a detailed look at what the Nuggets are facing heading into the 2020 NBA offseason.
Players under contract
The Nuggets will have ten players under contract next season including four of their regular starters.
Nikola Jokic will be entering the second year of his five-year maximum contract valued at $148 million over the life of the deal.
Jamal Murray will be entering the first year of the five-year maximum contract extension he signed back in July of last year that is valued at $170 million.
Will Barton III is entering the third year of his four-year contract valued at $53 million.
Gary Harris is entering the third year of his four-year deal valued at $84 million.
Beyond those four players, the Nuggets have four other reserves — or potential future starters — who will be under contract next season.
Michael Porter Jr. will be entering the third year of his four-year rookie contract valued up to $15.3 million.
Monte Morris is entering the final year of his three-year deal valued at $4.8 million, but with the final year being non-guaranteed.
PJ Dozier is entering the first year of his new three-year contract which he signed before the season restart in Orlando which is valued at $3.8 million.
Keita Bates-Diop is entering the final year of his three-year rookie deal valued at $3.9 million.
Valtko Cancar is entering the second year of his three-year contract valued at just under $4.2 million.
Bol Bol is entering the second and final year of his two-way contract.
Those ten players will account for a total of $100.37 million in 2020-21 leaving Denver with just under $9 million of room under the projected salary cap and just under $39 million away from hitting the projected luxury tax.
So with that money, Denver will have to decide which of the five Nuggets players headed to free agency this offseason they will be able to keep. According to Connelly and newly promoted general manager Calvin Booth, Denver intends to do what they can to keep their entire roster intact, but that might be impossible.
So which members of the Nuggets 2019-20 roster will be heading to free agency?
Impending free agents
The Denver Nuggets will have one player entering restricted free agency while four others will be entering the market as unrestricted free agents.
Torrey Craig entering restricted free agency
Jerami Grant entering unrestricted free agency*
Paul Millsap entering unrestricted free agency
Mason Plumlee entering unrestricted free agency
Noah Vonleh entering unrestricted free agency
*Grant has a $9.3 million player option that he is almost assuredly going to decline to enter free agency
Let's start with Torrey Craig, who is the lone restricted free agent Denver has on the books. It has been clear ever since Craig arrived in Denver that Malone values the size and defense he provides the Nuggets, but is that enough for the Nuggets to bring him back? That is the question Connelly will have to answer with their roster becoming more and more expensive. Craig's market value will largely be dictated by what other players like him are offered, but with so many owners feeling the financial crunch of COVID-19, how many would be open to signing a defensive specialist? Until that question is answered, trying to speculate on what type of a deal Craig could get is a farce. Without a consistent offensive arsenal, Craig might be overlooked during this free agency period which should, in theory, provide Denver with better odds of keeping Craig in the Mile High City.
Jerami Grant is another story entirely. He was already going to be one of the most-coveted free agents on the market prior to the postseason thanks to his unique mixture of three-point shooting, athletic ability and defensive versatility, but now that Grant emerged as the Nuggets third-most important player during their historic playoff run, he is going to be one of the hottest names on the market. He could end up making anywhere between $14 and $20 million per year — if not more — depending on how the market shakes out this offseason which means the Nuggets are going to have to stare at the very realistic outcome of paying the luxury tax for just the fourth time in franchise history, but more on that will be discussed in part two of the Nuggets Offseason Primer.
Paul Millsap is next on the list and much like many free agents entering this incredibly uncertain offseason, his value is going to be predicated by how the market shakes out around him. With so many teams still waiting to see if they will have money to spend and even more knowing they will be without supplemental cash to sign a veteran like Millsap, his future is clouded. One thing remains a fact; the Nuggets would like to have Millsap back in Denver going forward so long as the money fits with their big-picture plans. His veteran presence is one of the reasons Jokic has grown so much over the past few seasons and he has been a solid foundation where the Nuggets defense has been built upon. He is far from the only reason for their evolution into a contender, but there is no denying that Millsap is one of the most impactful factors in the Nuggets' rise as a franchise. For those reasons, expect an attempt by the Nuggets to bring Millsap back into the fold.
Mason Plumlee's free agency is even tougher to evaluate. If the market for veteran power forwards is unstable even with Millsap being a multiple All-Star and a proven winner, the market for backup centers is even more nerve-wrecking. Simply stated, there are only a few teams with money and even less of them want a center who is unable to score from anywhere but right at the rim. Versatility is king at the center position and unfortunately, even with Plumlee's strong passing skills and defensive impact, there are not many teams searching out his archetype of player. His free agency could lead to him ending up back in Denver at a greatly reduced rate to continue filling the backup center position.
If Plumlee ends up in a different uniform in 2020-21, that opens up an opportunity for newly acquired Noah Vonleh to seize the backup center position. Vonleh is also going to be an unrestricted free agent entering this offseason and will be looking for somewhere to land where he can prove himself. The Nuggets being short on cap space and potentially without a backup center makes him an easy fit as Denver's backup big man. He can play both power forward and center, can play in small or big lineups, and has been with the team which gives him an edge over players the Nuggets organization does not know. Oh, and he also should come at a very team-friendly price.
There is one other possible decision Denver will have to make this offseason in regards to backup point guard Monte Morris. Morris is entering the final year of his deal which is non-guaranteed. Because of that, a source has indicated that Morris will be looking for an extension this offseason. An extension does not mean he will be paid more in the upcoming 2020-21 season, but there is a chance an extension would also give Morris a raise for this coming season which would further limit the amount of money Denver has to spend before hitting the luxury tax. Morris is beyond deserving of a new deal and has earned his spot as one of the premier backup point guards in the world. There are many in NBA circles who believe in the right circumstance, Morris could be a full-time starter. For those reasons, it would make sense that the Nuggets would extend his contract. Connelly prides himself on taking care of the guys who play in Denver. From Barton's contract extension, Harris' contract extension, and most recently Murray's maximum contract extension, Denver has proved time and time again that they are willing to pay their guys early to keep them in Denver and make them feel wanted. That scenario may take shape this offseason in the form of an extension for Morris.
Potential roster needs
Let's take a step back and look at the Nuggets roster as a whole in order to assess what needs they need to address before the 2020-21 season. This is essentially a preview to the second part of this article which will be dropping at a later date.
Here is the Nuggets' depth chart only consisting of players who are under contract next season:

Obviously, the most concerning aspect of that temporary depth chart is the lack of bigs. Denver will do what they can to keep Grant and Millsap in Denver which will help their potential lack of depth, but they will also have to find a back up center. Either Plumlee or Vonleh could step into that role as stated above, but there is no guarantee that they will be able to retain either of them.
(Bol Bol is only included in this exercise because he technically has one more year on his two-way contract, but if his contact status does not change he will be limited to just 45 days at the NBA level making his ability to fill a full-time role worrisome.)
Denver also needs to find more shooting from the guard position. All three of Morris, Harris, and Dozier are not prolific three-point shooters so finding a fifth guard who can stretch the floor should be one of Denver's priorities. If Denver elects to start Michael Porter Jr. at the small forward position, Barton could be an ideal starting shooting guard considering his ability to break down a defense while also hitting triples at a consistent rate, but with Barton's health still in question and Malone belief in Harris makes the situation too complicated to discern the most likely scenario.
Denver will also need to find more shot blocking, perimeter defenders, and shot creators if they want to be able to compete with the best of the best.
Clearly Denver has issues to address if they want to finally reach the NBA Finals, but those issues will be explored in more detail in part two of the Denver Nuggets Offseason Primer.