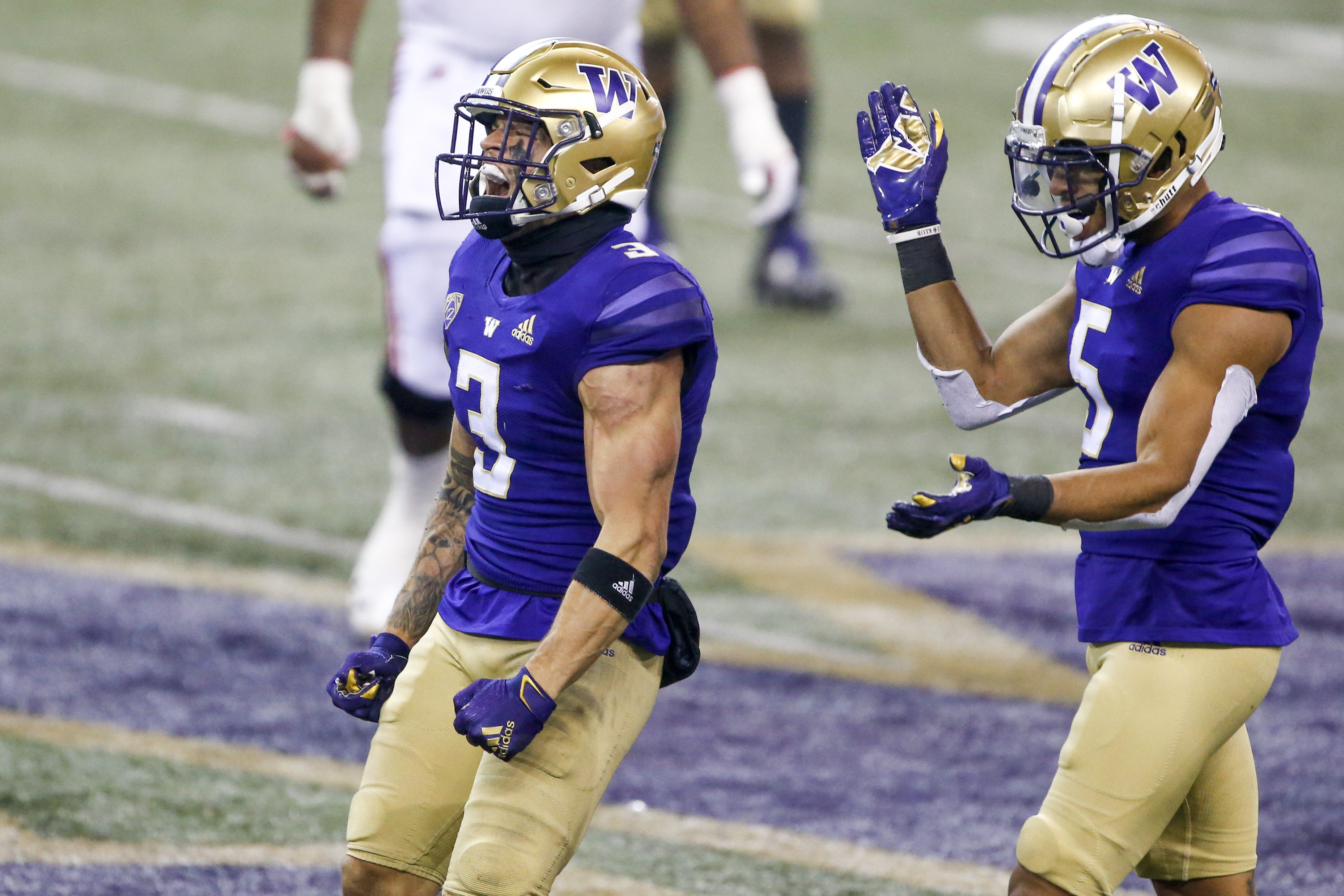 General manager George Paton has done a tremendous job of building a roster that can compete this season.
Focusing on cornerback, the Broncos have made two massive moves to repair a secondary that underperformed in 2020. Lacking both starting-caliber players and depth, the Broncos worked to sign a former Washington Football Team cornerback, Ronald Darby, and former Chicago Bear, Kyle Fuller.
Although this looks great for this upcoming season, two of Denver's starters, Bryce Callahan and Kyle Fuller, have a contract that is set to expire next offseason. Both also have an extensive injury history, making depth a serious area of concern.
With this in mind, here are three cornerbacks the Broncos should take a very close look at in rounds two through three in this year's NFL draft.
Elijah Molden, Washington
Molden is a 5-foot-9, 192-pound defensive back that specializes in playing the nickel cornerback role for the University of Washington.
Although very small, Molden plays much bigger than his size woouold indicate. Playing with great competitive toughness, fans will never see Molden back down from a challenge. In particular, he is very eager and aggressive when it comes to tackling.
His size limits him from being perfect in this area but head coach Vic Fangio has often turned a blind eye to height in the past. In fact, out of the three current starting cornerbacks for the Broncos, not a single player is over 6′ tall.
By far Molden's best ability as a prospect is his elite blend of football intelligence and instincts. While playing in zone coverage this is apparent as his understanding of route concepts is exceptional. This allows Molden to keep offensive gains to a minimum or bait quarterbacks into throws they otherwise would not have made.
Washington CB 3 Elijah Molden lacks ideal height and has just decent speed but I love his instincts and overall aggressive play. Here's a great example of his fast eyes and natural ball skills. Molden should quickly emerge as a starting nickel back in the NFL. Day 2 grade. pic.twitter.com/HvdvL9pXk7

— Todd McShay (@McShay13) July 16, 2020
With that being said, Molden is not a perfect prospect. While his size is an obvious limitation, he is also not an elite athlete. Lacking the size and speed teams covet in their secondary, Molden is more than likely limited into being nothing more than a nickel cornerback at the next level.
Kelvin Joseph, Kentucky
Kelvin Joseph is a very talented cornerback that is entering the draft out of the University of Kentucky.
Listed at 6-foot-1 and 191-pounds, Joseph is long, fast, and explosive. Whether the wide receiver is big and physical or agile and fast, Joseph shows the fluidity and length to stick with any mold of wide receiver you throw at him. Having all the physical tools one could want in a modern-day defensive back, Joseph offers plenty of intrigue on what his career may project to while under an NFL coaching staff.
As a former standout basketball player, Joseph shows the ability to high point the ball as well as any defensive back in this class. A true ballhawk, Joseph had four interceptions in a shortened 2020 season.
Kelvin Joseph had the 2nd most INTs in the SEC last season🔒

— PFF Draft (@PFF_College) April 4, 2021
Matching up against many notable opponents in the SEC, Joseph more than held his own but has a very short resume for scouts to evaluate.
As a Louisiana State University transfer, he was forced to sit out the entire 2019 season. After only seeing limited playing time in 2018, lack of experience is an area of concern for Joseph and results in him being raw in his technique.
While he has loads of potential at the next level, the probability of him being a day one starter is slim. If given the necessary time to develop, he could be a diamond in the rough.
Asante Samuel Jr., Florida State
Son to a former NFL All-Pro defensive back, Samuel took after his father in becoming a First-Team All-ACC selection this prior season.
While playing for the Seminoles, Samuel would showcase his fluidity and overall movement skills throughout his film. His ability to cut on a dime is lightning-fast and gives him all the advantage he needs while in coverage.
Asante Samuel Jr. is on the smaller side (5-10, 184), but his speed/quicks are great.

He's sticky in coverage with football IQ that stands out, also very aggressive/strong tackler — big fan of his game. pic.twitter.com/GJo8pBe3tB

— Austin Gayle (@PFF_AustinGayle) July 20, 2020
Because he was asked to play a lot of off-coverage in college, Samuel seems to be a natural fit in Vic Fangio's match-quarters defense. In Fangio's defense, there is a premium to being a quick-twitch athlete, that can play further from the line of scrimmage.
In off-coverage, Samuel can quickly drive on the football while in the air, effectively forcing turnovers and incompletions.
Samuel projects to being a very versatile defender at the next level. While primarily playing on the boundary in college, he carries the qualities needed to be a difference-maker at nickel cornerback as well. This versatility allows whoever drafts him the ability to get their best group of corners on the field.
Samuel is listed at 5-foot-10 and 184-pounds, making him smaller than one would hope for a starting boundary cornerback. While this did not seem to be a very big deal in college, the athletes in the NFL will be much more of a challenge. If length limitations do become an issue, Samuel's versatility will allow him to fail into a nickel cornerback role, making him a very safe option.