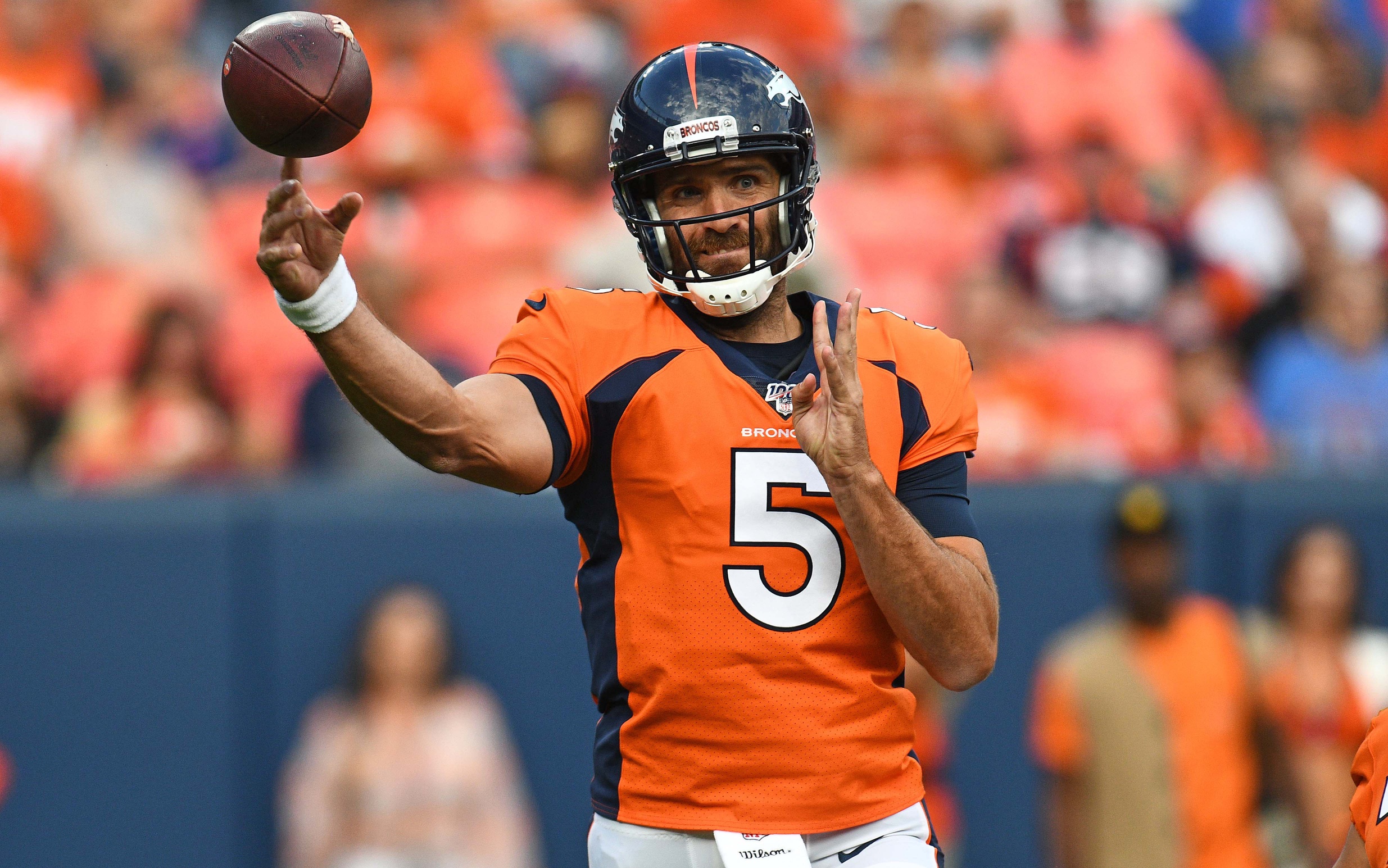 The Broncos enter Sunday's bout with the Green Bay Packers a cornered animal, in desperate need of a win.
Drop to 0-3, and the already long playoff odds are extended further as uncertainty swirls through Broncos headquarters like an autumn wind. Improve to 1-2, and the operation is infused with a new sense of optimism, with a road win and a narrow loss against the NFC North's top two teams.
Securing a win will be harder this week than the past two, however. Aaron Rodgers is always a major problem on offense, and the Packers defense is the best it's been since at least the 2010 champion squad.
With that in mind, here are three key matchups the Broncos must win to beat the Packers.
If the Broncos want to move the ball downfield at all, they'll have to give Joe Flacco time to read this tenth-ranked passing defense. That'll be incredibly difficult against the pass-rushing duo of Preston and Za'Darius Smith, which has been the best in the league so far this season.
The Smith's have racked up a combined 25 pressures and 17 quarterback hurries per Pro Football Focus, the second most in the league behind Minnesota's duo of Danielle Hunter and Everson Griffin (30 and 20). They also rank second in hits on the quarterback with 6, second only to the Philly-based duo of Derek Barnett and Brandon Graham (7).
Za'Darius Smith has been the star of Green Bay's dynamic duo, though, as he's tied for first in hurries and pressures, and is just one quarterback hit behind Derek Barnett for the league lead.
Garett Bolles can't allow either Smith to beat him outside and he also can draw more dumb holding penalties that leave Denver's offense mired in quicksand. That's a tall order from an offensive lineman with the fifth most penalties and pressures allowed (11), just one behind the four-way tie at 12.
Joe Flacco vs. Green Bay's secondary
Through two games, Joe Flacco's play has been average and yet, he's still a crystal-clear upgrade on Denver's other quarterbacks in the post-Manning era.
That will be put to a real test on Sunday in Lambeau. Throughout his career, Joe Flacco has been a dismal road quarterback, but an above-average field general at home, and their are few roadtrips more difficult than the one to Green Bay.
At home, Flacco has won nearly 75 percent of his games with a 2.2:1 touchdown-to-interception ratio, while winning fewer than 50 percent on the road with a 1.1:1 touchdown-to-interception ratio.
To make matters worse, the Packers secondary has arguably been the very best bunch in football. They've allowed the tenth-fewest passing yards, and have forced opposing quarterbacks to complete just 52 percent of passes, the lowest mark in the league.
Also, Green Bay's top-two corners, Kevin King and Jaire Alexander, have allowed quarterbacks to go 9-for-23 for 145 yards, one touchdown and one interception while targeted, for a passer rating of 57.3.
It's no secret that Von Miller and Bradley Chubb must step up.
Through two weeks they haven't just been a disappointment, but a detrement as one of the league's very worst pass-rushing tandems. That's unacceptable for a position group that was expected to be the strength of the Broncos this offseason.
This will be a tough week for Denver's dynamic duo to turn the corner, though, as the Packers' tackles are among the best in the league. Bryan Bulaga has been playing lights-out so far this season, allowing just one pressure on Rodgers and drawing just one flag.
Bakhtiari on the other hand, has struggled early and unexpectedly. The former Colorado Buffalo has been the long-time anchor on this Packers' front, but so far this season he's more closely resembled a turnstile. Bakhtiari is just one pressure or penalty behind Bolles, allowing 10 combined pressures and penalties.
If the Broncos are unable to make Rodgers uncomfortable Sunday morning, the team is in for one very long day.
The Broncos will faceoff against the Packers Sunday, Sep. 21st at 11:00 MDT.