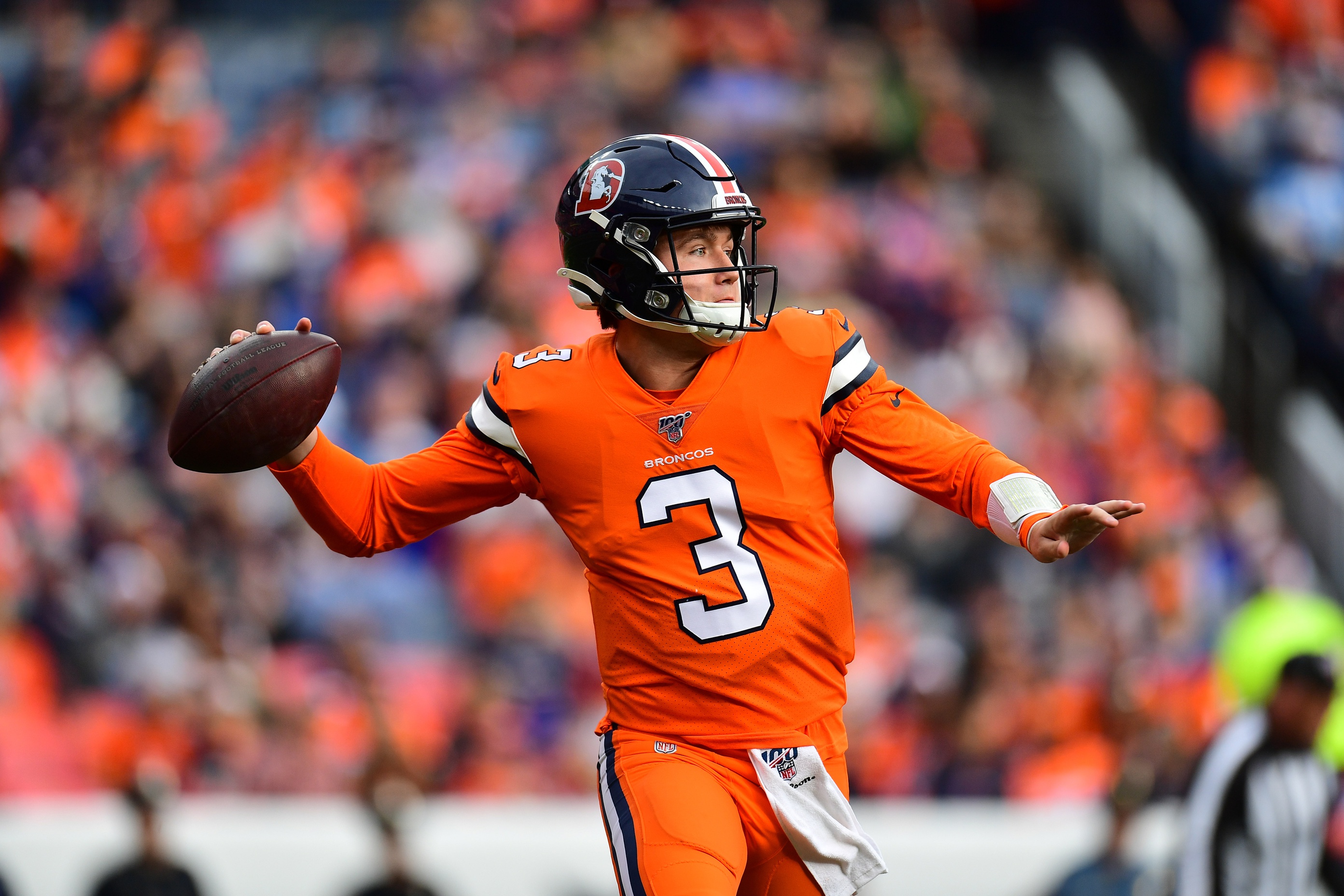 After an eight-month-long absence, the Broncos are finally back, and they'll make their return on Monday Night Football against a talented Titans team that made it all the way to the AFC Championship game last year.
Here are three things the Broncos must do to emerge victorious.
Can the passing attack get in sync?
With an improved offensive line and the addition of Melvin Gordon to pair with Phillip Lindsay, the Broncos should be able to run the ball. What remains undetermined is whether or not they'll be able to drive down the field with a passing game that doesn't prominently feature any player with at least three years of experience already under his belt.
That's a concern considering the coronavirus-shortened off-season and the installation of Pat Shurmur's new offensive scheme. To make matters worse, Courtland Sutton might not play Monday, and even if he does, it seems doubtful he'll be at 100 percent. The Broncos could potentially overcome those problems with how much talent they have surrounding the passing game. Still, they'll need a lot of players to step up against a talented Tennessee secondary.
Drew Lock needs to step up and play like the potential superstar we saw against Houston, not like the mediocre check-down artist we saw against the Chargers, Raiders and Lions, and definitely not like the player we saw in a blizzard against the Chiefs. Meanwhile, Jerry Jeudy needs to hit the ground running like the player we've heard hyped-up throughout training camp and Noah Fant has to take the large second-year leap we expect out of tight ends.
That's a lot to demand, but the talent is all there to make it possible.
Can't let Derrick Henry start churning
The last time these two teams met, the Broncos defense put together an impressive shutout. While facing Marcus Mariota for most of the game and an ill-prepared Ryan Tannehill for the rest certainly played a big factor in that shutout, even more important was how the defense completely removed Derrick Henry from the equation.
In that matchup, Henry was limited to 28 yards on 15 carries and five yards off three targets and one reception, for his worst statistical performance of the season. It will be incredibly difficult for the Broncos to perfectly replicate that level of defensive dominance against the freight train known as Derrick Henry, but they'll have to get close to it to win on Monday night.
Henry is the engine that powers Tennessee's attack. He isn't just their best player on offense and a great running back, but he opens up the pass game by forcing teams to stack the box. After Tannehill entered the lineup, the Titans had one of the most efficient play-action passing attacks in NFL history, and Henry was the reason why.
If Henry gets rolling, the Broncos defense isn't just in trouble on the ground; they'll be scrambling against the Titan's aerial attack as well. That's why they can't let him get free. With the league's best run-stuffing defensive lineman, Mike Purcell, and linebacker, Alexander Johnson, according to Pro Football Focus, the Broncos should be able to contain Tennessee's run game.
Broncos must continue to generate pressure without Von Miller
The soul-crushing loss of Von Miller puts the Broncos defense in a difficult situation, as they'll now have to lean on Bradley Chubb to create pressure off the edge, as he continues to recover from a torn ACL.
Seeing as Chubb isn't at 100 percent and that he hasn't fully practiced in a couple of weeks, Broncos Country shouldn't expect the edge rush to be the dominant unit we have all wanted it to be since Vic Fangio was hired. Instead the responsibility of harrassing the quarterback and making his life miserable shifts to the defensive line.
Fortunately, the Broncos defense is up to the task, with how much talent they have on their defensive line led by Shelby Harris and Jurrell Casey. Harris and Casey have been some of the best interior pass rushers in the league, and they have an incredible amount of depth behind them. Dre'Mont Jones is so talented he'd be starting for the large majority of NFL teams, McTelvin Agim quietly had one of the best camps by a Broncos rookie, and DeMarcus Walker was one of Denver's most efficient pass rushers last season.
With that much talent, the Broncos should be able to make Tannehill uncomfortable even without Miller and without Chubb playing at 100 percent.