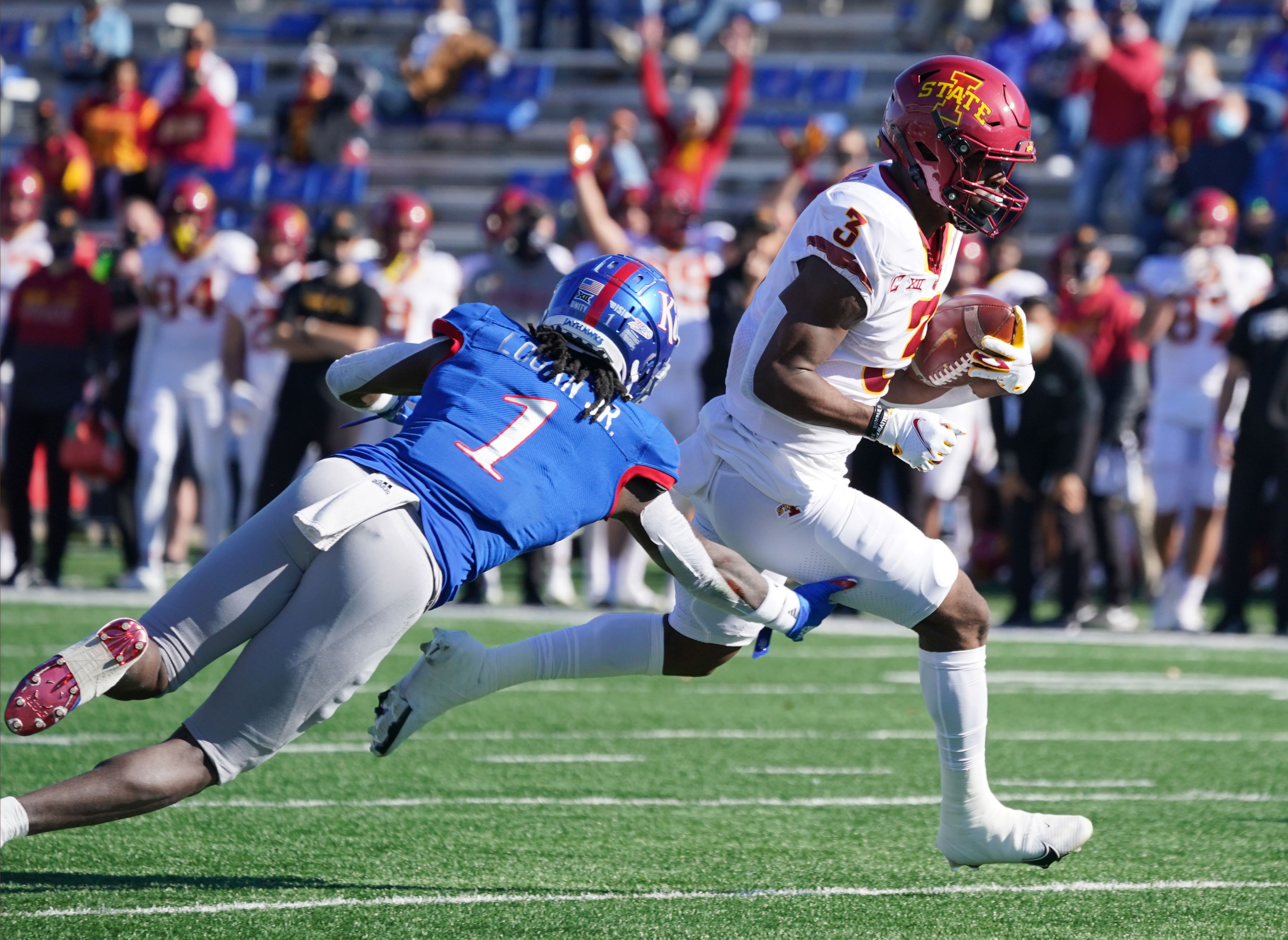 The Denver Broncos don't have multiple picks in any rounds of the draft other than the seventh, which means a lot of their rookies will be selected towards the later end of the draft.
In this article, we'll look at three different players who should land in that range of the 2021 NFL Draft who would be perfect for the Broncos.
Quintin Morris, TE, Bowling Green
The Broncos have their top two tight ends already in-house with Noah Fant and Albert Okwuegbunam. That said, they don't have much in terms of depth behind those two and neither Fant or Okwuegbunam help much as blockers.
Quintin Morris would be an excellent late-round target to fill the opening left by Nick Vannett and Troy Fumagalli, and likely be an upgrade on those two.
As a receiver, he's the furthest thing from flashy, but he is incredibly reliable. He won't break through an arm tackle to go on a 50-yard gallop past the safety like Noah Fant, but he will extend outside his frame and use his strong mitts to haul in a heavily-contested catch on an inaccurate pass to convert a key third down.
Also, he wouldn't have to be a dynamic receiver from the tight end position, as Denver has that covered.
What they need is a blocking tight end, and Morris can be that. At Bowling Green, Morris was used often as a run blocker from several different alignments and was effective in the role. There's definitely room to improve from a technical perspective, but the willingness, physicality, and power are all there. He even showcased the ability to be utilized as a pulling blocker while at Bowling Green.
Kene Nwangwu, RB, Iowa State
After allowing Phillip Lindsay to walk in free agency, the Broncos need to find someone who can fill in as the 'lightning' to Melvin Gordon's 'thunder' and Kene Nwangwu is an intriguing option late.
He's currently flying under the radar because he was stuck behind David Montgomery and unanimous All-American Breece Hall on the depth chart, and as a result, Nwangwu carried the ball only 143 times over the course of his four seasons with the Cyclones. That lack of playing time is a concern, but it's also a bonus as he'll enter the league with a lot less mileage than most backs.
Nwangwu made the most of his limited playing time and flashed his impressive speed whenever given the opportunity to. That speed paired with Nwangwu's great vision and understanding of how to manipulate blocks in front of him allowed him to consistently slash through defenses.
🌪 @CycloneFB strikes first!

Kene Nwangwu brings it in to put Iowa State on top pic.twitter.com/8pWaF451dN

— FOX College Football (@CFBONFOX) October 31, 2020
It also makes him a highly dangerous receiver out the backfield, and as an added bonus can cause damage on special teams as well.
An electric Kene Nwangwu 85yd kick-return sets-up an ISU (+7.5) score to tie it 30-30!

Live odds:
Oklahoma -155 (-3.5)
Iowa St +165#OUvsISU pic.twitter.com/CgsvvQkSZf

— SportsBettingDime (@SBD) October 4, 2020
He's one of those runners that doesn't look like they're running fast until you see a safety or cornerback get torched on an overly optimistic angle (or see him blow by an entire special teams unit) because Nwangwu's running motion is so smooth he seemingly glides over the turf.
In fact, that athleticism and ridiculous upside might be his greatest strength, as evidenced by the fact he had the highest Relative Athletic Score (RAS) of any running back in this year's class, spearheaded by elite scores in the speed and explosiveness categories.
RB #RAS leaders for 2021:

Kene Nwangwu, Iowa State 9.89
Chris Evans, Michigan 9.85
Jake Funk, Maryland 9.76
Trey Sermon, Ohio State 9.66
Elijah Mitchell, Louisiana 9.51
Nathan McCrary, Sagniaw Valley 9.41
Travis Etienne, Clemson 9.14 pic.twitter.com/EJ7WN3OGJS

— Kent Lee Platte (@MathBomb) April 13, 2021
The biggest concerns with Nwangwu tie back to areas of his game we're unsure of, as opposed to demonstrated weaknesses. Chief among those concerns is his pass protection, which is a work in progress and he's had so few reps there it's hard to know how raw that skill is. While he flashes a lot of other good traits, it's hard to project how reliable or consistent those facets of his game — pass-catching and running through arm tackles namely — will be at the NFL level.
Camryn Bynum, CB, California
Considering the injury history of the cornerbacks already on the roster, as well as the fact that the two best ones — Bryce Callahan and Kyle Fuller — have contracts set to expire after the 2021 season, the Broncos would be wise to add at least one cornerback through the draft.
Whether they chose to draft only one or decide to double up at the position, Camryn Bynum is a player they should certainly consider as a long-term replacement.
Bynum is a highly-intelligent and competitive corner who always puts himself in an excellent position for success. He's very technically refined and understands how receivers will attempt to set him up which prevents up from getting lost throughout his route. His competitiveness and how hard he fights for the ball stands out and feels reminiscent of a Vic Fangio cornerback.
However, he's a seventh round cornerback for a reason. He has clear athletic limitations in regard to both his top speed and short-area quickness. That can make him lose a lot of routes downfield and against shiftier receivers that can create separation off the line of scrimmage.