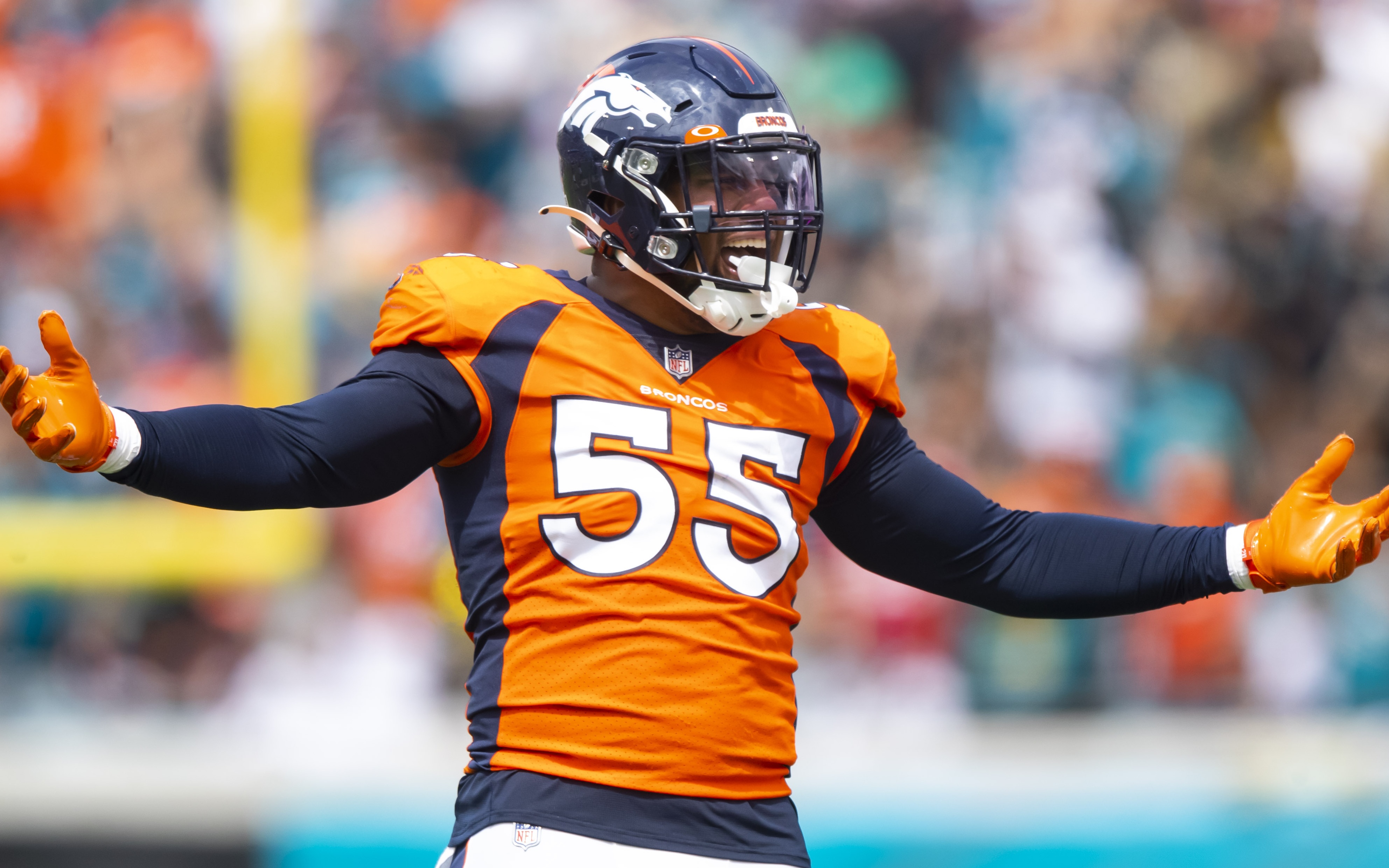 We've learned a ton about the Denver Broncos over the past couple of months, but we won't be able to demistify some of the biggest mysteries surrounding the team until the season actually begins.
Earlier this week, we discussed some of the biggest questions that were still lingering on offense, and now, we'll look at the unknowns that are looming over the Broncos' defense and special teams.
What Are The Biggest Denver Broncos Storylines for 2022? https://t.co/VWxZTfHgY0

— Mile High Sports (@MileHighSports) September 2, 2022
For an audio-based look at the topic, you can enjoy the Tweet above, or find the Let's Talk Broncos Podcast wherever you listen to podcasts.
Will the Denver Broncos' pass rushers be closer to their floor or their ceiling?
In this article's predecessor, in which we discussed the greatest questions on Denver's offense, it was impossible to ignore the wide range of potential outcomes for the wide receiver group and how it could define the upcoming season.
Much of that discussion also rings true for the Denver Broncos' pass rushers.
Bradley Chubb has been a top-end pass rusher during his two healthy seasons.
In 2018, he had the second-most productive season ever for a rookie pass rusher, tallying 12 sacks and finishing 19th in both pressures and pass-rush win rate among edge rushers, and finished third in Defensive Rookie of the Year voting, behind two players that are arguably the best at their respective positions in Shaq Leonard and Derwin James.
In 2020, the sack production trailed off (to 7.5 sacks on the season), but his ability to create pressure and win his pass-rush reps — which most experts would argue is a more reliable indicator of how a pass-rusher is performing — improved to borderline elite status, as he finished ninth in pass-rush win rate and seventh in pressures among edge defenders, and made his first Pro Bowl.
However, in 2019 and 2021 he missed 22 total games and was wounded to the point of ineffectiveness when on the field, recording just one sack and 20 pressures over the 11 games he played in during those two seasons.
Chubb still has the ceiling of a top-10 pass rusher, but he's just as likely to be a complete non-factor as he is to be elite, according to his track record.
Randy Gregory has an even spottier record of consistency, as he's never played more than 457 snaps in a single season. However, he has reached a similar peak. Through the first half of 2021, his performance was so strong that NFL Network's Gregg Rosenthal said he'd name Gregory to his midseason All-Pro team.
Baron Browning showed some exciting flashes in the preseason, but his success came primarily against backup tackles and it's clear he's still learning some of the more technical aspects of the position. Being relegated to a designated pass-rusher role is at least as likely for Browning as it is that he becomes a terrific and reliable edge defender in the first season of his life playing the position full-time.
Nik Bonitto showcased both his tantalizing potential and frustrating limitations during the preseason. For much of the time, he struggled to make an impact in the run game, but was able to pressure the quarterback on occasion, but then, in the final moments of the preseason, he took over the game and won the game for the Denver Broncos. Bonitto's rookie season could reflect either side of that coin.
Jonathon Cooper is coming off a promising rookie season and probably has the narrowest range of outcomes of the pass-rushers in this position group, but he's also a seventh-round pick, buried on the depth chart, and, in the Broncos' ideal world, won't be asked to contribute much.
There's a world where Chubb, Gregory, Browning, Bonitto and Cooper are all valuable contributors when on the field, and as a result, the Broncos have an extremely deep and talented pass-rushing group that helps lead the team to a deep playoff run. There's also an equally likely reality where Chubb and Gregory can't stay on the field or provide high-end play at a consistent level, while Browning and Bonitto prove to be liabilities against the run and limited pass-rushers, all while Cooper fails to take a sizable year two leap.
Things will probably pan out somewhere between those two extremes, but whether the Denver Broncos' edge defenders pop or flop is the unknown variable that will have the greatest impact on the outcome of the team's upcoming season.
Can Ejiro Evero replace Vic Fangio's defensive prowess?
You'd be hard-pressed to find someone in Broncos Country wishing the Denver Broncos gave Vic Fangio another season at the helm of the franchise, and that isn't the case here either. That said, we can acknowledge that not everything is black-or-white. We live in a world of grey and things aren't just as simple as, 'Fangio was a bad man who was mean to Drew Lock and doomed the Broncos to failure.'
That's too juvenile an approach.
The fact of the matter is, for all the negatives to Fangio's coaching tenure — there were plenty, from offensive mismanagement and general apathy, the inability to aid a quarterback's development, and the inception of a toxic team culture — he's a really great defensive mind.
Fangio's defensive philosophy is sweeping through the NFL the same way Sean McVay's offense is. Both are spreading at the rate of a global contagion. That's happening for a reason.
Fangio provided the answer sheet for slowing the Rams offense when it seemed unstoppable, and then he did the same thing when it came to drawing up a design to stifle the superpowered quarterbacks that dominate this era, and now every defense in the league is trying to figure out how they can play with a two-high shell more frequently.
Ejiro Evero could be a terrific defensive coordinator, but it's seriously unlikely he'll be a defensive savant able to dream up the answers to the latest and greatest offensive crazes, which will then be adopted leaguewide.
However, whatever losses the Denver Broncos take on there, it could be outweighed by what Evero does for the team's culture.
The Green Bay Packers reached extreme heights on offense and even won a Super Bowl under the tutelage of Mike McCarthy. But the relationship between McCarthy and his players — primarily Aaron Rodgers — deteriorated to such an extent that the locker room culture became toxic, and that a fresh staff was needed to rejuvenate the team. Since taking over, Matt LaFleur has helped guide Rodgers to two MVP awards and has the best winning percentage for a head coach in NFL history.
Now, Fangio is a better defensive mind than McCarthy is an offensive one, but could this premise still hold true for Evero?
This defense is still very talented, though it does have some depth concerns in some key spots. It was certainly more talented than how it performed last year (ranked 20th in DVOA, 20th in pass defense DVOA, and 21st in run defense DVOA), and the unit made gains this offseason, by sprucing up its defensive line and edge group.
If Evero oversees an overhaul of defensive culture, could it result in the unit simply playing up to it's talent level, and therefore improving? It's a thought that doesn't seem horribly far-fetched.
P.J. Locke discussed the effort Evero was putting into creating a player-friendly culture earlier this offseason, during an exclusive interview with Mile High Sports' Let's Talk Broncos podcast.
"Anytime Justin [Simmons] and K-Jack (Kareem Jackson) feels like something should be run a certain type of way, or [use a certain kind of] terminology … Coach E (Defensive Coordinator Ejiro Evero) is such a player's coach that some of the terminology we used last year, he was ok with using it this year, and putting the learning curve on him instead of us.," Locke said. "So stuff like that, it just goes a long way. It goes longer than [Evero] even thinks, cause that's just one less thing that we have to worry about. But yeah, the energy is crazy. We're just super excited for the season."
Whether or not a better culture results in a better defense is something we won't know until the season starts though, making it one of the biggest remaining questions looming over the Broncos' upcoming season.
Will the investments in special teams pay off?
Most teams have either three or four specialists, with a long-snapper, kicker, punter, and maybe a roster spot reserved for a kick returner. Between Jacob Bobenmoyer, Brandon McManus, Sam Martin, Tyrie Cleveland, Aaron Patrick, and arguably Alex Singleton, Andrew Beck, and Montrell Washington, the Denver Broncos might have as many as eight, and no fewer than five.
Now, it goes without saying that every team has more than just three or four players play on special teams, but oftentimes, those players also offer value of some kind on offense or defense too. Cleveland and Patrick were seemingly retained on the final roster exclusively for their special teams prowess.
Washington showed enough this summer that he should provide some value on offense, meaning the Broncos are fortunately getting away from having a roster spot reserved for a return man, but that progress is more than negated by retaining a gunner and another kick coverage specialist.
This isn't inherently a problem. The Broncos special teams has been an unmitigated disaster the past several seasons. Things got so bad that a parody account on Twitter simply dubbed 'Fire Tom McMahon' (the former special teams coach) garnered over 1,000 followers. A solution to that problem is worth investing in.
That said, the Denver Broncos have invested a considerable amount, between hiring a new head coach at the position and several roster moves that prioritizied special teams, so those investments have to pay-off on the field. Whether or not they will is something we have yet to see.