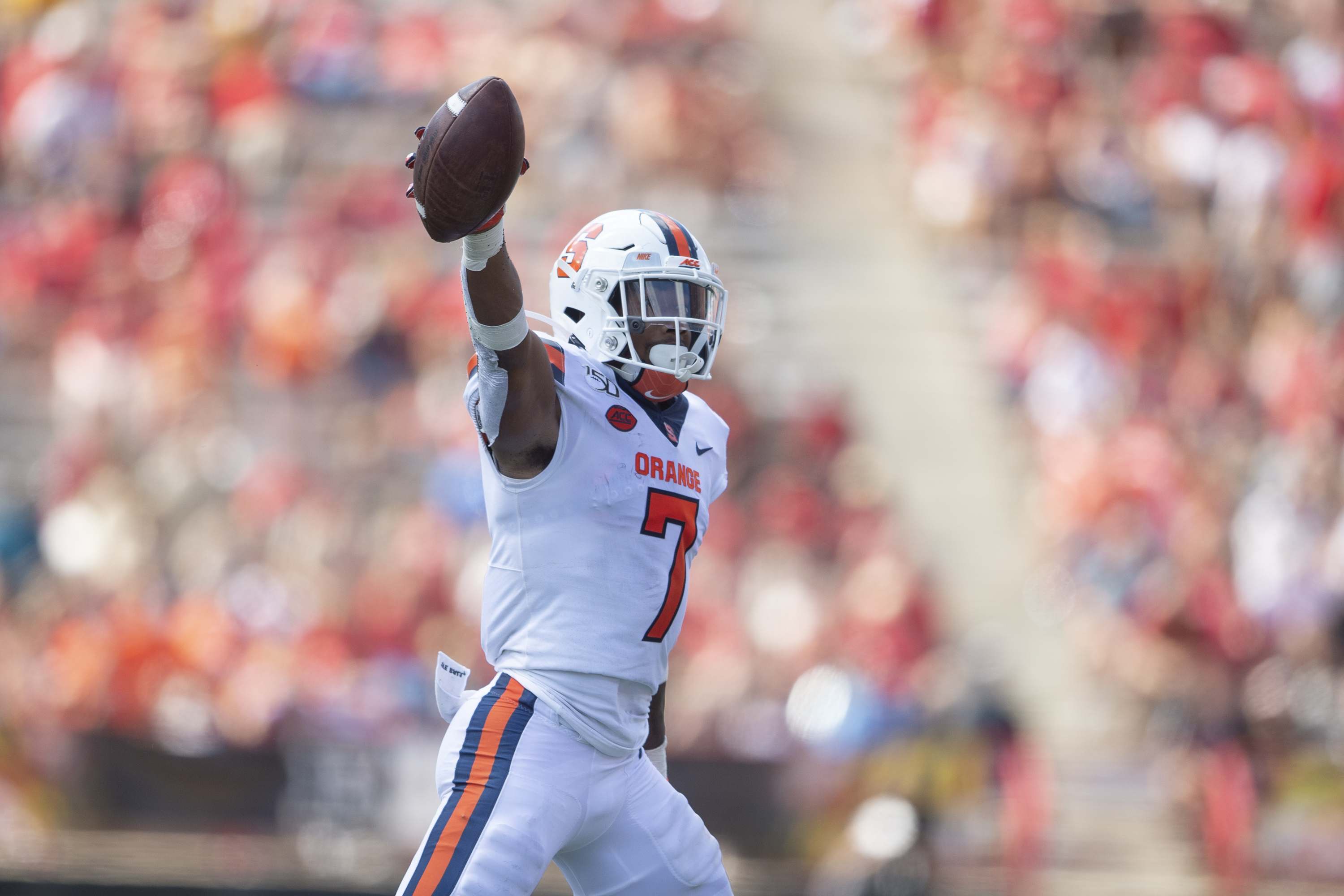 The Denver Broncos defense has all the ingredients to be a dominant group. However, there remains a need to find reinforcement at safety and this draft offers some good ones.
With some brilliant strokes of his wand on defense, general manager George Paton brought back both safeties Kareem Jackson and Justin Simmons.
Jackson returns on a 1-year deal, and Simmons back on a long-term market-setting deal.
However, behind the two starters, the safety room is thin. It is all but certain that George Paton will look to find a 3rd safety they can bring into their big nickel package. Ideally, the team will look to draft a player poised to take over for Jackson after the 2021 season.
In an earlier piece, I gave some insight into "My Guys". One of those players is safety Talanoa Hufanga, out of USC.
To offer more potential prospects, I'll leave Hufanga out of this list, but know that he is a phenomenal option for the Broncos in this year's draft.
Trevon Moehrig, Safety, TCU
Trevon Moehrig is a two-year starter for the Horned Frogs of TCU. Additionally, he played special teams throughout his college career.
At 6-foot-2 and over 200-pounds, Moehrig looks the part of a prototypical NFL safety.
Moehrig shows great instincts from the safety position and shows the ability to make plays on the ball. By taking the right path to the ball along with a good burst, Moehrig shows a good overall feel for the passing game.
He displays good feet and it shows when is in a backpedal or attacking upfield. Once he gets to the ball Moehrig is able to establish position, then use his strength and imposing frame to break up plays.
Trevon Moehrig forced an incompletion on 25% of targets since 2018

The highest rate in the Draft Class pic.twitter.com/QGtpXdU00k

— PFF Draft (@PFF_College) April 22, 2021
He is also a good run defender. He takes good angles and is willing to take on blockers.
At times, he plays with too much aggressiveness. He will get caught out of position. He's not a burner, so ensuring that he keeps plays in front is important to his success.
Overall, Moehrig was productive and has the tools to be a really good player in the NFL. Moehrig's ability to impact the game both as a traditional safety position along playing on special teams makes him a nice selection at the back of Day 1 or early Day 2.
Hamsah Nasirildeen is a big and physical player who does his best work in the box.
Nasirildeen shows good recognition skills in the run game and is a consistent tackler who brings some pop. With his ability to quickly read his keys he is rarely out of assignments.
Nasirildeen shows good communication with the rest of the secondary and helps get other guys in position.
He does need some refinement in coverage. He had an up and downtime at the Senior Bowl, showing that his coverage skills need a bit more work.
However, his size (6-foot-3 and 215-pounds) and ability would give the Broncos a player who can physically match up with tight ends while moving down to linebacker in the dime package.
One of most unique (and overlooked) chess piece defenders in 2021 draft is @FSUFootball SS/WLB Hamsah Nasirildeen. Just one safety in league right now with Ham's length combo (6032 & 34 1/2 arm). Played only 2 games last fall but showed good versatility on '19 tape. This INT 👀! pic.twitter.com/zHwnAss5t9

— Jim Nagy (@JimNagy_SB) April 13, 2021
Even though Nasirildeen only played in a few games in 2020, he offers versatility and should be able to see the field early for the Broncos.
Look for Nasirildeen to be selected on Day 2 of the draft. His physical presence could allow Vic Fangio a nice chess piece for his defense.
Andre Cisco, Safety, Syracuse 
Andre Cisco is a playmaker. At 6-foot and around 210-pounds has the physical makeup to hold up in all facets of the game.
If the Broncos are looking for a guy who can be found in Round 3 or later and makes an impact in coverage from the jump, this is their guy.
Cisco's ability to turn the ball over should translate well to the next level.
He is a terrific athlete who has the explosiveness to his game.
Showing the ability to play on all three-downs, Cisco is a safety who effectively reads the play and gets to the ball.
He is aggressive and without much wasted effort, his play speed is phenomenal.
Unlike the Moehrig and Nasirildeen, Cisco has much more experience playing deep. His ability to play center field could allow Simmons to be used much more in the middle of the field.
Cisco seems to effectively read the eyes of the quarterback and breaks on the ball at right time.
Andre Cisco's 13 career INTs are the most in the 2021 NFL Draft class

5th ranked safety on PFF's top-100 pic.twitter.com/iPwSOZgTqY

— PFF Draft (@PFF_College) February 6, 2021
Cisco is an adequate run defender but isn't as stout as other prospects. However, he shows a will to tackle and is far from a liability.
Cisco is returning from a knee injury, which will push back his ability to see the field early. Additionally, his injury status will likely push his draft positions down. If the Broncos are patient with him Cisco, he could be a very good player and a nice replacement for Jackson.
Cisco should be available in Round 4 or 5, but only because of his injury. If not, he's easily a Day 2 prospect. For the value, Cisco may be my favorite option of the 3. He some tools that flash and could develop into a special player.
Summary
The team could use some talent in the secondary, as the team needs more depth. The Broncos have a need for a 3rd safety, and heir to Jackson's spot.
This draft is littered with good players, and there is little doubt the team will pick a safety in this draft. They would be served well by taking one of these three players.
Moehrig, Nasirildeen, and Cisco are 3 players this team can snag throughout the draft to immediately improve their depth this season.
Each player presents something different but offers a starter-level skillset.
Moehrig is a big, physical, safety who makes plays from sideline to sideline. He offers tenacity and an overall complete game.
Nasirildeen is a physical presence on the field while also offering the ability to handle big tight-ends such as the Kansas City Chiefs playmaker Travis Kelce or the Las Vegas Raiders mismatch Darren Waller. Additionally, I think Nasirildeen has the versatility that he could add on 15 pounds into the box and linebacker.
Finally, Cisco offers the range and ball-hawking skills that would allow Simmons to roam a bit more freely underneath.
Paton can't go wrong taking any of these players in next week's draft.