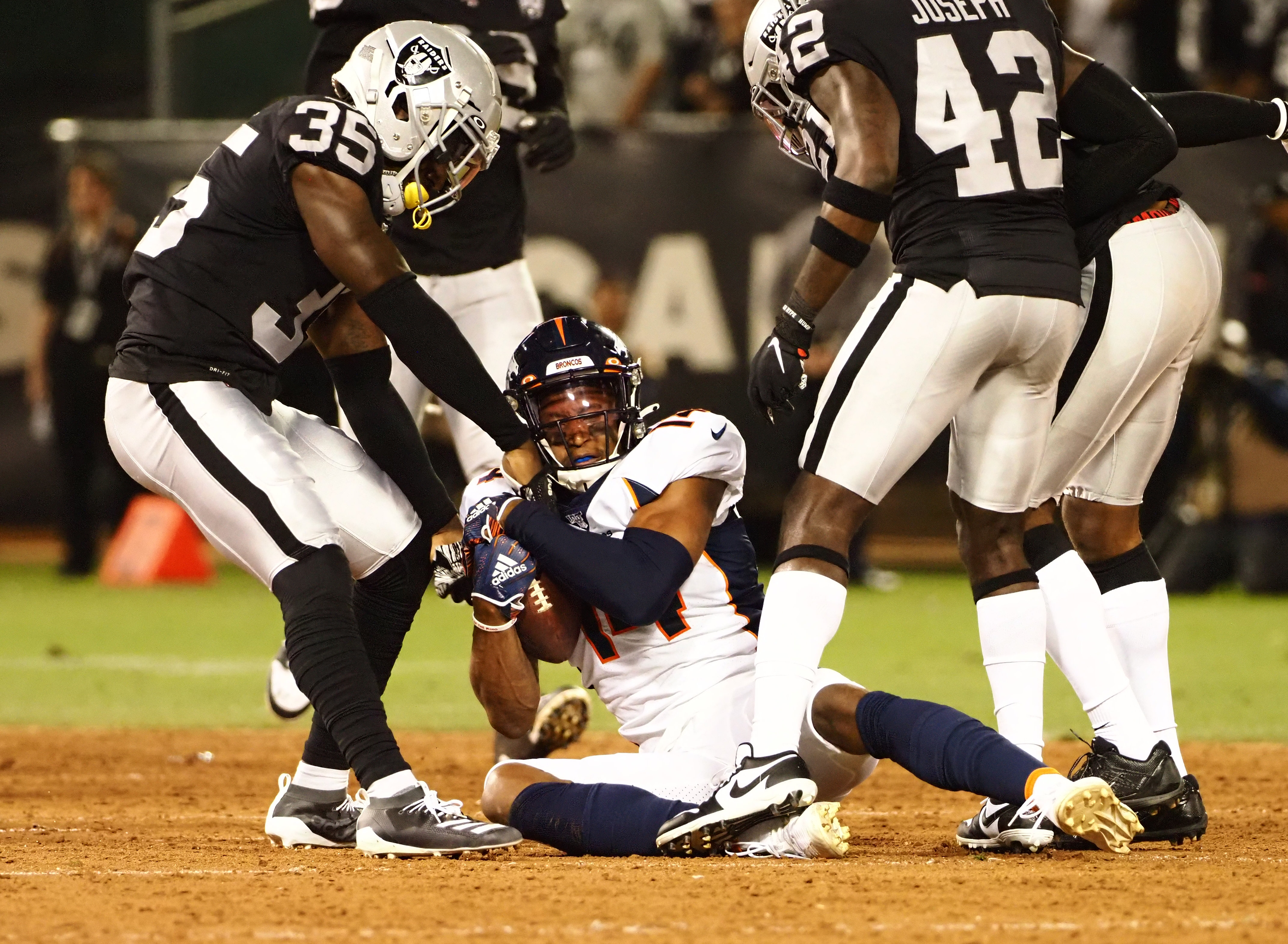 There was a sense of high optimism going into the 2019 campaign surrounding the Denver Broncos with a new coach Vic Fangio, offensive coordinator Rich Scangarello, and new quarterback Joe Flacco. However, that optimism was meant by a hard dose of reality as AFC West rival Oakland Raiders lead from start to finish 24-16 in a case of too little, too late. Here are three observations from the Broncos disappointing start to the season.
Red Zone Woes Continue
Many fans would have believed that new OC Scangarello would come in and solve red zone issues that plagued the Broncos a season prior. Unfortunately, the difference in the game was once again matching the Raiders three red zone touchdowns with three red zone field goals when the game actually was within reach. Three drives with all three different costly mistakes that were foreshadowed in the preseason.
Down 14-0, there was a head-scratching call with a trick play formation that resulted in a one-yard gain that ultimately led to a FG. Then down 14-3, DaeSean Hamilton dropped a wide-open catch on a 3rd and goal. Finally, trailing 21-6, Joe Flacco was sacked due to great coverage by the Raiders. The Broncos finally scored on an Emmanuel Sanders catch with 2:15 left in the game. Questionable play calls, dropped passes and sacks will have to get cleaned up for the Broncos to win more games.
Defense creates no turnovers or sacks in Fangio's debut
All offseason, there was a belief that this Denver defense would be the closest to the historic 2015 unit. Fangio had the No. 1 defense last year in Chicago and with the combination of Bradley Chubb and Von Miller, the expectations were sky-high.
Shockingly enough, the defense got no pressure whatsoever on Derek Carr who starting the game on fire going 11-for-12 to start the game and finishing 22-of-26 with 259 yards and 1 TD. Carr was able to neutralize the aggressive pass rush with a series of quick passes, screens, and picking on Isaac Yiadom who filled in for an injured Bryce Callahan. A combination of an offense who can't score touchdowns in the red zone and a defense that can't create turnovers or force sacks is alarming if you're Vic Fangio.
3. Courtland Sutton was a bright spot on a bad day
There were numerous negatives to point out in the loss, but the one positive takeaway is the emergence of wideout Courtland Sutton. The second-year man out of SMU had a career day and feasted on the Oakland secondary with seven catches for 120 yards on eight targets. He and quarterback Joe Flacco seem like they have established great chemistry as Sutton was targeted early and often. Perhaps going to the 6'4" framed WR in the red zone wouldn't be a bad idea in order to score a couple of touchdowns going into the Chicago game next week.