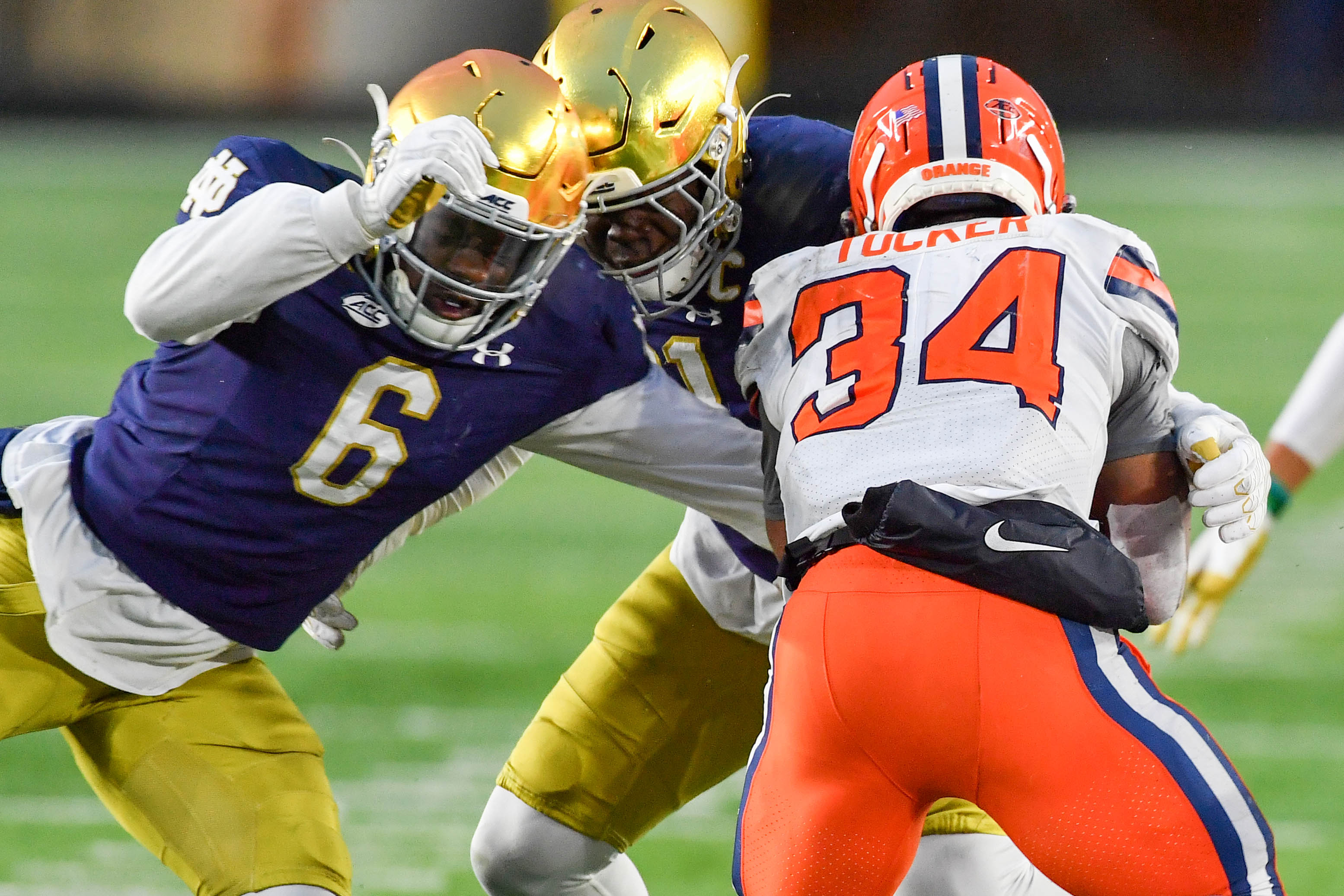 Day 1 of the NFL Draft will be a divisive one inside Broncos Country for a long time, but Day 2 has the potential to be a unifying force with the number of quality players remaining on the board.
The only question left to answer now is, who should the Broncos target?
Jeremiah Owusu-Koramoah, LB, Notre Dame
If the Broncos had traded back with the Bears at 20, or even the Eagles at 12 and selected Jeremiah Owusu-Koramoah, there would've been cause for celebration in the Mile High City.
Owusu-Koramoah is the best coverage linebacker in the draft, and in fact is so good in coverage that the Fighting Irish frequently used him as a slot cornerback. Not only that, but among all of this year's draft prospects — not just linebackers — Owusu-Koramoah earned the second-highest slot-coverage grade from Pro Football Focus.
Now the Broncos can potentially land him at 40 and fill a hole on defense that has plagued them for as long as the hole on offense at quarterback has.
Teven Jenkins, OT, Oklahoma State
Teven Jenkins is another player that was expected to be drafted in the teens, but fell out of the first round entirely.
Jenkins might be the biggest bully in the draft with a play style that seeks to punish, humiliate, and dominate opposing defensive linemen. He appears to take it as a slight that you would dare line up opposite of him and attempt to hurt his quarterback.
His game against Texas' Joseph Ossai — one of the top available edge rushers — was some of the most impressive tape to study from this draft cycle.
Jenkins is incredibly refined from a technique standpoint and could easily be a Day 1 starter at right tackle, but his length is a concern and there isn't a ton of room left for development.
That lack of room for development should be a turn off for the Broncos, as they might prefer someone with more upside considering they have Mike Munchak.
Azeez Ojulari, EDGE, Georgia
There is a very good chance that Von Miller won't be on the team in 2022 and George Paton will have to make a decision on Bradley Chubb by 2023 at the latest. As a result the Broncos will need at least one quality edge replacement, if not two, and Ojulari could be the man for the job.
Of this year's top edge rushers, Ojulari is the most prepared to make an instant impact. He already has a developed set of pass-rushing moves — including a nasty swim move — and he plays with a tireless motor that will help him be effective in the passing game and the run game.
He also has the athleticism to drop back in coverage, which he might have to do occaisonally in Fangio's defense.
The problem with Ojulari is that he's undersized and he doesn't have the ideal bend for a lighter, speedier type of edge rusher. According to 850KOA's Benjamin Allbright, medicals are also a concern.
Baron Browning, LB, Ohio State
On Mile High Sports' Broncos big board, Baron Browning is ranked as the second-best linebacker, behind only the aforementioned Owusu-Koramoah (Parsons was left off the big board as off-field concerns were too much to look past).
The fact Denver enters Day 2 with a chance to grab either of the top two linebacker fits for them in the class should be very exciting.
Browning is more of an upside pick than Owusu-Koramoah, as he also has a freakish level of athleticism but doesn't have to face the same tweener concerns that Owusu-Koramoah will have to. He also needs much more development than Koramoah, but that shouldn't be a concern considering Fangio is arguably the greatest linebacker coach in NFL history.