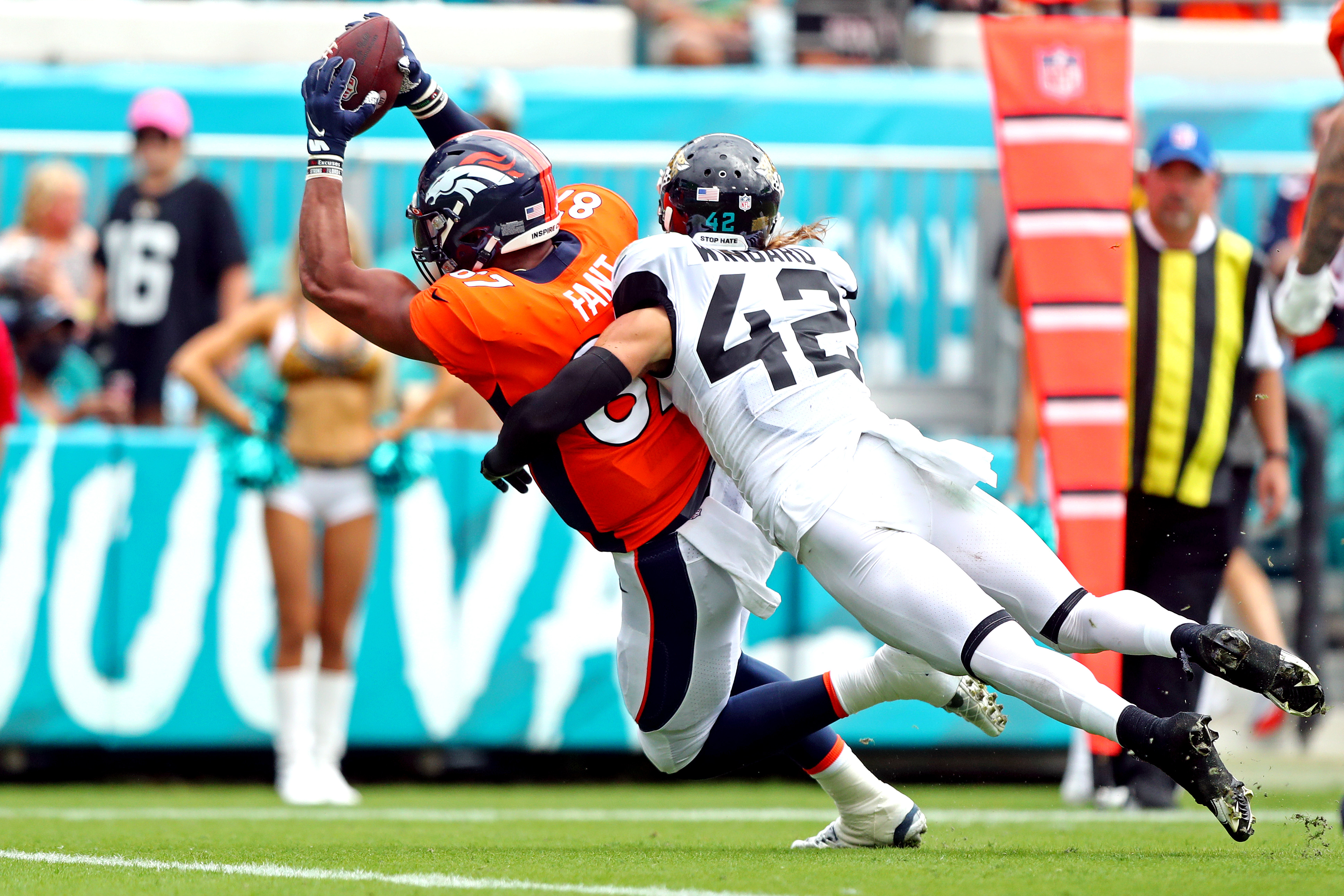 In recent weeks the Broncos have been hit by a crushing tsunami of bad injury news, with Jerry Jeudy, K.J. Hamler, Bradley Chubb, Graham Glasgow, and Dalton Risner — just to name a few — all suffering injuries that could force them to miss a considerable amount of time.
With all these injuries hitting the roster, which Broncos are under the most pressure to step up and fill a larger role? Let's look.
Tim Patrick
A month and a half ago, the conversation was, "how does Tim Patrick fit into this Broncos offense?" And, "should they consider trading him?"
Now the conversation is, "how does this offense function without him?"
Through three weeks, Patrick leads the team in receiving touchdowns, and is second on the team in receptions and receiving yards. He's also been incredibly reliable, completing the catch on 12 of his 13 targets, and it should also be noted he hasn't dropped a pass since late in the 2019 season.
Following injuries to K.J. Hamler and Jerry Jeudy, Patrick has gone from being either the team's No. 3 or No. 4 receiver to being the unquestioned No. 2.
After how well he performed in the Jets game and all of last season, there's no reason to believe he'll shy away from the moment now, but he will have to continue to produce at a high level to make up for the loss of Denver's two talented second-year pass-catchers.
Noah Fant
After playing pretty well against the Giants, and hauling in a touchdown against the Jaguars, Noah Fant didn't quite look himself in Week 3 against the New York Jets.
He had three costly and unnecessary penalties, only had two receptions for 15 yards, and showed lackadaisical effort chasing down the defender following Javonte Williams' late fumble.
Once again, with Hamler and Jeudy being out, it raises the pressure on all of the Broncos' weapons to pick up the slack, and Fant didn't do that last week. That's especially disappointing considering that many were hoping Fant would take the next step in his development this season, and establish himself as one of football's premier tight ends.
Fant has also taken a noticeable step backward this season as far as his run blocking is concerned.
That's certainly a disappointment, and could be a factor in the Broncos' run games being among the least efficient in football.
Fant will have to improve his run blocking, especially now that Dalton Risner and Graham Glasgow are beat up.
Netane Muti and Quinn Meinerz
Speaking of the Broncos' beat-up guards, Netane Muti and/or Quinn Meinerz are going to have to step up if Glasgow or Risner miss more time. Even if they don't miss more time, they should prepare to step up sooner rather than later, with how that starting tandem has struggled through three weeks.
Although the graders at Pro Football Focus have been big fans of Muti, the film is a little less impressive. He hasn't been terrible, but he's also not performing at a level that makes one feel confident about him taking Glasgow's starting job either this year or next.
He has a serious lack of length, and this leads to him occasionally getting bullied by longer, more athletic interior defenders.
Meinerz, on the other hand, is incredibly raw but looked fantastic (given expectations) on Sunday, as A.J. Schute and our own Joey Richards looked at.
Meinerz didn't play a snap of football outside the Senior Bowl last year, spent his entire collegiate career at the Division-III level, and spent most of this offseason working at center.
Despite all this and a lot less NFL experience, he was arguably better than Muti on Sunday and doesn't possess the same physical limitations.
No matter who gets the start though, both will have to be ready for an increased role and the responsibilities that come with it, sooner than they might have initially anticipated.
Malik Reed & Jonathon Cooper
This one is a no-brainer but with Bradley Chubb out for a considerable amount of time, Malik Reed has to step up and be a force for Denver's defense opposite Von Miller.
One game into Chubb's absence, the returns have been promising.
Against the Jets, Reed generated four pressures, a sack, and came relatively close to tallying two more. Reed performing that is absolutely huge to Denver's pass rush now that they're down Chubb, but he'll have to keep it up moving forward.
Especially with Jonathon Cooper mildly disappointing behind him.
At the end of the day, Cooper is a seventh-round pick so it's unfair to hold him to such a high standard, but he flashed so much promise in the preseason, only for it to seemingly disappear.
Through three games, Cooper has generated just one pressure, despite getting 22 attempts to pressure the quarterback on true pass sets. That rate of 4.5% is the worst by quite a bit. Andre Mintze, who is presently second-worst, has a pressure rate against true pass sets that is twice as good.
Justin Strnad
Josey Jewell's 2021 was off to an unbelievable start before suffering a season-ending pectoral injury, as he was arguably emerging as the best inside linebacker on the team.
As a result, that injury has opened up some tremendous shoes that need to be filled by someone on this Broncos defense, and Justin Strnad is the next man up.
So far, the results have been promising, as Strnad has flashed his high-end instincts and elite football IQ early and often, helping him rack up 10 tackles over the last game-and-a-half of action. That, when paired with his two tackles on special teams, is enough to lead the team in tackles, despite only starting in Jewell's place for half of the available snaps so far this season.
That said, Strnad did miss multiple tackles last week against the Jets, and while that didn't hurt them then if he makes those same mistakes against Lamar Jackson, it could cost the Broncos a game.