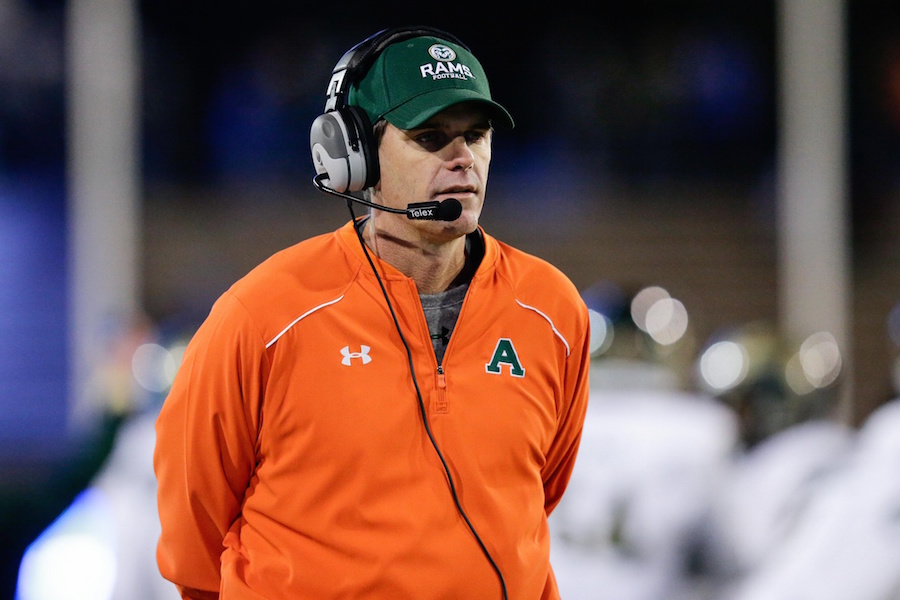 Optimism is abundant in Fort Collins as Colorado State prepares to open the college football season against Oregon State on Aug. 26. The Rams were picked to finish second in the Mountain Division at the Mountain West Media Summit in late July, receiving six first-place votes out of 28.
Given the Rams' finish last year, especially on the offensive side of the ball, there is reason to believe they will contend with Boise State for the division title. Established contributors like Michael Gallup, Nick Stevens, Jake Schalager and Evan Colorito will play a significant role for the Rams throughout 2017. However, there are also plenty of players who are flying under the radar whose success may dictate that of the Rams in 2017. Here's a look at five less-known players who can make an impact for CSU this season.
Rashaad Boddie – Running Back, RS-Fr.
Boddie isn't the first running back on CSU's depth chart. Or the second. Or the third. Dalyn Dawkins, Izzy Matthews and Marvin Kinsey Jr. return as the Rams' top three rushers from last season. But it's been Boddie who has arguably been the most impressive of the Rams' six options in the backfield. At 6-feet, 225-pounds, Boddie is the biggest of the Rams' backs, running with strength and breakaway speed. After redshirting his freshman season, Boddie has displayed a more thorough understanding of CSU's offense. He scored two touchdowns in the Rams' first scrimmage of the fall and will look to carry the momentum into his first season of competition.
Arjay Jean – Defensive End, So.
There is no mistaking Jean's physical makeup. The 6-foot-4, 240-pound end looks every part of a dominant pass-rusher. He proved his potential last season with a 1.5-sack performance against Fresno State. In limited action, Jean finished fifth on the team in sacks as a true freshman. Jean figures to play exclusively at his natural defensive end position after being tested at outside linebacker at times last season. The next step for the young defender is continuing to develop on what head coach Mike Bobo has called a raw skillset.
Dalton Fackrell – Tight End, Se.
Last season, the Rams had two reliable tight ends in Nolan Peralta and Danny Nwosu. Both have graduated, leaving the tight end position one of the most uncertain for CSU. Fackrell figures to have the first opportunity to make a difference at the position, as he is the only option with any on-field experience at tight end for CSU. A transfer from Snow College, Fackrell recorded seven receptions for 66 yards last season playing behind Peralta and Nwosu. However, he showed his ability as a pass-catcher at Snow, hauling in 40 catches for 473 yards and eight touchdowns his sophomore season en route to receiving first-team JuCo All-American honors. The potential for Fackrell is there, and if the Rams' offense can stay as potent as it finished the 2016 season, the opportunity could be there, too.
Anthony Hawkins – Cornerback, So.
Hawkins came to CSU as a wide receiver and started four games at the position as a true freshman. With the Rams' unproven secondary, Hawkins has transitioned into a full-time cornerback for 2017. Given the relative uncertainty at the position, Hawkins has a chance to push for a starting role at some point in the season. He has already proven his abilities at cornerback, returning an interception for a touchdown during the Rams' first scrimmage of the fall. If he can continue to develop at the new position, Hawkins may become a household name in the Rams' secondary.
Ellison Hubbard – Defensive Line, Fr.
One of the many young players who have impressed early in camp, Hubbard's performance is certainly encouraging. During the scrimmage last Saturday, Hubbard recorded three tackles and one sack. More importantly, Bobo has recognized the play from the freshman and made it clear that he has the opportunity to play for the Rams in 2017. In his senior year at Grayson High School in Georgia, Hubbard helped lead his team to 7A Georgia State Title and No. 4 national ranking. His familiarity with the big stage could bode well for Hubbard's ability to make an impact in 2017.