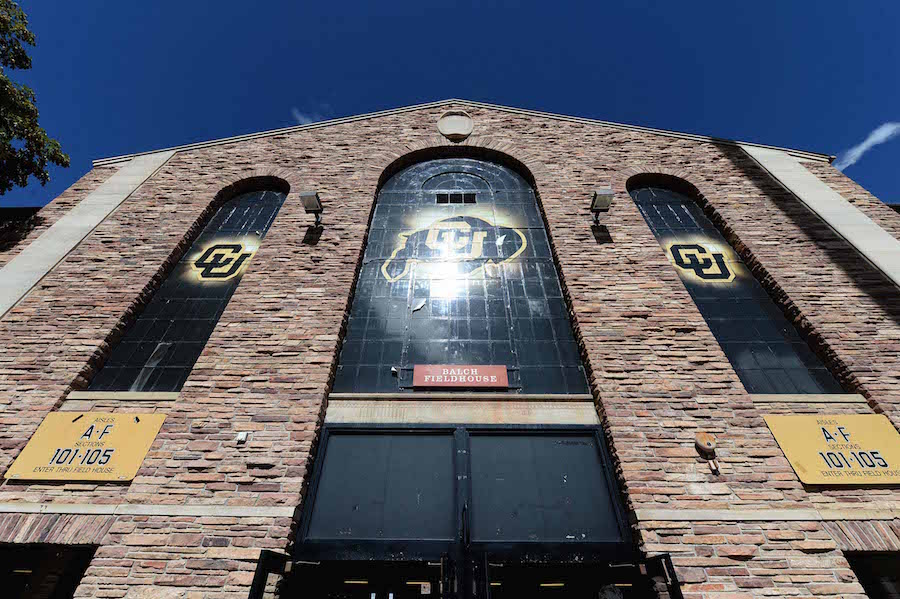 The 2016 CU Buffs football season is unofficially underway, as the program opened up the Dal Ward Athletic Center in Boulder on Friday afternoon for Media Day and interviews that helped preview their respective season.
CU coach Mike MacIntyre is now in his fourth year of fall camp with the University of Colorado and was as optimistic about the upcoming season as they prepare for their opener, the Rocky Mountain Showdown, against Colorado State University at Sports Authority Field at Mile High in Denver on Friday September 2.
But before the Buffs hit the field, they met with reporters for their annual preseason media day to speak about the plenty of storylines to monitor during fall camp, including starting quarterback Sefo Liufau's upcoming season, how the team will overcome not playing with Nelson Spruce and the return of several key pieces from injury.
Players and coaches doing interviews on media day pic.twitter.com/GsYfYjsYha

— Colorado Football (@RunRalphieRun) August 5, 2016
MEDIA DAY QUOTES:
Head Coach Mike MacIntyre
On Understanding When Sefo Was Good To Go During The Fall
"I talk to the trainers everyday about all of our guys, and Sefo was always on the list, and he was making all of the bench marks and how it progresses. Did everything that we've asked, he's trimmed down some more as far as losing body weight and he took advantage of the situation, so he's making great strides, and we've had no issues so far."

On Sefo's Leadership, Having Him Back, And What It Means To The Team
"He was elected a captain again. That was very impressive being a three-year captain; it's only been done twice in the history of CU. The last time was 1893, so its been a long time since someone felt that way about a young man leading them so that's huge and answers the question on the leadership side of it."

On Coach Darrin Chiaverini
"Chev brings excellent leadership. First thing, when you see Chev, you see his passion, not only for Colorado but for football. He brings a great expertise to the offense."
On Securing A Bowl Appearance
"Our goal for our players is tomorrow's practice, but we want to win every game we can, we do and I definitely feel as if we have the opportunity to do that. So hopefully at the end of the year, that will take care of itself as it goes, but it's all each day as you do it."

On The Rocky Mountain Showdown
"Opening game is a lot of fun. There is a lot of hype on any opening game around the country, so that's always exciting, but when you play a rival the very first game at a neutral site, it's a unique experience, as it brings a lot more emotion, so playing that football game means a lot for our players. They hear about it 365 days a year. You don't hear about every other game 365 days a year, so that brings an emotional side to the game than most games."
Senior Quarterback Sefo Liufau
On Improvements This Off Season
"I've been working on consistency, and that goes with decision making and the ability to make throws, and I truly feel I can make every throw in my mind and read whatever coverage they give me or whatever front they show. It's just the matter of being consistent and being able to get guys in the right positions to make plays."
On Being Named A Team Captain Yet Again
"It means a lot. To be named a captain from you peers means the most to me because it's a blessing and an honor, and it means I have to go out there and work harder because this upcoming season means a lot to us."
On Energy At Practice And Back In The Mix
"It felt great to be out there with the guys and working. The tempo was great, and there was a few mistakes, but the guys were excited to be out there and working hard. It's easy to work hard in the first two days but coming up in a week is when it will be interesting, because that's when fatigue kicks in, and we will see where we are then."

Who He Believes The Possible Breakout Player Will Be That Most Fans Don't Necessarily Know About
"Juwan Winfree. He's a new receiver. He is very athletic and a great route runner. I think that he will make some plays for us this year."
On His Process Of Getting Through The Injury
"After doctors gave a timetable, I set it upon myself to make a comeback this season. That was the goal all along. I worked on it every single day, even when times got tough. But for the most part I set a goal for myself and shot for it, and I accomplished that goal and am ready to come out here and compete."
On If He Feels Any Discomfort At All With The Injury
"Not at all. It feels as if I never left, great feeling, the guys were really good at welcoming me back in, and I'm out there playing and not worrying about anything but competing."

On If There Are Any Plans To Sit Out Any Practices
"No. Foot feels great, and I feel as if I'm at 100 percent. I expect to be out there with my teammates, giving my all 100 percent of the time."
On The Offense's Improvements This Year With Getting The Line Back From Injury
"I think the offense will be improved this year. It's tough going through last year with 20ish different line ups with the offensive line, and I expect a great O-line this year, and I see the progression in the weight room, so I'm excited to get to see them showcase that this year."

On What He Expects Of Himself This Year
"Sefo will be improved. It's easy to get lost in the negativity, but obviously we will see once the season starts. I expect a lot in myself, and I expect to lead this offense in scoring a lot of points this year."
Wide Receiver Shay Fields
What He Has Been Improving On In The Offseason
"Trying to be more deceptive with my routes and furnish them, but most important, increase my role as a leader."
On The First Few Days Of Practicing
"It felt great these last two days. The first day was high energy that you have to love. Second day was kind of toned down but still high energy."
On Possible A Surprise Breakout Player
"Isaiah Oliver. He is a great DB, made a few plays last year, but he is getting into the starting role this year, and I feel as if he will make plays this year."
On The Improvement Of The Offense
"I feel as if we will be a lot faster this year. We had a fast tempo last year, but I think it will be better this year."
On Sefo Liufau Embracing His Role As A Leader
"It's great to have Sefo back, and I feel he has always embraced his role. Each year he gets better, and he has always been our leader."

On How He Feels He Will Do This Year
"I will be more of a leader for sure. I will help the young guys and I will just try my hardest to get better each and every day."
Wide Receiver Devin Ross
On Improvements This Off Season
"I've been working on catching the ball and becoming more of a sure-handed receiver that Sefo could trust in. I am perfecting my route running and trying to become a better Devin Ross."
On The Intensity For The First Day
"It was great to go out there and the energy is a lot better than Spring ball. We are getting used to that again, and Sefo and the offense looks good coming back."
On Sefo Liufau's Presence
"We chose him as a captain for a reason, and we are thrilled to have him back. I can see his leadership since he was a freshman. He is a positive role model and uplifts all of the teammates and a great leader. I know that he is going to lead our team all year long."
On Possible Stand Out This Year
"I am excited for the receiving core. We are all ready to make plays this year."
On The Improvement Of The Offense
"I can see us proving a ton based off of the veteran leadership that we have. We have a bunch of juniors and seniors to rally behind and that's a big step for us, and the new offense that we will showcase with Coach Chev will be exciting because of the tempo. We will be good."
Running Back Phillip Lindsay
Improvements For The Off Season
"Continue to get stronger and faster. I feel as if I will have a lot more plays to make, so just be prepared for that with speed and strength."

On The Energy For The First Two Days

"It feels good to go out there and compete. We were a bit rusty but it felt good, no one can say we didn't have energy. We just need to go out there and make plays."
On A Possible Standout
"Isaiah Oliver, a DB, and also the wide receiving core. They look good so far."
On Getting Sefo And The Injured Lineman Back In The Offense
"It's going to be a big improvement. Sefo was our big leader and having him back in the lineup will be huge, because we rally behind him, and he is experienced. With the lineman, they have been working hard, and I'm excited to see them showcase that."
On Sefo's Leadership
"Sefo is the man. He is our guy. Everybody respects him and knows that he plays his heart out. He wears his heart on his sleeve, and everybody knows that. That's what we need."
On Being Named The Captain Of The Team
"It was huge to me. Very important to know that the teammates believe in me and believe I can get the job done. I will continue being me and being a positive role model on and off the field. I will lead and we will have a pretty good year"
The Message Of The Season From Coach Mac Was "Win The Day".