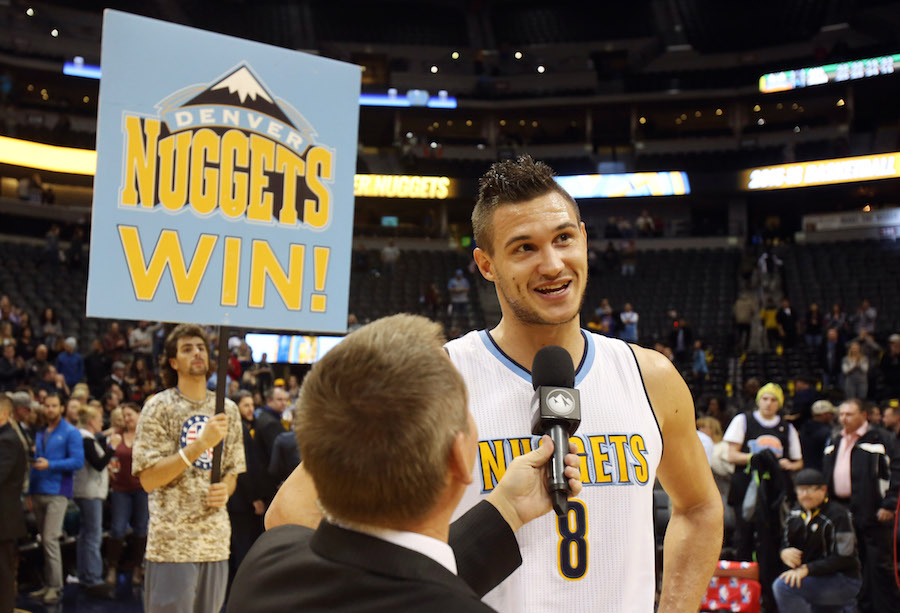 I want to believe. I really do. But I need some help. From the front office.
I'm still a holdout. I still have not forgiven the Denver Nuggets brass for firing Hall-of-Famer-to-be George Karl. Looking back, I can't believe there was such a backlash for a first round playoff loss when that Nuggets team, devoid of a single All-Star player, wasn't even supposed to make the playoffs. Karl was voted NBA Coach of the Year because he led a roster of spare parts to 57 wins. If they had just added to that team with a solid trade or free agent signing, we never would have found ourselves in this mess of tanking and lottery picks in the first place. Putting up with Karl off the court would have been a small price for ownership to pay for our well-being.
But I digress. What's done is done. It's been two years of futility since Karl was given the boot. Maybe, finally, now we have something to look forward to? Maybe? We all want to believe in a Denver Nuggets future that does not include the words "tanking" and/or "lottery picks." We know we aren't there yet.
We know we have a piece to build around in young Emmanuel Mudiay. He's got tremendous upside. The sky's the limit for the rookie point guard. He could be great.
But he's just one piece. A key piece, yes, but still just one piece. Several more are needed. How soon they can be acquired is the key question right now. Do we have to wait for two or three more drafts?
Obviously, this season's team is devoid of an All-Star, although we will have a representative or two at All-Star weekend. It's hard to imagine Mudiay won't get invited to the Rookie-Sophomore game, and perhaps Kenneth Faried gets a shot in the Slam Dunk contest. But come All-Star Sunday, everyone involved with the Denver Nuggets will be a spectator once again. It's been that way since 2012.
New head coach Michael Malone, highly regarded in coaching circles but still green, has the same issues Karl had. He's got a roster of some nice spare parts. Guys who could be important cogs on a playoff team. Role players. Nary a single "go to" guy. Danilo Gallinari has improved. He can sometimes play with his back to the basket now. At 6-foot-10, that's sort of important. Faried has been rejuvenated under Malone. It looks like his energy is back. The rest of the roster is made up of quality NBA role players. That's just not good enough to get the Nuggets back into the playoffs.
I know, the last time we had a "star" player like that it was Carmelo Anthony, a basketball "black hole" – where the ball goes in but never comes out. Acquire another player like Anthony, who isn't a "team-first" guy, who doesn't share the ball, scores a lot but kills offensive flow – and the Nuggets would quickly descend into New York Knicks-land and become "lottery bound" forever more.
So what's the answer? Denver needs to acquire a star player in the mold of Kevin Durant or LeBron James. A player who shares the ball, helps makes plays for his teammates and can score in the clutch. A team-first guy who can put the team on his back when necessary.
Did someone say Ben Simmons? We're still talking about tanking and a lottery pick.
Having not yet studied the list of NBA free agents-to-be, I'm not sure who the right player/fit is. Who's on the trading block? Is there a star out there to be had? What about the salary cap ramifications? Who would Denver need to give up? All questions for Tim Connelly to handle. That's his gig. Whoever the missing piece(s) may be, the sooner the Nuggets can land them, the sooner Denver can become a serious contender again.
The Western Conference is again loaded, with Golden State, San Antonio, Oklahoma City, Dallas, the Los Angeles Clippers and perhaps Houston as pretty sure bets for the playoffs. After those six, the Nuggets fit nicely into the conference's second tier with up-and-comers Minnesota, Portland, Phoenix, and Memphis.
At 6-6, Denver would be the Western Conference's No. 8 seed if the season ended today. But no one believes the Western Conference eight seed will be just a .500 team. Not this year. A season ago, the eighth seed was New Orleans with a 45-37 record. The 30-52 Nuggets were 12th.
This means it's on Nuggets brass to do the right thing this time. Hopefully ownership will get out of the way and let the basketball guys – Tim Connelly and Malone – make the basketball decisions. Don't sit still and wait for ping pong balls. Worse yet, don't let us hear any more talk about tanking this winter. We've had enough of that. Start looking – now.
Other than Mudiay, no one should be untouchable. Can this front office make a move like the former (award winning) Nuggets front office did? Perhaps another machination of the Allen Iverson–Chauncey Billups deal? (A move that propelled the Nuggets to the Western Conference Finals, by the way.)
Something along those lines. That deal was made on Nov. 3, 2008. It's never too early in the season to improve the team.
Give us a reason to believe.
Listen to Mark Knudson and Michael Klahr, Saturday mornings 8a-10a, on Sports Stampede Radio on Mile High Sports AM 1340.