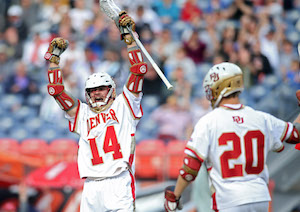 As Bill Tierney's Pioneers prepare for Saturday's semifinal match with Notre Dame the team was hit with some special honors today.
Seven players of DU's Championship Weekend bound lacrosse team were honored as USILA DI All-Americans, most notably Connor Cannizzaro and Trevor Baptiste who were named first team All-Americans. Cannizzaro as an attack men and Baptiste as a face-off specialist.
Here's a list of all seven Pioneers honored.
First Team
Cannizzaro – Attack
Baptiste – Face-off Specialist
Second Team
Wesley Burg – Attack
Christian Burgdorf – Defense
Third Team
Zach Miller – Midfield
Honorable Mentions
Erik Adamson – Midfield
Carson Cannon – Defense
The Pioneers (No. 4) will faced the Notre Dame (No. 1) Saturday at 11am at Lincoln Financial Field in Philadelphia. The winner will play for the National Champion on Monday afternoon. DU beat Notre Dame earlier in the season 11-10 in overtime at Peter Baron stadium.