https://www.youtube.com/watch?v=lx3xZkZ84u4
#1 Rangeview 60
#3 Regis        52
Aurora (CO) – Rangeview's reward for being the new #1 ranked team was a road game at one of the toughest venues in the state against one of the strongest teams. Rangeview made the quick bus ride over to Regis to face the state's #3 ranked team. Last week Regis defeated then #1 Overland, while Rangeview handedly defeated then #2 ThunderRidge. Would Regis take down a #1 for a second straight week, or would Rangeview solidify itself as the top team by defeating a top 3 team for the second straight week?
Regis took control of the game early with an 8 – 3 lead behind solid perimeter shooting, deep post position, and great team defense. After consecutive threes Regis began to establish the presence of 6'9 senior center Marc Reininger in the post. As of late, Reininger has been playing the best basketball of his career and has provided Regis with a true post presence on both sides of the floor. After a deep post finish off of a high/low feed from Gage Dyer, Reininger responded to a three pointer by Rangeview's Elijah Blake with a short corner 15 foot jump shot to give Regis a 10 -6 lead. Reininger followed that up with a blocked shot in transition. Rangeview senior Kris Hollins scored back-to-back baskets to tie the game at 10. Senior Tyrei Randall of Rangeview followed quickly with a coast to coast lay up to provide Rangeview with its first lead and they never relinquished it. Rangeview ended the quarter on back-to-back threes by Matthew Johnson and Elijah Blake who knocked down a three off of the bounce as time expired. Rangeview led 18 – 14 after the first.
Rangeview inserted its second unit to begin the second quarter. The second unit not only held on to Rangeview's lead, they increased it. Stacie Reed of Rangeview ignited the second quarter run with a steal and score. Midway through the quarter Rangeview's Jalen Guidry received a cross-court pass and immediately dropped a no look dime to Elijah Reed for a lay up forcing Ken Shaw of Regis to call a timeout to stop the bleeding. The lay up gave Rangeview a 28 – 18 lead with 3:48 left. Rangeview inserted their starters and picked up where the second unit left off. With the score 34 – 23 Elijah Reed again knocked down a buzzer beating three pointer as time expired to give Rangeview a 37-23 lead at the half.
Regis adjusted on defense and switched from man to man to a zone. The adjustment worked and they disrupted Rangeview's offensive flow and were able to narrow the deficit to 8 with 4:38 following a technical foul on Rangeview. Elijah Blake responded to Regis's 5 – 0 run with a 17 ft pull up jumper off of a dribble hand off pushing the lead back to 10 points at 43 – 33. Jalen Guidry penetrated to the heart of the Regis defense and kicked it to Calvin Collins for a corner rhythm three and Rangeview led 35 – 46 going into the fourth quarter.
Regis was able to pull to within 6 points behind Reininger's solid post play. He started the fourth by finishing on a strong post move. Regis continued to make a push in the fourth with a three pointer from sophomore Elijah Martinez and Reininger scored again on a strong post move getting fouled in the process. He converted on the free throw and the Rangeview lead was cut to 49 – 43 with 5 minutes left. Rangeview put the ball in the hands of senior leader Tyrei Randall and he stopped the bleeding with a hard drive, hanging in the air to get into the defenders body and draw the foul. Randall split the free throws to bring Rangeview's lead to 50 – 43.
With 2:50 remaining Regis pulled within 5 at 45- 50. Again Rangeview put the ball in the hands of Tyrei Randall, and again he delivered with a drive, draw, and drop off to Elijah Blake for and "and 1" making the score 53-45. Regis responded with another post feed to Reininger to pull to within 6 points with 2 minutes remaining. Randall responded with the play of the game. He drove into the heart of the defense and elevated over two defenders for the "and 1" finish. Elijah Blake sealed the deal by blowing by two defenders and dropped a no look dime to Elijah Reed to pull ahead 57 – 47 with 50 seconds remaining.
Scoring
Regis
Reininger 15
Martinez 11
Hobbs       9
Rangeview
Blake     14
Reed       10
Randall 10
Randall's playmaking– Tyrei did not shoot well from the field, but he made huge plays when his team needed them. He showed off his handles and his vision with a drive, draw, and dish to Blake late in the 4th and followed that up with a finish at the rim off of the bounce.
Sharing the wealth – The key ingredient to Rangeview's offensive recipe is that they are able to effectively space the floor because they can all shoot, attack gaps, and are all hard and skilled drivers. Most importantly they share the ball with one another. They are skillful, willing passers and as a result they make the game easy for one another and make the defense pay.
Playing big – "They're small, but they are tough and they play bigger than their size," Gonzaga great Matt Bouldin said about Rangeview as he watched from the stands. Everytime Rangeview hits the floor they will be undersized, but despite that they use their length, quickness, and leaping ability to rebound and contest in the paint.
Reininger's presence – As mentioned Marc Reininger is playing at a high level both offensively and defensively. Despite the loss, Regis has to be pleased to have a solid and consistent post presence in senior Marc Reininger.
What makes Elijah Blake special?
https://www.youtube.com/watch?v=dZpL_U8WGa4
https://www.youtube.com/watch?v=WP_N33Y8iSs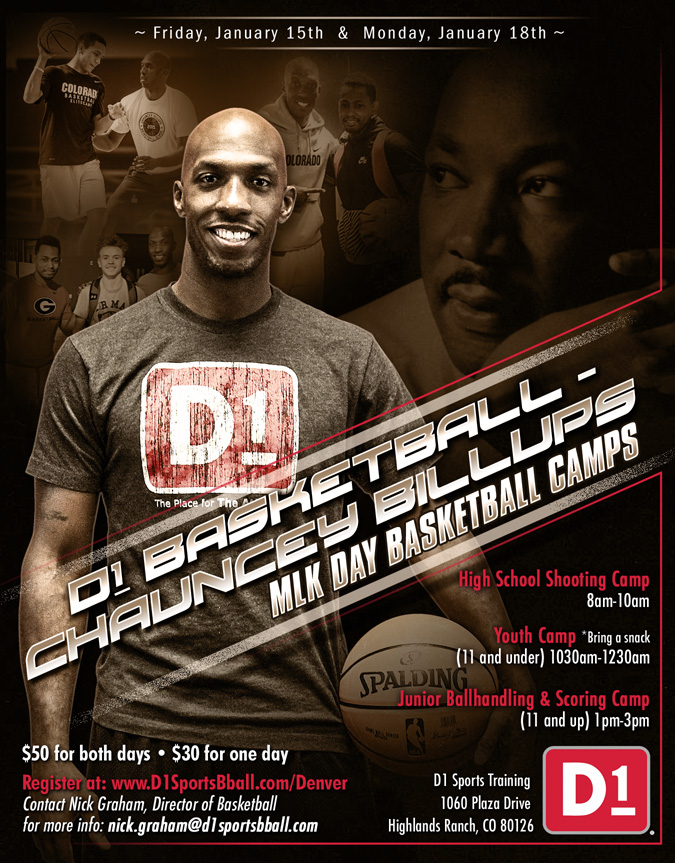 About the Blogger: 
Nick Graham is the director of basketball for Chauncey Billups D1 Basketball in Highlands Ranch. Graham, who played collegiately at Washington State University trains basketball players of all ages and skill levels including many of the states top high school and collegiate players along with NBA players as well. In addition, Nick travels the country working with some of the nations top prep players. Along with leading D1 Basketball Training nationally, he also works with Spalding and many of the top trainers in the country including Johnny "Handle Life" Stephene. Through his partnership with Spalding Nick will travel to the 2016 NBA All Star game to provide youth players in the Toronto community with NBA All star training along with Stephene. Also, Nick and Stephene will lead regional All American camps this summer with D1 Basketball, Spalding and NBA players Chris Paul, Chauncey Billups, Carmelo Anthony amongst others. Nick's passion is assisting Chauncey Billups in mentoring, developing and celebrating the young players and coaches along with educating and empowering parents of basketball players all over Colorado.
Follow Nick on Twitter @DreamLiveBall & on Instagram @DreamLiveBallNick  
Find out more about Chauncey Billups Basketball Training with Nick Graham @ D1sportsbball.com/Denver