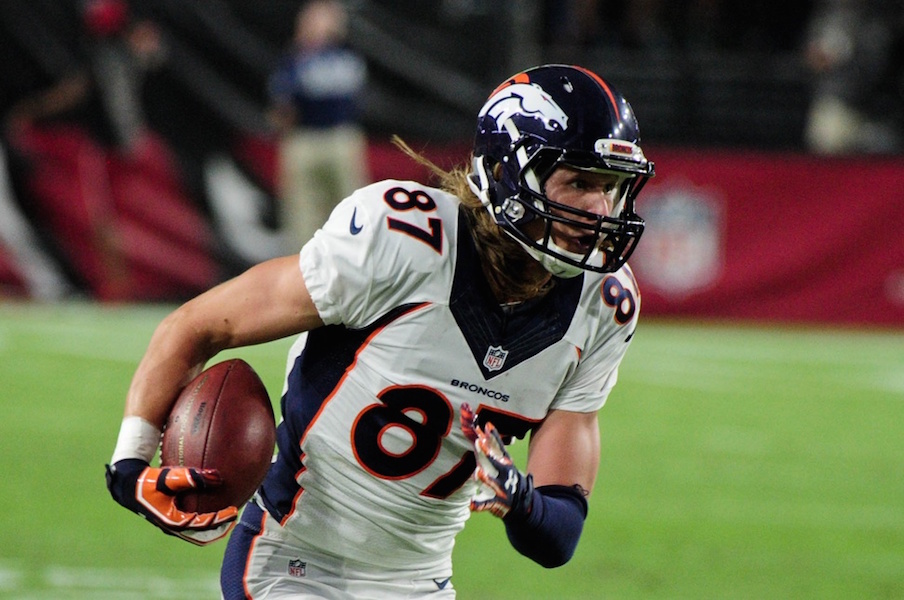 Jordan Taylor didn't play a single snap for the Denver Broncos in Super Bowl 50 (or the entire 2015 season, for that matter), but he played a crucial role in that victory. If it weren't for a broken leg his freshman year at Rice University, there's a chance it might not have happened.
"I was a big baseball player growing up," Taylor told Benny Bash and Kent Erickson following Monday's training camp practice at UCHealth Training Center.
"I was actually probably a better baseball player growing up than I was a football player," Taylor said.
But an injury his freshman year changed his sports trajectory and put him on a collision course with Peyton Manning and the Denver Broncos.
Taylor was, as Broncos fans will remember, Manning's private receiver as the sure-fire Hall of Famer worked his way back from a foot injury that hampered his final season in the NFL.
Then a member of Denver's practice squad, Taylor became one of the key figures in Manning's miraculous sunset ride that ended with the five-time NFL MVP hoisting his second Lombardi Trophy and walking away a winner.
It was Taylor's own decision to walk away from baseball that ultimately put him on the path to the NFL and his unique place in the story of one of the greatest to ever play the game.
"Well, when I first went to Rice, I went there to play both," Taylor told Bash and Erickson, "and I broke my leg my freshman year in football, so it kinda set me back a little bit, and really, since I was there on a football scholarship, I kinda just went the football route and kinda gave up on baseball."
Football has been his focus ever since, and after a year on Denver's active roster in 2016, Taylor now has his sights set on being a bigger contributor in an offense that is more geared towards putting the balls in the hands of its wide receivers. Five days into training camp in the new system, Taylor and his teammates on offense are happy with how things are taking shape.
"I think the tempo of our offensive, specifically, is a lot different than last year, obviously with new offensive coordinators, a new head coach, a lot of things have been changed up, but I think that we're lining up, we're doing a lot of motions, a lot of shifting and things like that to keep the defense on their heels, so that's something we like as an offense," he said.
Taylor, who went undrafted in 2015, faces stiff competition from a deep group of wide receivers competing for limited roster spots behind starters Emmanuel Sanders and Demaryius Thomas. He made the most of his limited opportunities in 2016, hauling in 16 catches for 209 yards and a pair of touchdowns on 25 targets. The 25-year-old saw those opportunities increase as the season wore on, playing more than 46 percent of the offensive snaps in three of the final four games last year.
Seven players from Rice were selected in the MLB draft in 2015, what could have been Taylor's final year on the diamond for the Owls. None of them has cracked a Major League roster as of yet. Meanwhile, Taylor is a part of football history and working hard to extend his NFL legacy, due at least in part to a broken leg.
Listen to the full interview with Taylor, including whether the Dallas-area native is  a Ford or Chevy man, in the podcast below.
Catch The Big Show featuring Irv & Joe every weekday from 12p-2p on Mile High Sports AM 1340 | FM 104.7 or stream live any time for the best local coverage of Colorado sports from Denver's biggest sports talk lineup.