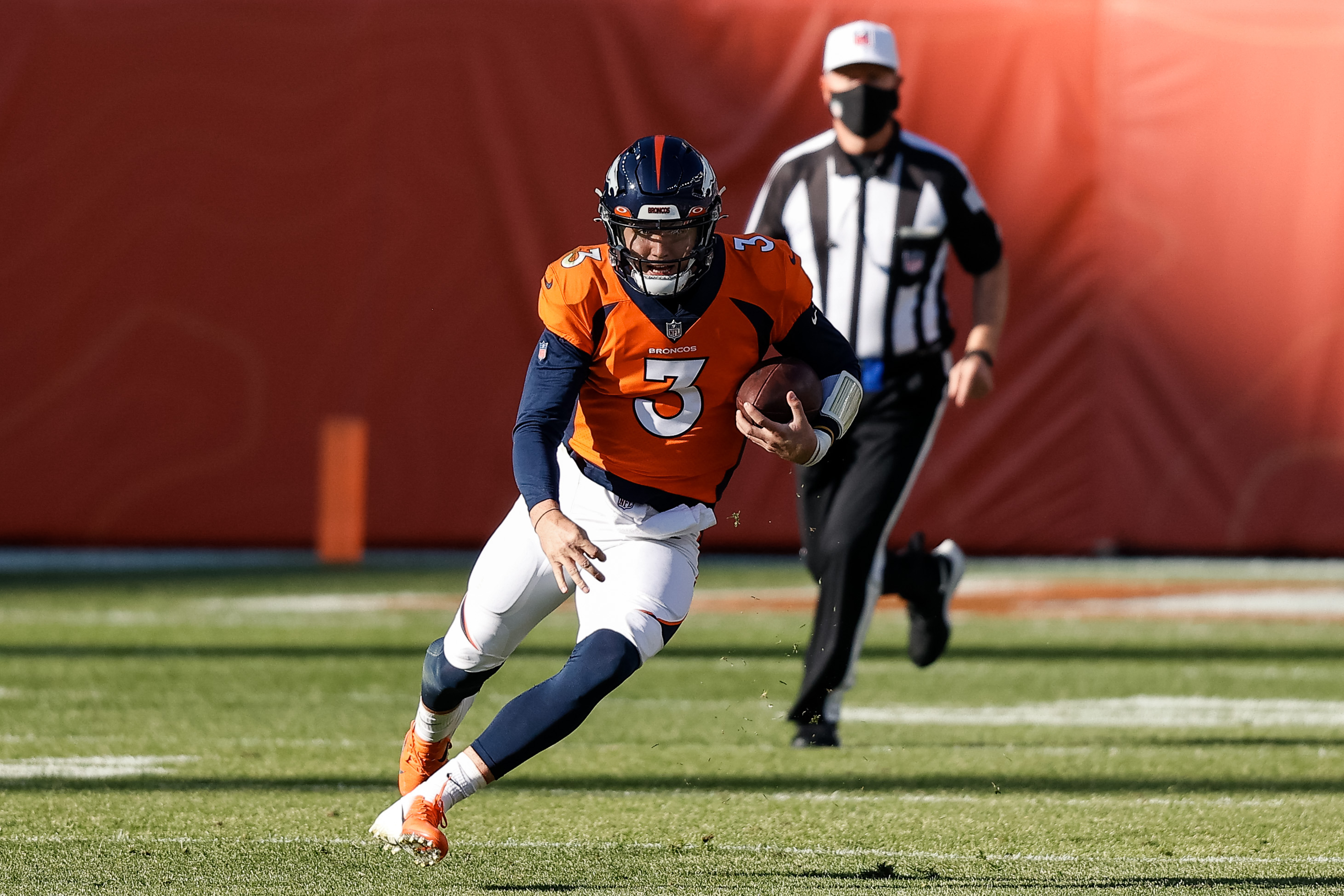 The conversation surrounding the most important job in Colorado is never-ending. In this place, smack dab in the middle of the country, industries have been born – careers have been made – simply "talkin' quarterback." To draw a parallel (or perhaps a perpendicular), discussing who will be under center for the Denver Broncos in mixed company, the family reunion or a business dinner is the opposite of conversing about politics or religion. It's always okay.
Here in Broncos Country, there's seemingly never a bad time to talk about the quarterback, and with the NFL's free agency period officially kicking off tomorrow, this conversation is about to get even louder.
Exhausting as it might be, the debate that rages over what the 5-11 Denver Broncos should be doing about their quarterback situation is fueled by countless (valid?) options. By no means is there a consensus amongst the talking heads.
Take yours truly for example. In 2021 alone, I've already suggested three things the Broncos "must" do:  Go get DeShaun Watson at all costs, bring in Carson Wentz and draft Alabama's Mac Jones. Hey, who wants to be one-dimensional? Not me (apparently).
Other recent ideas include betting big on Alex Smith, who undoubtedly has an amazing story and would be an immediate fan favorite, drafting Ohio State's Justin Fields (something that seemed impossible immediately following the College Football Playoff) or trading for Jets quarterback Sam Darnold.
The point here is not to further debate which of these ideas – many of which are highly unlikely – is best, rather, it's to suggest they all have one thing in common: They all include moving on from the incumbent, Drew Lock. They also hinge on hope.
As Morgan Freeman once told us in Shawshank Redemption, "Hope is a dangerous thing. Hope can drive a man insane."
He also added, "It's got no use on the inside." Perhaps it's got no use inside Dove Valley, either. That is, after all, where Drew Lock already is – preparing as if he's the only solution there was or will be. Just as he should be.
There is certainly a case – or cases –  to be made for Drew Lock.
Take for example the Xs and Os logic of Tim Jenkins, a local product (ThunderRidge High School, Fort Lewis College) who had stints in both the NFL and CFL, and who's made a living through his business Jenkins Elite by teaching and evaluating the quarterback position. Monday night, Jenkins appeared on "Broncos Beat with Alexis Perry," and provided several logical reasons why Lock should be the guy. Jenkins film breakdown of Lock is on a higher level, but in layman's terms Jenkins believes that Lock's comprehension of the offense – his second in two seasons – grew by leaps and bounds as the season continued. In essence, the mental mistakes that plagued Lock early in the season began to surface less frequently by season's end. And while the 2019 season showed that Lock had ability, surmises Jenkins, it essentially has to be thrown out as a comparable. Again, Lock was working within an entirely different system and for an entirely different coordinator. As bad as the team's record was in 2020, Jenkins believes the chemistry between quarterback and coordinator improved greatly. Remember, both Pat Shurmur and Lock were new to each other, both needing time to feel each other out.
In sum, Jenkins believes the Broncos best bet is to ride the progression of guy in which they've already invested, rather than hoping that one of the draft prospects is instantly better or counting on the unlikely scenario of landing DeShaun Watson.
There's also the locker room and George Paton to consider.
It's probably an exaggeration to suggest that the Broncos have an internal "perception" problem, but it's not a stretch either.
In the past, the Broncos have made a bad habit of not taking care of their own. Whether that's letting someone like Shaq Barrett walk or using the franchise tag on players who've earned a shot at a long-term deal, the Broncos have raised eyebrows when it comes to handling their own players. Regardless of what the outside world believes, rest assured that inside the locker room, Lock has teammates who value what he's done and want to see the third-year quarterback continue his development.
Take wide receiver Tim Patrick, for example. Patrick had a breakout year in 2020, largely because of the chemistry developed between he and Lock. Recently, Patrick wasn't shy about publicly supporting his quarterback. Teammate Shelby Harris was even more blunt: "You need to ride with Drew Lock," he told The WrightWay Sports Network.
The extrapolation – especially for players like Patrick and Harris – is simple: Build and reward from the inside, rather than constantly chasing outside commodities. If the Broncos, as Harris suggests, "ride with Lock," the reward is potentially two-fold. First, their patience could pay off (see Buffalo's Josh Allen) and the "answer" could already be in the building. But second, even if Lock doesn't reward the Broncos for giving him a shot, there's some equity built inside the locker room anyway – at least George Paton and Vic Fangio gave "their" guy a shot, rather than continually (and financially) favoring an outsider.
This quarterback discussion isn't about to end. Heading into free agency and the NFL Draft, it's only going to get louder. But quietly, the Broncos' best – and most realistic – bet might be to stick with Lock. If he pans out, great. If he doesn't, the most popular conversation in Denver will simply continue.