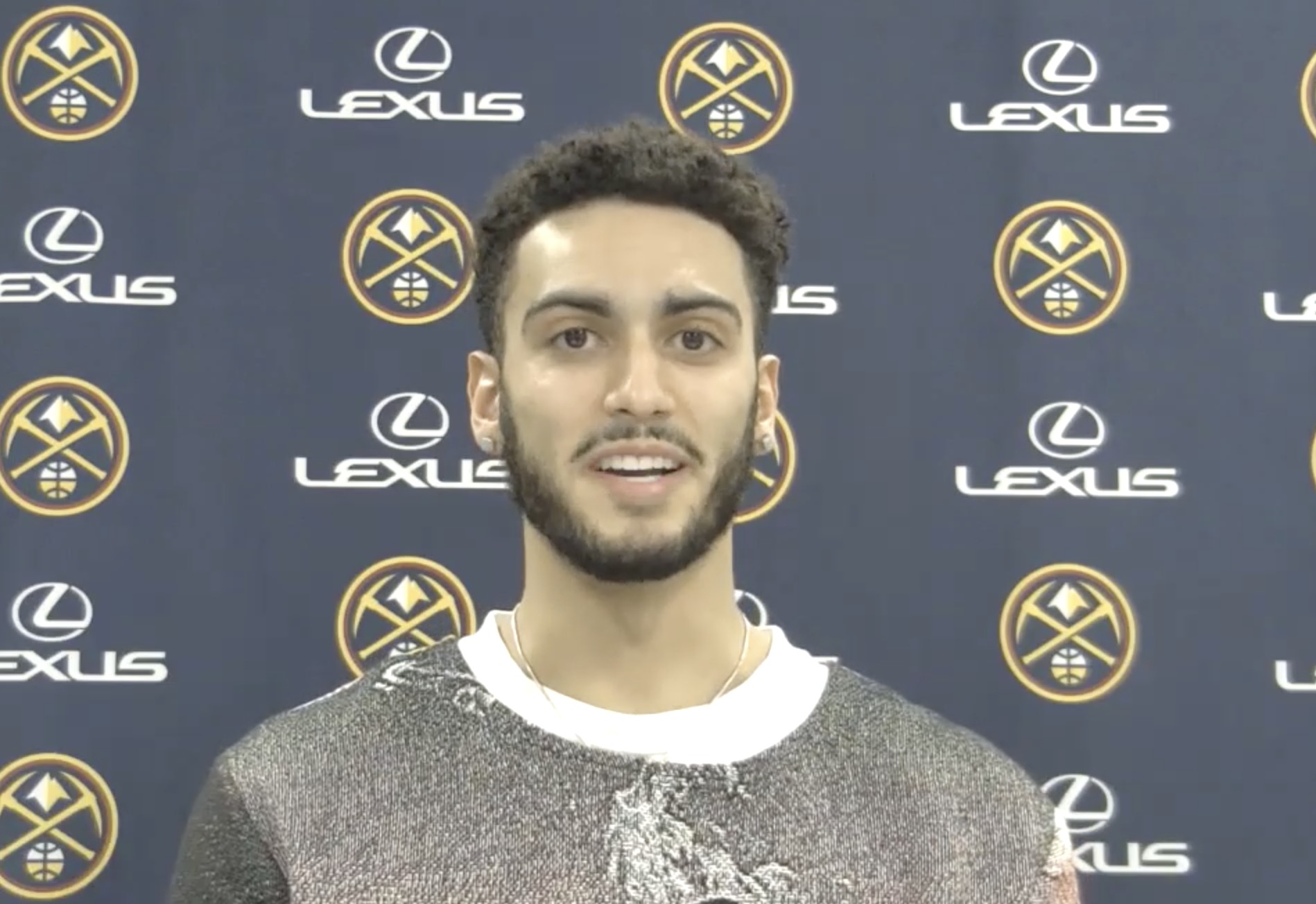 Markus Howard scored a career-high 20 points in his first NBA start while Nikola Jokić had 20 points, 15 rebounds and 11 assists to power the Nuggets to a 104-91 win over the Detroit Pistons. The Nuggets have now won three straight and have one more game left of the regular season on Sunday in Portland. 
Howard, who was the leading scorer in the NCAA last season, is a true bucket getter who can get hot at any time but he didn't put the focus on himself tonight. All he cared about was the win. 
"I'm just happy that we got the win," Howard said. "At the end of the day that's all that matters especially this time of year going into the playoffs. We want to make sure we're building the habits necessary for us to be successful."
The rookie has had a lot of ups and downs this season and hasn't had a lot of opportunities to showcase his skillsets but when his number is called, he's ready. He took this season day by day and controlled what he could control. He always remained positive and did his best to stay in the present moment with the end goal in mind. 
"I think with any type of process especially one like this you have to experience those bumps," Howard said of the adversity in the NBA. "You have to experience failure in some aspects or some adversity and I think that's kind of how I started by playing a lot in college to not playing a lot. You kind of have to have a different approach. For me, my approach each and everyday was just to have a positive attitude because I knew at some point in time there's going to be an opportunity present."
Michael Malone had fun with the lineup once again adding Howard and Vlatko Cancar into the mix in place of Facu Campazzo and Aaron Gordon. Of course, Jokić chose to play and still hasn't missed one game so far this season. 
"The conversation was he was going to play today," Malone said sarcastically on what the conversation between him and Jokić was like prior to game. "But we were going to try to limit his minutes, give him some quality minutes but not overwhelm him."
Jokić has been averaging around 35 minutes per game this season but it hasn't phased him. As he keeps reiterating, as long as he's healthy, he wants to be available for his teammates every night and although the Nuggets haven't said much about his status on Sunday, you can almost guarantee he's going to play. 
"I mean he asked me and I just told him I was going to play," Jokić said of his conversation with Malone. "He can decide how many minutes but I just want to be out there and available for the team."
Aside from the incredible season Jokić is having, averaging 27 points per game, 11 rebounds and 8 assists, it's his willingness to do whatever he can to make his teammates better that stands out the most. 
"He's not one of your superstars where he's got to score, score, score," Monté Morris said. "If he had a chance to get 30 assists I guarantee he would do that before he'd hit 30 points. So when you got a guy like that who's willing to pass to anybody it's just so much easier and so much fun to play with."
Morris saw some playing time in Detroit, playing a little over 17 minutes. He said he felt good and could've played 30 minutes if coach needed him to. Limiting his minutes is still important to Malone to make sure he's 100% healthy come playoff time. 
"The last time he played we wanted to limit his minutes in the first half to around 10 minutes then going into this back to back we only wanted him playing one of these games," Malone said. "I wanted him to play in Detroit in front of his family and friends and we're able to extend his minutes where he gets second half opportunities and keep it just below 18. The amount of minutes he played was perfect and I thought he looked really good out there running that second units, making plays, looking for his shot, getting to the rim, knocking down a three-pointer."
Denver struggled getting things going. Jokić had 11 points, 7 rebounds and 5 assists in the first quarter. Michael Porter Jr had 6 but the rest of the team struggled from the field. Collectively as a group, the Nuggets went 0-5 from the three and 12-23 from the field. The Pistons weren't scoring much either as they went 10-23 from the field and 2-13 from long range. Denver maintained a 29-25 lead to close the first. 
Second quarter, the Nuggets' shooting struggles continued, allowing the Pistons to take a 3-point lead. Howard then went off scoring 12 points in the quarter on 5 of 6 shooting from the field. The Nuggets took a 57-53 lead at halftime but Malone wasn't impressed.  
"I thought in that first half we were playing rather undisciplined with no real purpose so that was the challenge at halftime to not worry about playing against Detroit but trying to make sure that we're playing the game the right way," Malone said. 
The Nuggets took control of the third quarter outscoring the Pistons 30-21 and took a 17-point lead but it was the defense that kept Denver afloat. Detroit only shot 8-20 from the field and 1-6 from long range 
Fourth quarter, the Nuggets continued to pressure the Pistons forcing them into bad shots. They went 6-19 from the field and 0-9 from three. The Nuggets didn't shoot much better but it was just enough to win the game 104-91.
The Nuggets have one more game of the regular season on Sunday and are looking forward to prepare for the playoffs. They'll have a couple days off while the 7-10 seeds will compete in a play-in tournament for that last two spots. Denver made it a goal earlier in the season to not have to be stuck in a play-in spot for the playoffs. 
"All year long, way back, middle of the season I remember talking to our guys about we don't want to be in that play in tournament," Malone said. "We want to do everything we can to avoid that."
After the Clippers loss tonight, the Nuggets have stolen the 3-seed and are currently 47-24 on the season. A win on Sunday, guarantees the Nuggets the three seed and they could potentially play the Trail Blazers in the first round. 
The Blazers have a lot at stake and must win Sunday nights matchup against the Nuggets if they want to avoid the play-in game. They're currently 6th in the west but only by a half game ahead of the Lakers.