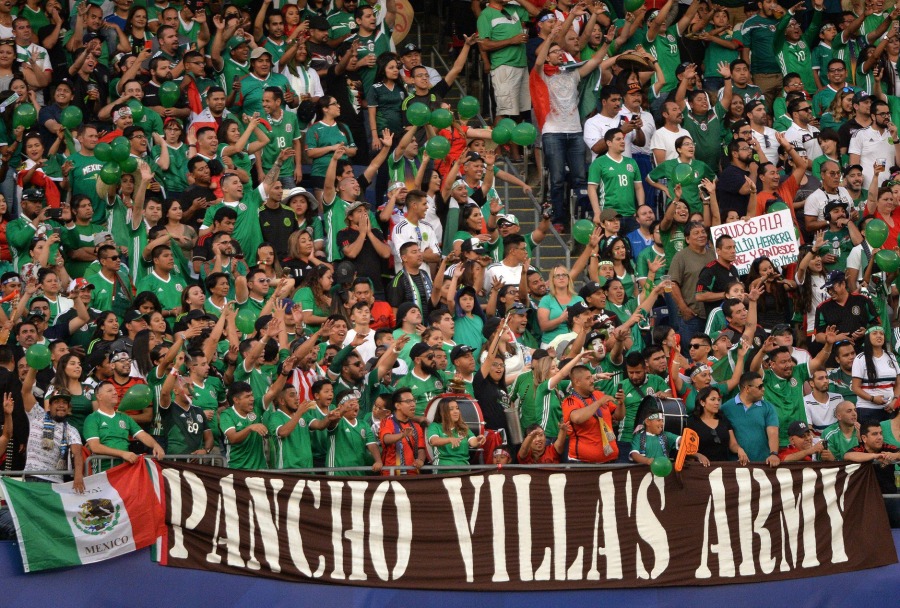 The CONCACAF Gold Cup kicked off last week, and a shot at a Confederations Cup berth is on the line for the North American, Central American and Caribbean teams competing in the tournament. The Mexican Men's National Team, or as they're widely known across the soccer world, "El Tri," will take over Sports Authority Field at Mile High for their match against Jamaica on Thursday.
While a sea of green jerseys overtaking what's usually orange and blue territory will be a sight to behold in and of itself, the match comes with a whole lot of intrigue as well. El Tri has won three out of the last four Gold Cups (the U.S. won in 2013) and has represented North America at the past two Confederations Cups.
I sat down with Javis Arellano, a native of Mexico, executive producer and anchor of El Templo Futbolero, and collegiate soccer player at MSU Denver to talk about the new-look roster for El Tri, what to expect from the tournament and Denver's status as an American soccer destination city.
DS: As a Mexico native, are you a big fan of El Tri?
JA: I am a huge fan of El Tri. I can recall being in the living room with my family watching Mexico vs. Italy in group stage of the 2002 World Cup in South Korea/Japan, and watching Jared Borgetti score a stunning header on one of the best national teams in the world. From that moment on, besides being Mexican, I fell in love with the game at age 7 because of the national team. Now, I follow it all the way down to the U17 level, having a friend competing on that squad.
DS: What does it mean to you that CONCACAF and El Tri want to play a game in Denver, specifically?
JA: Denver is not only one of the biggest cities in the country, but also one that has a large Hispanic community. It only makes sense for the national team to come play here, Mexico is the home team in American soil. Denver benefits economically and the fans that are away from home get to take advantage of this opportunity.
DS: El Tri is coming, but it's not their best team. They only have one holdover from the recent Confederations Cup in Luis Reyes. Does the fact that it's essentially the Mexico "B" team make the game less appealing for you?
JA: True, Reyes is the only one from the Confederations Cup, but there is a ton of talent on this roster. All of them but [Erick] "Cubo" Torres are from the Mexican domestic league (Liga MX) and even then those players are quality. You have Jesus Corona in goal, who is well known, Hugo Ayala who is an undisputed centerback for Tigres, Elias Hernandez from Leon who is a threat going forward, and players from recently crowned champions Guadalajara "Chivas" like Hedgardo Marin, Jair Pereira, Rodolfo Pizzaro and Orbelin Pineda who are in form. Add to that mix youngsters who are getting valuable experience in the national stage like Edson Alvarez and Jesus Gallardo. It might be a "B" team, but it's a talented team.
DS: Is Mexico still the favorite in this tournament?
JA: Mexico is always a favorite in the Gold Cups, having the most titles in the tournament with 7. USA follows with 5, and Canada is the only other team that has won it (in 2000) since its formation in 1991. However, let's be realistic that USA and Costa Rica have stronger teams for this tournament. I think Mexico makes it to the semi-finals. Honduras, Panama, Jamaica and Canada are the other favorites to make it to the semis along with Mexico, Costa Rica and the US. There will be interesting games in the quarterfinals with all those teams.
DS: What are your expectations for crowd size on Thursday?
JA: There will be a good crowd, I can tell you that.
DS: With the recent World Cup qualifiers, the Gold Cup and the recently announced upcoming match between the U.S. Women's National Team and New Zealand, is Denver becoming a destination U.S. soccer city?
JA: I think Denver is becoming a destination not only for international soccer, but for Mexico specifically because of the altitude similarity. Lets not forget they trained a few days at Dick's Sporting Goods Park in May prior to the friendlies heading into the Confederations Cup, a different squad but the goal is the same, have these players ready and suited to play at high elevation for 90 minutes.
***
El Tri won their first game of the group stage of this year's Gold Cup by a score of 3-1 over El Salvador. They currently sit atop Group C, tied with Jamaica in points and goal differential but ahead in goals scored.
Thursday provides an international doubleheader for Denver soccer fans. First, El Salvador takes on Curacao at 6 p.m. MT, followed by Mexico against Jamaica at 8:30 p.m. The USMNT takes on Group B leaders, Martinique, Wednesday at 7 p.m.